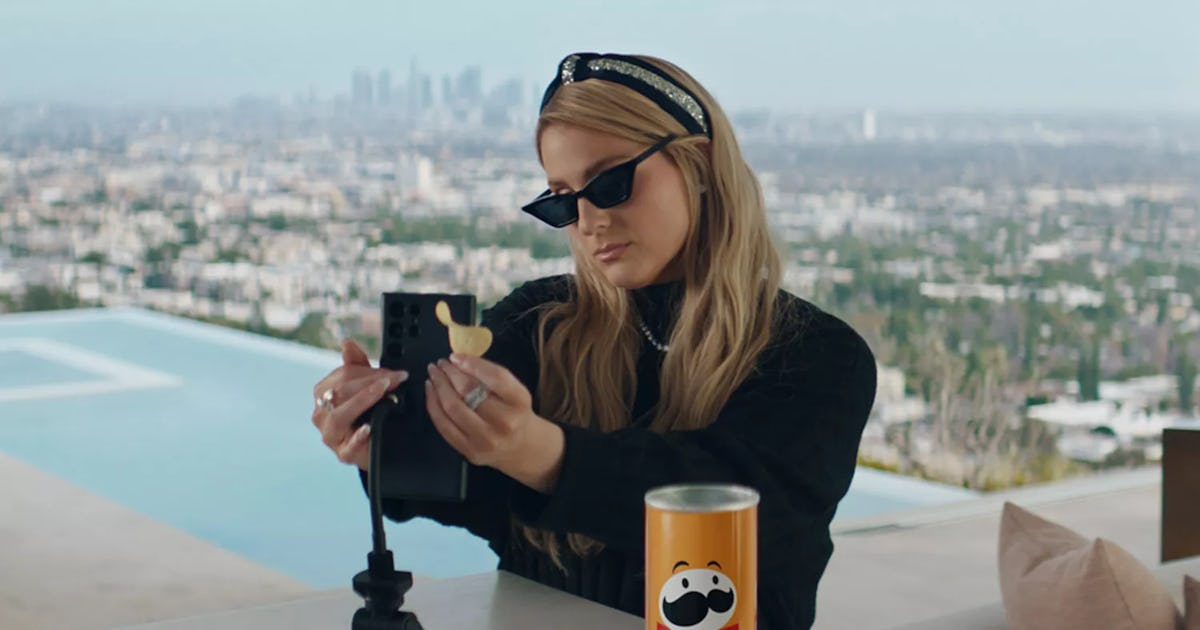 Though the Super Bowl showcases the best of football, contrary to popular belief, the famed competition isn't just a sports event. Its halftime show is one of the most highly-anticipated performances annually. This year, the Super Bowl even managed to book Miss Fenty herself, Rihanna, after years of not making music or performing. It also features some of the world's most expensive jewelry. And it's likely the one event where commercials aren't just for bathroom breaks.
Super Bowl ads are highly-anticipated cinematic masterpieces that often involve the biggest stars. They also cost a lot — a 30-second slot cost $7 million in 2022 per CNN. With the upcoming 57th Super Bowl, which will see the Philadelphia Eagles play the Kansas City Chiefs on Feb. 12, brands are already teasing their big-budget commercial. And it's looking like fans will be getting everything from TikTok references to exciting cast reunions. There'll even be a live broadcast that could earn people money.
Whether you're a sports fan or just here for the snacks, you'll likely be entertained by this year's slate of commercials. So, here's what to know about the 2023 Super Bowl ads so far.
PopCorners' Breaking Bad Reunion
Breaking Bad's Bryan Cranston is a Super Bowl ad veteran. And on Jan. 4, he teased via Instagram that he'll be returning to the game. Dressed à la Walter White, he held a PopCorners bag, and captioned it, "Breaking soon" with the Super Bowl date.
Weeks later, the snack alternative brand released a 15-second teaser video reuniting Cranston with his Breaking Bad co-star Aaron Paul 10 years after the show went off air. The brand even tapped series creator Vince Gillian to direct the commercial. Reprising their iconic duo as Walter and Jesse, Paul is seen struggling to get their RV started, while Cranston is munching on a bag of PopCorners in White Cheddar.
In another teaser trailer, Jesse is sitting on a lawn chair in the desert, also eating some White Cheddar chips before fielding a phone call.
Pringles' TikTok Dance Craze
If you've been on the internet anytime in the last few months, you've probably seen the now-viral dance to Meghan Trainor's "Made You Look." Well, the "No" singer will be referencing the TikTok sensation, originally choreographed by @brookieandjessie, at the Super Bowl.
In a teaser video Pringles shared on Jan. 26, Trainor records herself dancing to her own voice clip at a penthouse unit while munching on some cheesy Pringles. That is until the tin runs out and her hand gets stuck in it. Per People, this marks the first time the brand is tapping a celebrity in five years, after their successes with young actors in the past.
Doritos' Rapper Collab
Another crunchy treat tapped music icons for this year's commercial. In a teaser for a Doritos ad, Jack Harlow can be seen walking through paparazzi and fans to get to his car. The "Dua Lipa" singer then grabs a bag of BBQ-flavored Doritos. One pap (played by a Gilmore Girls alum) asks him, "Is it true about the love triangle?" And Harlow simply replies, "Maybe," before biting into the crunchy crisp.
He won't be solo in the commercial. In a follow-up teaser video, the Queen of Rap Missy Elliott gets a call. Revealing it's Harlow on the other end of the line, she says, "Collab? You know I've been waiting to collab." This isn't the first time the "Get Ur Freak On" rapper collaborated with another musician for the sports event. In 2015, she featured in Katy Perry's Super Bowl halftime show, plus she joined forces with H.E.R. for a Pepsi commercial in 2020.
FanDuel's Live Broadcast Of A Football Legend
Keeping it within the sports family, gambling site FanDuel has a gimmick in store on Feb. 12 with four-time Super Bowl champ Rob Gronkowski. The former Patriots and Buccaneers athlete will be doing a live stunt in the brand's commercial "The Kick of Destiny."
As the name implies, Gronk has to make a kick — live — for viewers to win money. Per a Morning Brew report which details more game mechanics, Gronk has one shot to make a 25-yard field goal and if he does, those who place a $5 bet or higher will be eligible to win a share of $10 million.
Downy's Mystery Celebrity
Downy will also employ a stunt this year: the unveiling of the mystery celebrity it tapped. "Downy Upstopables wants to use my face for their Super Bowl ad — but I haven't agreed yet because I don't believe it keeps your clothes fresh for over 12 weeks," says an actor whose face is covered with a sweater in a teaser video. "I'm going to sniff this thing until the Super Bowl… until then I'm hiding my identity."
In the comments section, fans started venturing guesses as to who it is and the majority of them think it's The Righteous Gemstones star Danny McBride.
M&M's Change In Spokesperson
After M&M's endorsers, aka the multicolored spokescandies, got a wardrobe refresh in 2022, the brand faced backlash. So for this Super Bowl, the candies are stepping down. On Jan. 23, the brand referenced the "polarizing" backlash on Instagram and announced their "indefinite pause" from advertorial duties. "We have decided to take an indefinite pause from the spokescandies. In their place, we are proud to introduce a spokesperson America can agree on: the beloved Maya Rudolph. We are confident Ms. Rudolph will champion the power of fun to create a world where everyone feels they belong," the post read.
Talking about her new role as the brand's "Chief of Fun," Rudolph told People, "I was already the person that likes to watch the Super Bowl for ads, so I feel like, 'Wow, now I get to be a part of that moment!'"
Heineken's Disney Crossover
Meanwhile, one brand tapped a superhero. Dressed in his Ant-Man costume, Paul Rudd proves that you can still work and save the world if you're indulging in the non-alcoholic Heineken 0.0. Released in partnership with Disney and his upcoming Ant-Man and the Wasp: Quantumania film, the video's text reads, "Now you can before saving the day."
Michelob Ultra's Caddyshack Parody
Beer brand Michelob Ultra taps some big names in sports and entertainment, including Serena Williams, Brian Cox, Canelo Álvarez, and Tony Romo. "This February, Bushwood is back and new members are taking over," a voice booms in one clip, referencing the famed country club in the 1980 comedy Caddyshack. The new members? Williams and Cox. They're engrossed in an intense competition, with Williams even trying to hold her golf club like a pool cue for better aim.
In another video, Romo, former football player and commentator, narrates his shot, "Young Cinderella story happening right in front of your eyes. Former quarterback about to become tournament champion." And then he proceeds to hit the ball on a flower bed, wrecking the plants. Meanwhile, in one video, Álvarez drives a golf cart with stacks of Michelob Ultra boxes.
Rémy Martin's New Coach
The cognac house Rémy Martin also tapped Serena Williams for its first-ever Super Bowl ad. The brand announced it had teamed up with the "global tennis superstar, cultural icon, multi-hyphenate powerhouse and champion for women everywhere" in a Feb. 3 press release introducing its "Inch by Inch" campaign. Two teasers dropped the same day, each with a description saying, "Every team needs a coach. We found ours. Catch @SerenaWilliams and Rémy Martin at the Big Game."
The campaign highlights teamwork, specifically the brand's "guiding principle of 'Team Up for Excellence,'" and the 60-second ad will drop during the first quarter of the Super Bowl.
Budweiser's Six Degrees Of Separation
Meanwhile, Budweiser is keeping it simple. In a short teaser clip, the voice of Kevin Bacon says, "They say all people are just six degrees of separation away from each other. But some are just a six-pack away," while the video zooms in on a six-pack.
The McDonald's Secret Valentine's Ad
While there are no clips to show just yet, TMZ reported that McDonald's shot a Valentine's Day-themed commercial around Christmastime starring married couple Cardi B and Offset. The two actually made their public debut as a couple at a Super Bowl in 2017, so it's definitely a sweet return.
This also marks the "Bodak Yellow" singer's second Super Bowl ad after she — and her catchphrase "Okurrr" — was tapped by Pepsi in 2019.
Squarespace & The Many Adam Drivers
On Jan. 30, Squarespace, the customizable website builder, released a "Backstage with Adam Driver" video where multiple Adam Drivers are sitting on director's chairs answering interview questions for almost two minutes. The answers are silly, sure, but several Drivers are better than one.
Busch Light's Survival Guide
Anheuser-Busch, the same beer company that owns Budweiser and Michelob Ultra, also created an ad for Busch Light, and this time it features Grammy-winning singer Sarah McLachlan. In the 30-second video uploaded on Jan. 18, the Busch guy teaches "The Busch Guide: Cold and Smooth Survival Skills." To survive the outdoors, he says, one needs food, drink (Busch Light, of course), and shelter. McLachlan then appears beside a wolf and spoofs her own 1997 song "Angel" before mistakenly enticing people to donate to animal shelters.
Experian's Musical Ad
Even credit reporting companies are showing ads this year. Experian tapped WWE champ John Cena to sing, musical style, about being excited to pay rent and raising one's credit score.
"It's the first of the month! It's time to pay rent!" Cena beams as he jumps out of bed, before singing about paying rent through an empty street with backup dancers to boot. A little girl then asks the question everyone is thinking, "Hey mister, why so excited about paying rent?" It can boost your FICO score, per Cena, and a purple cow moos in agreement.
Workday's Rock Stars
Workday, a first-time Super Bowl advertiser, tapped several rock stars to advertise its enterprise cloud application business. In one teaser video, there's a "new guy" at work who's a supposed "rock star." He is. Ozzy Osbourne turns around in his quintessentially corporate America swivel chair and asks which of his new officemates wants a piercing. Per Variety, the ad will appear in the third quarter and will also feature Joan Jett and Gary Clark Jr.
With this lineup of commercials, it's already shaping up to be an exciting Super Bowl.
This article was originally published on