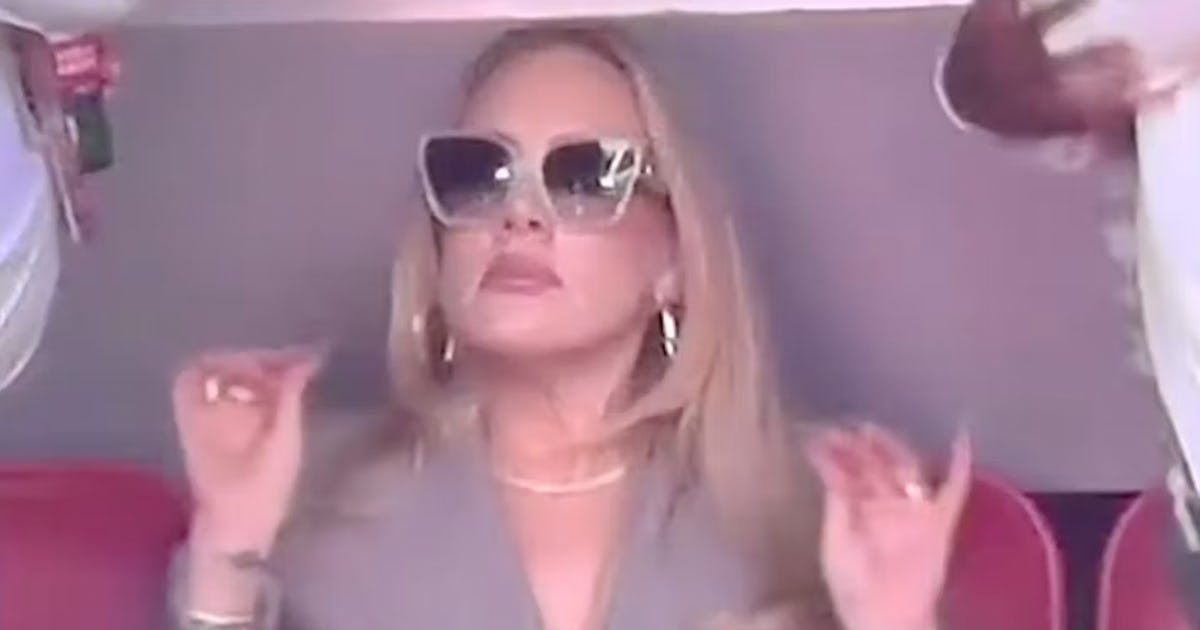 The Rihanna concert — sorry, we mean the Super Bowl Halftime show — was quite the event, to say the least. The beauty mogul and singer returned on stage after seven years with a Fenty product placement and a surprising guest announcement, and it's not who anyone imagined. That's right, Rihanna revealed she is pregnant with her second child. Back to the game, and the Kansas Chiefs emerged victorious over the Philadelphia Eagles.
But the global event also left us with more hilarious content from Adele. The cameras caught the singer in a six-second clip that was quickly adapted to memes online, with her becoming a trending topic during the event. In the video, Adele is seen seated between two men who appear to be having a discussion. While no one can tell what she is saying or what the conversation is about, the singer shakes her head in dismay and waves one manicured hand before doing a clear "zip it" movement across her lips.
Social media theories suggest Adele may have been asking those around her to settle down before Rihanna's much-awaited performance. Per Page Six, she announced her motives for going to the Super Bowl to a fan during her Las Vegas residency, "I'm going just for Rihanna. I don't give a flying f**k (who wins)."
Of course, Twitter is in a frenzy with one tweet reading: "Adele is always the main character without even trying." Another read: "Why is Adele at the audience always meme material."
Just a week ago, the "Easy On Me" singer delivered more meme-worthy content with her revealing Grammys reactions. Besides Adele, several other British celebrities like Gordon Ramsay, Cara Delevigne, and Paul McCartney also made their way down for the memorable sporting event.