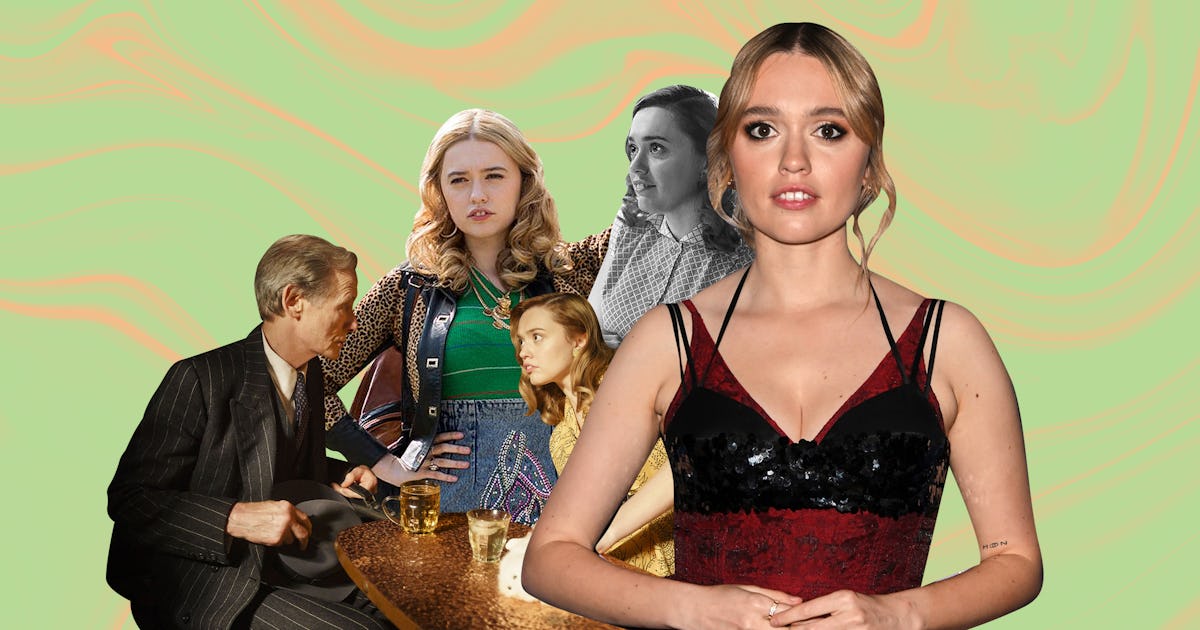 It's a manic Monday in late November when Aimee Lou Wood and I catch up. She's spent her day travelling to Wales on important business: getting her hair done ahead of returning to the set of her hit Netflix series. "It's because I'm blonde for Sex Education. And with my roots, it's so high maintenance." she tells me, earnestly. "The story that I'm filming tomorrow, I last shot three weeks ago, so [for continuity purposes] I need to look the same as I did then. The hair's always a giveaway."
Wood has starred in the hit coming-of-age drama since its premiere in 2019. To no surprise of viewers, she won a TV BAFTA last year for Best Female Comedy Performance for her portrayal of Aimee Gibbs. The Manchester-born actor is currently busy filming Season 4, which is set to show her character in a whole new light. We'll get to that later, but first, we're here to talk about another of Wood's projects, the critically-acclaimed film Living, ahead of its U.S. release.
With a screenplay written by esteemed Never Let Me Go author Kazuo Ishiguro, the Oliver Hermanus-directed title is a remake of the 1952 Japanese film Ikiru, which translates as "To Live." Bill Nighy portrays protagonist Mr. Williams, a County Hall worker who has settled into a rather mundane existence, void of vibrancy and adventure. A terminal cancer diagnosis serves as a reckoning for the widower, and he finds himself eager to experience life in an authentic way. For this, he turns to Margaret, a spirited young woman who works on the team he presides over. Although they have occupied the same office space for months, they are virtual strangers. That soon changes, and they build a tender friendship which enriches both of their lives. It's a captivating story that highlights the difference between living and existing, and you can't help but walk away from the film wondering if you're on the right side of the curve yourself.
I was losing myself in my brain one day, and Bill said to me, 'Don't get lost in the hostile parallel world.'
This was certainly the case for Wood, who considers portraying Margaret to be a life-changing experience. "I felt like I was so present when filming this. I have always been a curious person, but I realised how important curiosity is. Being truly interested in other people, and noticing the small things," she explains. In reality, although living in the present comes naturally to Margaret, it hasn't always been an easy task for Wood, who is open about the impact anxiety has on her day-to-day existence. "Anxiety can drag you up into your head and make you feel very disconnected from life," she tells me "Being Margaret reconnected me with a part of myself that I had been missing for quite a while."
The intergenerational friendship at the heart of the story was a big draw for Wood. "I think it's beautiful. It's personal, too, because I always make friends with older people. I just feel the most comfortable with them," the 28-year-old muses. And while Mr. Williams and Margaret's relationship played out in front of the cameras, Wood and Nighy struck up an "instant" connection. Regular lunches turned into "deep chats," which far transcended the film. "He's everything that you would hope Bill Nighy to be and more. I'm just so thankful for him," Wood says.
In contrast to their on-screen roles, it was Nighy who gave Wood the life-altering guidance which stayed with her long after the cameras stopped rolling. "I was having an emotional personal issue at the time and he was just so supportive and kind, but never took the stance of teacher-student. He was never patronising," notes Wood. "I was losing myself in my brain one day, and Bill said to me, 'Don't get lost in the hostile parallel world,'" she shares. "The way he put it was beautiful, because it's so true, there is this parallel universe running along [in my head] in which everything is bad and scary."
Spending time with Nighy, and observing how he deals with fame and fans, also had an impact on Wood. "Bill has helped me so much with this stuff. He's so warm and open, but he definitely keeps certain things sacred," she reveals. "He's taught me the skill of saying, 'Hi, lovely to meet you,' but also carrying on with your day." It's a perfectly reasonable boundary to enforce, but one that Wood struggled to set earlier in her career, where she often gave away too much of herself. "I don't like not being myself, but there's been times in the past where I've overshared and felt vulnerable after," she reveals. It got to a point where Wood's eagerness to give everyone a fulfilling experience made it hard for her to live an authentic life.
"For so long, I was so concerned with how people were perceiving me, that I forgot about what I wanted and needed," she reflects. "I went through a phase of being scared to go out. I turned into such a recluse, because I was afraid of people coming over and talking to me," Wood shares, explaining that the fear came from knowing that she wouldn't be able to put a "limit" on the conversations. "And it doesn't even stop there, because then after I leave them, I'm going over the conversation in my head," she laughs. "I'm going, 'Do they think I gave them enough attention?' Then 100% of my day is thinking about how I was perceived." Wood has now moved beyond this, having found the right balance between being "kind and caring" whilst also prioritising her own needs. It's a refined balancing act that she's also reserved for her social media presence. "I don't have to share my boyfriend and all that," the actor, who was previously in a relationship with her Sex Education co-star Connor Swindells, notes.
It can be quite claustrophobic. When people meet me, they kind of want Aimee Gibbs, they don't want Aimee Wood.
As Wood continues to grow into the life she has created for herself, her Sex Education character and real life namesake Aimee is also on a path of learning and self-discovery. Popular among fans for her infectious personality, the teenager is faced with a fresh start in Season 4, and it takes some adjusting to. "This sounds really w*nky, forgive me, but sometimes as an actor, you feel odd and you think it's a bad thing, but actually it's just because your character's been feeling odd. I think I've had a little bit of that, because Aimee is quite off-centre," Wood tells me. As for what exactly is ailing the teenager, it's a mixture of new obstacles and old tensions. "She's not got her best friend with her, she's not got a boyfriend for the first time ever. Also, she's at this new school and she doesn't have any mates," the actor explains. "But what's so amazing is that through art, Aimee finds something that connects her to herself."
It's set to be somewhat of a transformative journey for Aimee, as she finds her voice after years of being overlooked. "I've always felt that Aimee isn't stupid, and people think that she is. She's so astute and emotionally intelligent, and has an incredible imagination," the actor shares. "This season, she realises that she has a brilliant brain and has got loads to say. It's all about her figuring out how she wants to express herself. That's where the art comes into it." And while it may have appeared in the past that Aimee doesn't pay heed to those who question her intelligence, this time around, we're set to find out that the teenager has strong feelings about it. "That's the beauty of playing a character for so long, every time you get a new facet of their personality. I've always thought there's no way that Aimee doesn't get a little bit hurt by the fact that people dismiss her in terms of what she has to say," muses Wood.
Future episodes will also see Aimee continuing to deal with the fallout and trauma of the sexual assault she was subjected to on a bus during Season 2. "When we were doing it [that scene], we were all so emotional. We were like, 'We've never actually watched a scene like this before,'" the actor notes, reflecting on the powerful storyline that sparked conversations among audiences. "From that moment on, Aimee is so changed, and it carries on. What I love about it is that even in Season 4, that storyline has not been dropped. It's still very much present and a part of who she is."
With Aimee and her classmates embarking on their final few months of sixth form, many are wondering if Sex Education's next season will be its last, or at least the end for the characters we've come to know and love. While the show's future is not confirmed beyond the next instalment, I ask Wood how she feels about saying goodbye to the role — her first on TV — which undoubtedly changed her life. "It will probably be really emotional and sad. But right now, I'm in a phase where I'm like, 'It's quite nice to not have Sex Education written next to my name in everything.' As much as I love it, I've done other things," Wood reasons. "It can be quite claustrophobic. She's called Aimee, I'm called Aimee. I've said this before, but when people meet me, they kind of want Aimee Gibbs, they don't want Aimee Wood. It'll be really sad [when the show ends], but in a way, nice and expansive."
As it happens, juggling the different "Aimees" has become somewhat of a sport for my interviewee. "Someone said something so great to me a while ago, which was 'Aimee Lou Wood can be different from Aimee Wood.' So Aimee Lou Wood is me as an actor, and Aimee Wood is me. You've got to make sure you're nourishing both," she explains. And all the while making every effort to not "get lost in the hostile parallel world" of which people can often succumb to. Something tells me Margaret would be proud.