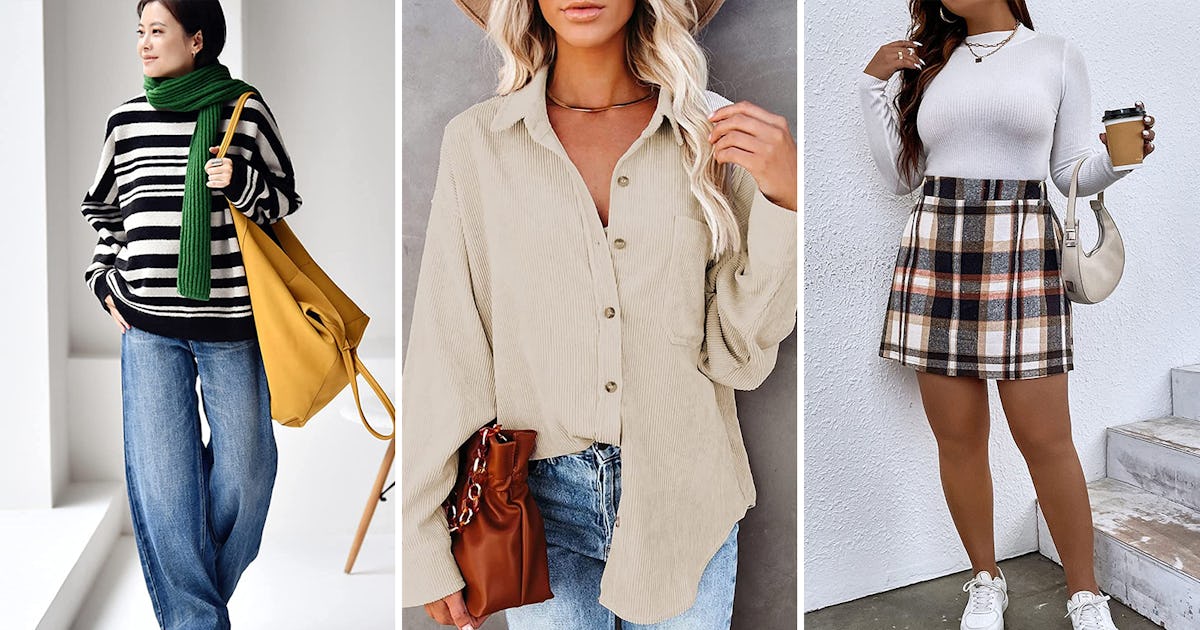 A wardrobe that's full of basics you wear every day makes getting dressed easy. But if you ask me, every wardrobe needs a few pieces that really bring the wow factor. Combing through tons of options to find something snazzy, though, can be a chore. Wouldn't it be nice to discover a cache of on-trend outfits that complements just about any personal style?
I think so. To that end, I've done all the legwork to compile a ton of these trendy clothes that look so freaking good on everyone. The only catch is that they're burning up the trend meters and could be at risk of that dreaded "sold out" status. Catch them while you can! Better still, none of these options will break the bank so you can stock up in peace.
A Staple Sleeveless Turtleneck That's Super Soft & Comfy
Verdusa Sleeveless Turtleneck
Amazon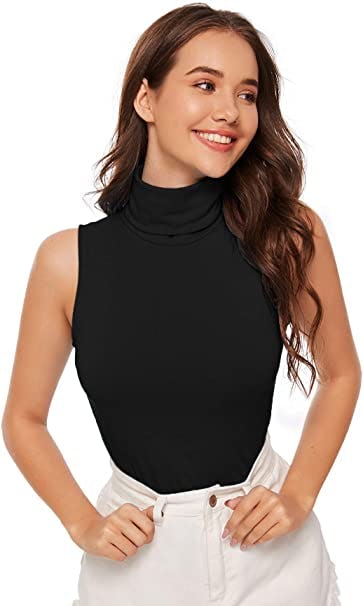 Whether you wear it alone or layered under a sweater or jacket, this sleeveless turtleneck is the kind of wardrobe staple you will reach for often. It provides plenty of canvas to show off a flashy pendant, and the ultra-soft fabric and slight stretch make for a delightfully comfortable fit.
"[The] fabric is smooth and feels great," said one reviewer.
Available colors: 9
Available sizes: X-Small — 3X-Large
A Collection Of Silicone Rings That Are Cute & Safe For Work
ThunderFit Silicone Rings (7-Pack)
Amazon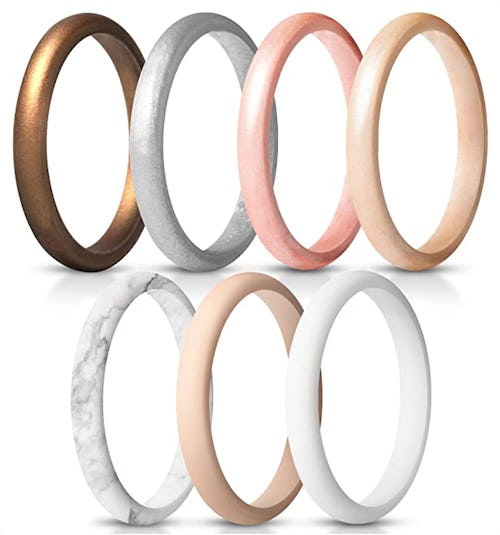 Wearing a ring while you work with equipment — or work out — can be annoying. Also, your jewelry might get scratched or lost. Sub one of these silicone rings for your typical bling, and you can have your accessories without the risk of losing a family heirloom. They are cute, comfortable, and won't scratch or get caught on equipment.
Available colors: 35
Available sizes: 3.5 — 13
These Work-Appropriate Pants That Are Like Wearing Leggings
Amazon Essentials Pull-On Pants
Amazon

Pull on these stretchy, legging-like pants and have the best of both worlds when it comes to wardrobe options. Stretchy and comfortable enough to wear out to play but with just the right embellishments — two working back pockets, real belt loops, and faux fly and faux front pockets. They fool the eye into thinking you wore actual dress pants or jeans.
Available colors: 17
Available sizes: X-Small Short — 6X-Long
This Lightweight Cardigan You Will Want In Every Color
Amazon Essentials Lightweight Open-Front Cardigan
Amazon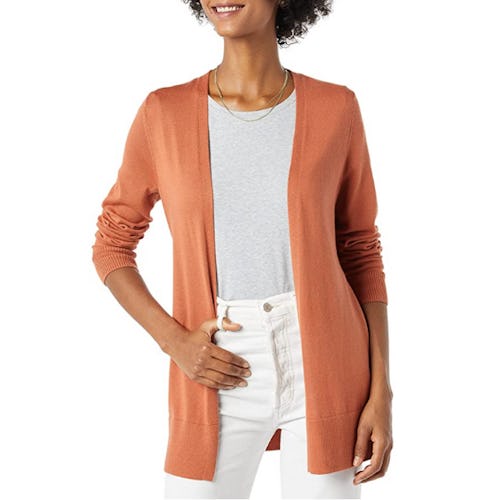 An open-front cardigan — long enough to wear with leggings — is an essential wardrobe piece. It can turn a tank into a work-worthy top, add a layer of warmth, and make leggings and yoga pants seem more dressed up. This lightweight cotton and modal version with a split hem and minimalist styling is the affordable perfection you just may want to own in every color.
Available colors: 20
Available sizes: X-Small — 6X
A Cute, Long-Sleeve T-Shirt Dress You Can Dress Up Or Down
POPYOUNG Long Sleeve T Shirt Dress
Amazon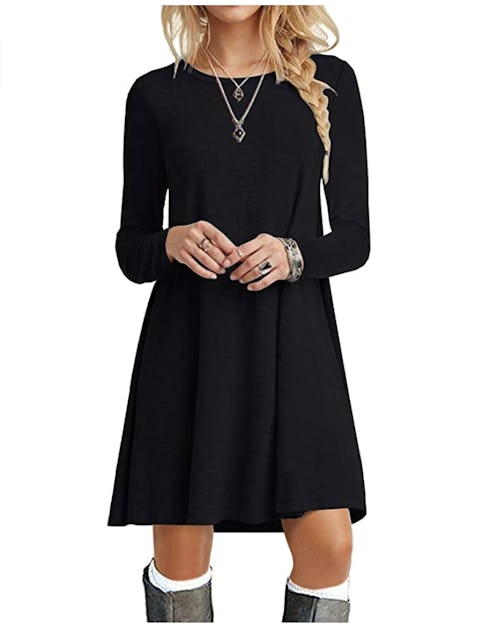 This long-sleeve T-shirt dress is the kind of pull-it-on-and-go outfit that makes getting out the door easy. Unlike some tee dresses that can be so shapeless, this one is fitted through the chest and arms — but with a swing cut through the body that moves with you. The fabric is lightweight and soft, and reviewers say the dress is super versatile.
"I bought this for a two-week cruise. I wore it for dinner, shore excursions, [and] even as a beach cover-up. Truly can be dressed up or down."
Available colors: 40
Available sizes: Small — 3X-Large
This Boat-Neck Top With Shirring For A Great Silhouette
Made By Johnny Short Sleeve Boat-Neck Dolman Top With Side Shirring
Amazon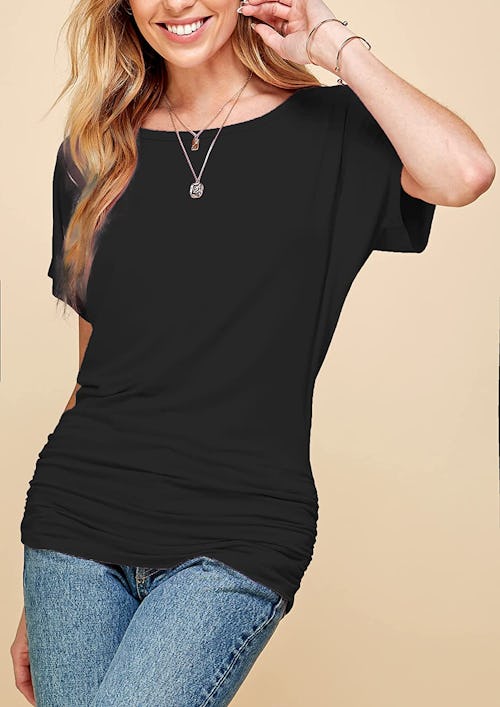 This boat-neck dolman top is a stylish update to the basic T-shirt. The neckline and sleeves make it more interesting and fun, while the shirring on the side sets it apart from the boxy fit of standard tees. You can wear it pulled down for a longer look — or bunch up the shirring to work with a higher-waisted pant.
Available colors: 44
Available sizes: X-Small — 5X-Large
The Fleece-Lined Beanie With A Faux-Fur Pom Pom
C.C Thick Cable Knit Fleece Lined Beanie
Amazon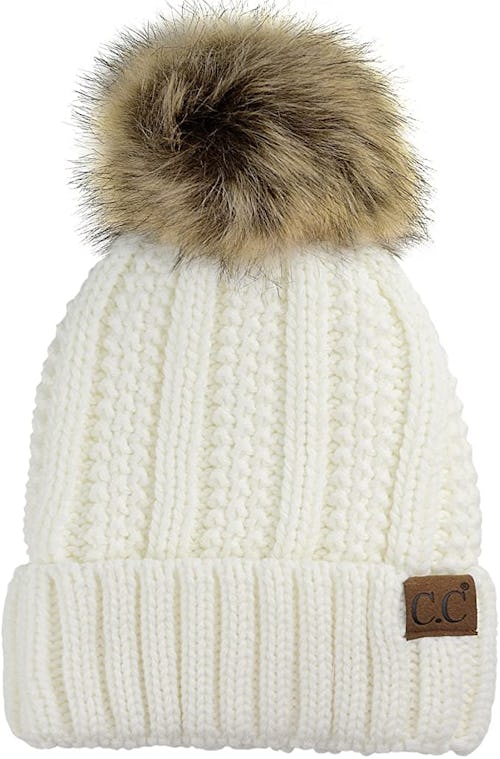 When the weather is cold, you'll feel warm and cute in this fleece-lined beanie with a faux-fur pom pom. The lining is soft and warm against your skin, and the cable-knit body is just long enough to slouch slightly.
"I love the lining, it's so soft and so warm, so cozy, so comfortable. I ordered two more already, and just so cute," said one reviewer.
Available colors: 111
Available sizes: 1
This Miniskirt That Comes In So Many Plaids
Floerns Plaid High Waist Bodycon Mini Skirt
Amazon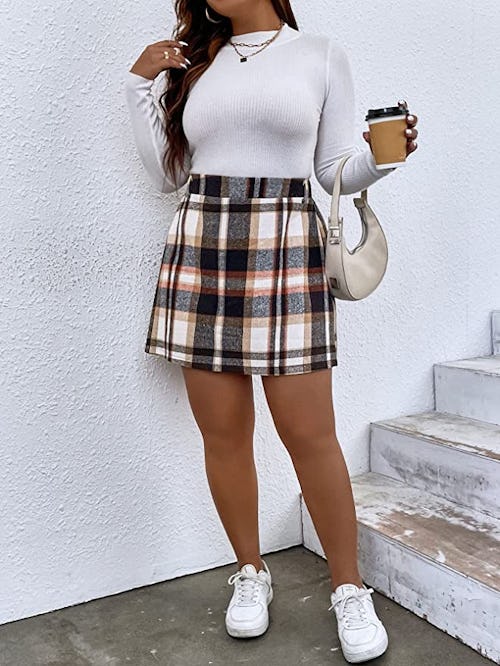 This cute miniskirt in many options of plaid — from tiny checks to houndstooth to big, bold plaids — will quickly become your favorite ensemble piece for its dark-academia-meets-party-girl vibe and easy comfort. It has a zipper closure and can go right in the wash, so it's not a fussy piece.
"The skirt is absolutely adorable and fits perfectly," said one reviewer. "I'm planning on buying several more. You will NOT be disappointed!"
Available colors: 27
Available sizes: X-Small — 4X-Large Plus
A Chunky Sweater Vest That's All Style
YESNO Chunky Sweater Vests
Amazon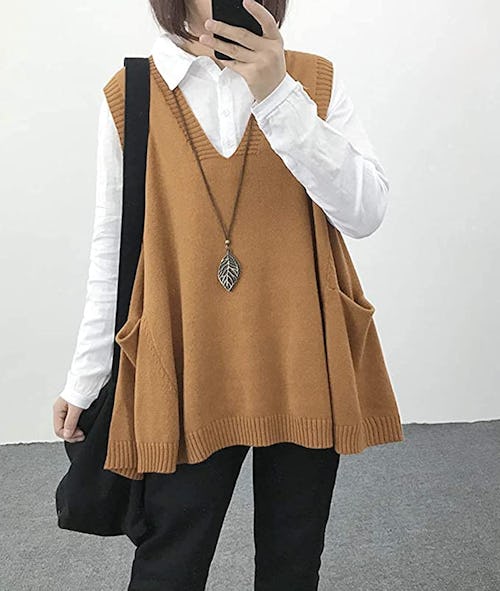 Pull this chunky sweater vest on over a tee and leggings for an elevated style that's a great alternative to a hoodie or cardigan. Or style it over a white button-down for a crisp, dressy outfit. The deep V-neck and big pockets make for a modern look that's also practical.
"Very cute with leggings or skinny jeans and boots," said one reviewer. "Need I say, 'comfortable'?"
Available colors: 10
Available sizes: Small — 3X-Large
This Pair Of High-Fashion Overalls
YESNO Overalls Jumpsuit
Amazon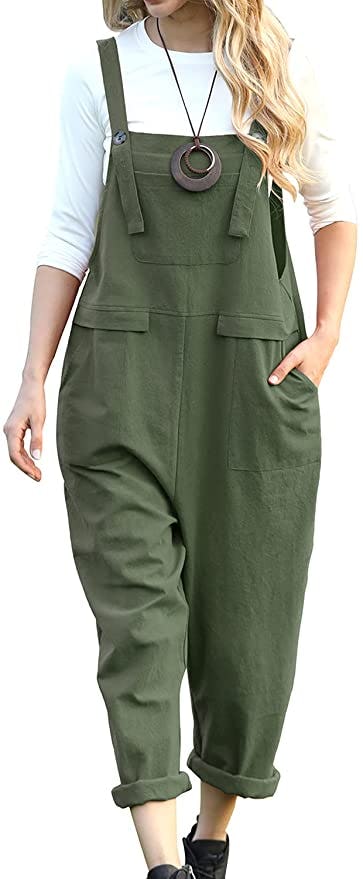 With deep front pockets, a bib pocket, hand pockets, and two back pockets, as well as adjustable shoulder straps and an oversize fit, this jumpsuit is fun and fashionable while also being practical. You can dress it up with some great shoes and a cute top, or wear it as functional workwear.
"They've quickly become one of my favorite items in my closet!" said one reviewer.
Available colors: 10
Available sizes: Small — 3X-Large
The Denim Shirt You've Been Looking For
Joe's USA Denim Shirt
Amazon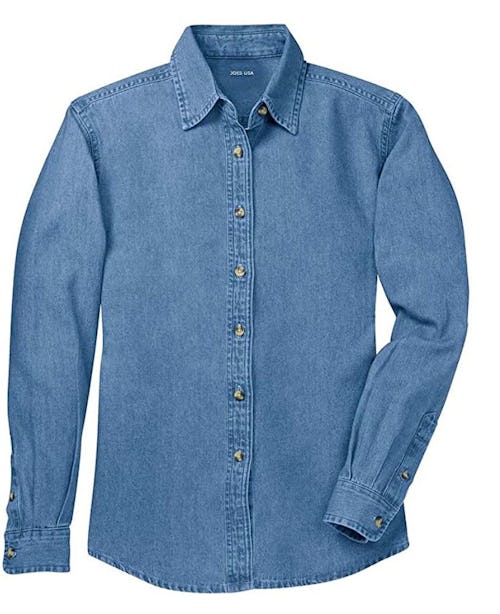 This soft cotton button-down denim shirt is the everyday comfort you have been looking for. With no pockets to catch on your cardigan, a soft fabric that improves with time, and a slightly tapered cut, it will become your casual daytime favorite.
"Washes and wears well! My go-to shirt to wear under my fall and winter sweaters," said one reviewer.
Available colors: 2
Available sizes: X-Small — 4X-Large
These Beaded Bracelets That Are Perfect For Layering
M MOOHAM Lava Rock Bracelet
Amazon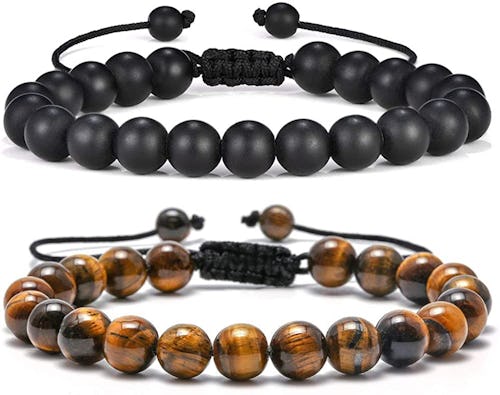 Layer your bracelets with these two beaded — and adjustable — tiger eye and black matte agate lava rock bracelets. Just pull the dangling beads to tighten the fit. The lava rocks also make terrific essential oil diffusers, so you can wear a scent to alter your mood with aromatherapy on the go.
Available colors: 38 colors and package options
Available sizes: 1
The Leggings With Over 30,000 5-Star Ratings
Leggings Depot High Waist Leggings
Amazon

These buttery soft high-waist leggings are the perfect layering piece for long tunics, short dresses, and dusters, and they're so comfortable you'll want to live in them. A one-inch waistband keeps them from slipping down, and you can choose between full or capri lengths. They're one of those essential basics, and people give them nearly 30,000 five-star reviews.
Available colors: 43
Available sizes: One size — 5X
A Corduroy Shirt That Can Also Be A Shacket
Sidefeel Corduroy Button Down Shirt
Amazon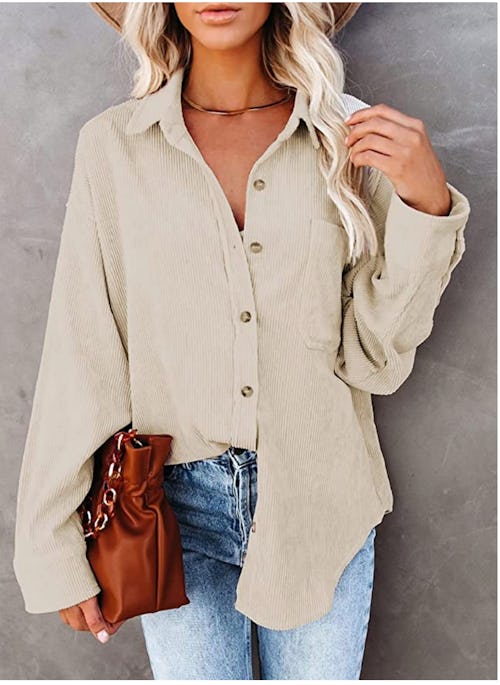 Wear this corduroy button-down shirt on its own, as a shacket, or over a tank instead of a cardigan. The oversize fit looks casually chic however you style it — plus, it's not so heavy that you can't tuck it in or layer over it.
"A great lightweight layering piece and I'm definitely going to order another one soon!" said one reviewer.
Available colors: 31
Available sizes: Small — 4X-Large
The Sleep Set You Will Want To Live In
Allegrace Plus Size Tie Dye Long Sleeve Sleep Set
Amazon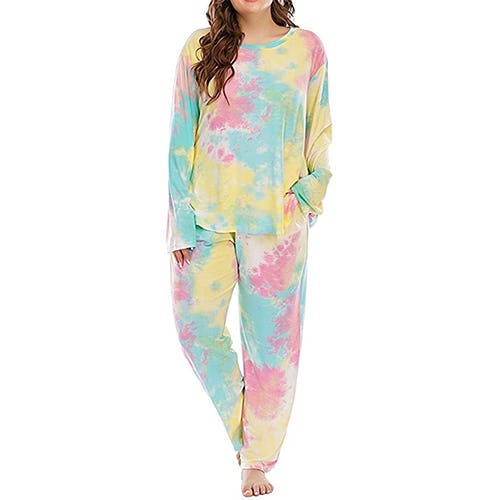 This soft, two-piece sleep set will quickly become the ensemble you want to wear after you've torn off everything that's uncomfortable and settled in for some lounging. The light rayon fabric is silky and smooth against your skin — and not too hot so you can cuddle under a throw without overheating. The best part? They have pockets so you won't lose your phone.
Available colors: 4
Available sizes: 1X — 4X
An Oversize Sweater That's Like Wearable Art
YESNO Graphic Oversized Sweater
Amazon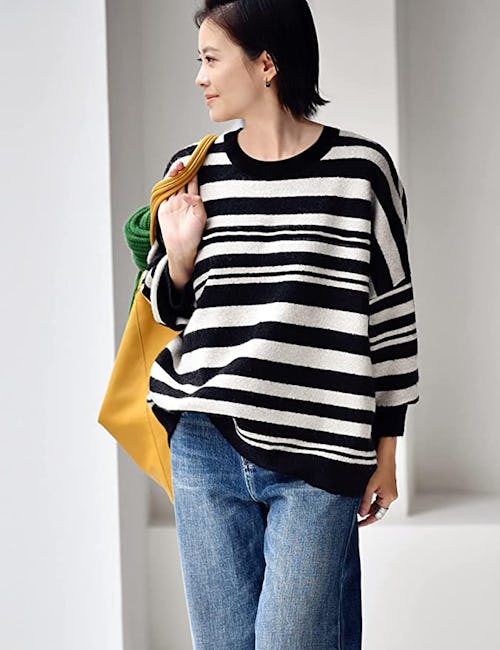 Warm, cozy, and incredibly soft, this graphic oversize sweater is a cold-weather trip into artsy fashion. Choose a simple geometric pattern — or a painting, botanical rendering, or cartoon art. It will be the statement piece in your closet. Made from a cotton and wool blend, it will also keep you warm.
"This sweater has a wonderful drape" said one reviewer. "The fit is high-end fashionable, and the fabric texture […] is beyond nicer than I expected!"
Available colors: 33
Available sizes: X-Small — 3X-Large
This Crossbody Bag For All Your Essentials
FashionPuzzle Small Multi-Pocket Crossbody Bag
Amazon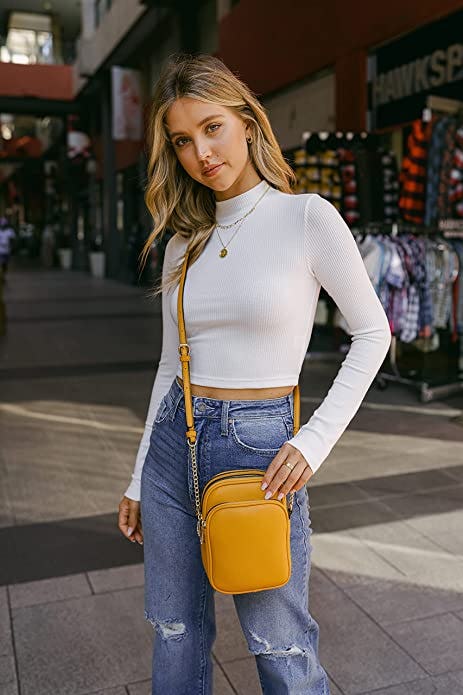 When you want to head out with just the essentials — your phone, credit cards, cash, sunglasses, and a few tools for primping — this wearable wonder is the crossbody bag you want. It looks cute on, has lots of organizing pockets and card slots, and holds more than seems possible.
"I love this bag," said one reviewer. "I can't believe how roomy. I can even carry a small bottle of water, keys, phone, hand sanitizer, and a wallet. Plus it's fashionable."
Available sizes: 1
Available colors: 24
A Maxi Skirt So Comfortable It Could Be Loungewear
Simlu Maxi Skirt With Pockets
Amazon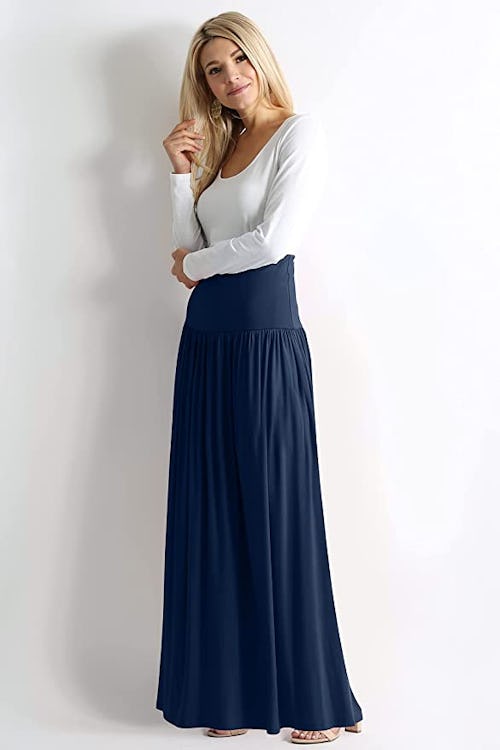 This maxi skirt is so versatile you could wear it as loungewear, then don a pair of heels and a flashy top for a dinner date. The roomy side pockets offer you a place to stash a lipstick or your phone, while the breezy drape creates a hippie-chic look. And the wide waist hugs your hips to create a silhouette so elegant it belies the high-comfort factor.
Available colors: 17
Available sizes: Small — 4X-Large
This Crew Cardigan That's So Soft & Affordable
GRACE KARIN Classic Crewneck Cardigan
Amazon

The crewneck cardigan is the workhorse of any office wardrobe, and this affordable version is rendered in a deliciously soft viscose. It's breathable, soft, stretchy, and light enough to layer.
"Excellent fit, excellent quality. Well worth the money and then some," said one reviewer.
Available colors: 33
Available sizes: X-Small — 3X-Large
A Bodysuit That's Secretly Lingerie
Avidlove Deep V Lace Bodysuit
Amazon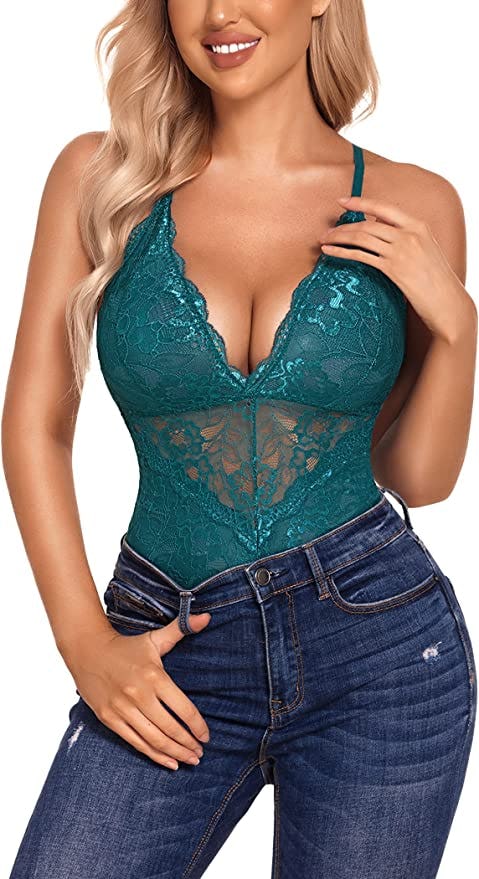 Wear this bodysuit when you want to light a fire. The deep V-neck, sheer lace, and ultra-cheeky back will heat things right up. And, since it's comfortable to wear, you won't have to make any sacrifices for the cause. According to one reviewer:
"This lingerie is perfect, as it is both sheer and covered […] I was skeptical but was blown away when I put it on. It makes me feel so pretty."
Available colors: 28
Available sizes: Small — 4X-Large
The Silk Camisole That Makes Any Outfit Pretty
Miqieer Silk Camisole
Amazon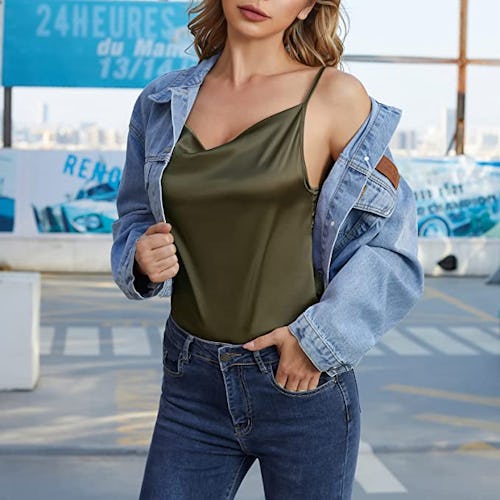 Add a cute, dressy element to any outfit by wearing this silk camisole under your cardi or jacket instead of a tank. The drapey cowl neckline is elegant, and the texture is both beautiful to look at and delicious against your skin.
"Gorgeous fabric with the perfect […] drape at the neck," said one reviewer. "I want them in every color!"
Available colors: 43
Available sizes: X-Small — 3X-Large
This Set Of 5 Pairs Of Graduated Stud Earrings
Wssxc Stud Earrings Set
Amazon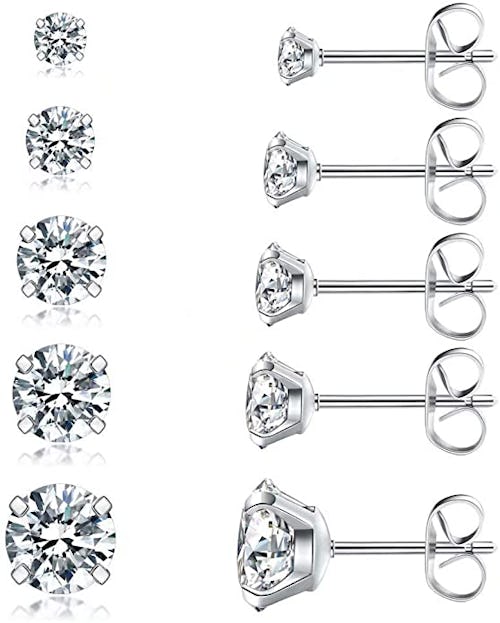 If you want a graduating line of stud earrings climbing up your outer lobe, this set of five pairs is an easy and pretty solution. Starting at 3 millimeters and growing larger — by one millimeter — up to 5 millimeters, they will give you plenty of options. The stainless steel posts shouldn't irritate your skin, and you can choose the color — or color combo — you like best.
Available colors: 5
Available sizes: 1
These Skinny Jeans That Will Become Your New Favorite Pair
Levi's 311 Shaping Skinny Jeans
Amazon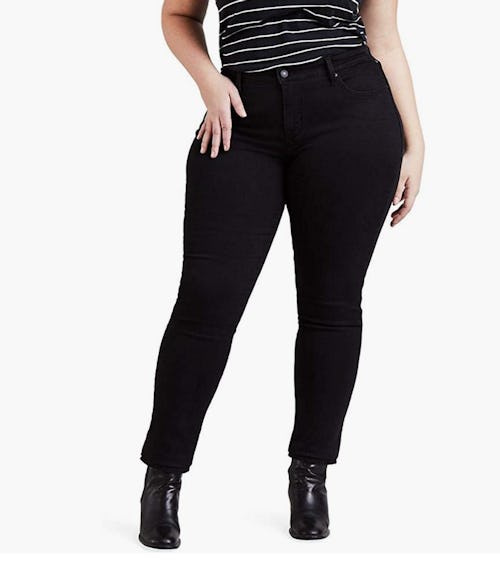 With just enough stretch and so many sizes, these skinny jeans will fit you like a glove and seem destined to become your new favorite jeans. The mid-rise waist and skinny legs are on-trend, and there are so many washes, including some with tears and shreds. "These jeans surprised me!" said one reviewer.
"They fit great through the waist and hips […] Very comfortable and look great. My new favorite jeans!"
Available colors: 24
Available sizes: 24-Short — 40-Regular
An Affordable Warm Fleece Vest Available In Several Colors
Amazon Essentials Polar Soft Fleece Vest
Amazon
This soft fleece vest is an easy layer of warmth under a coat when the weather is cold or just the right top layer in mildly chilly weather. It's easy to wash, zippered pockets protect your hands, and the collar lies flat or zips up to become a turtleneck.
"Love the collar. Love the length. Love the softness. LOVE the ZIPPERED pockets!" said one reviewer.
Available colors: 33
Available sizes: X-Small — 6X
A Cute Maxi Dress You Will Wear Constantly
Amazon Essentials Surplice Maxi
Amazon
This cute, flowy surplice maxi dress is easy to wear and even easier to afford. The neckline, lovely drape, and light rayon fabric look terrific and it feels even better. Pair it with a jacket or cardigan in cool weather, and wear it alone all summer. Choose a pattern or a solid color for two completely different moods.
Available colors: 19
Available sizes: X-Small — 6X
This Boat-Neck Tee That Looks Snagged From A French Film Set
Amazon Essentials 3/4 Sleeve Boat Neck T-Shirt
Amazon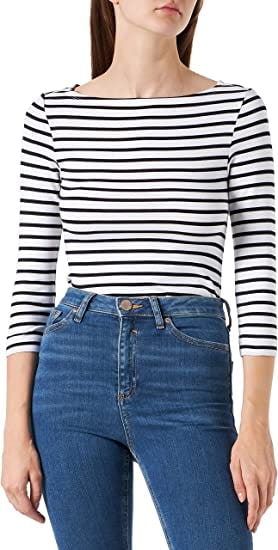 As necklines go, the boat neck is one of the best. It gives this simple 3/4 tee the elegance of a vintage French film. The three-quarter sleeves on this top add to the charm and make what might have been an otherwise basic T-shirt a garment that seems so much more expensive than it is. It's also versatile enough to wear with jeans or with a minimal skirt for a night out.
Available colors: 18
Available sizes: X-Small — XX-Large
A Shawl That Can Accessorize Evening Dresses Or Winter Coats
RIIQIICHY Pashmina Shawl
Amazon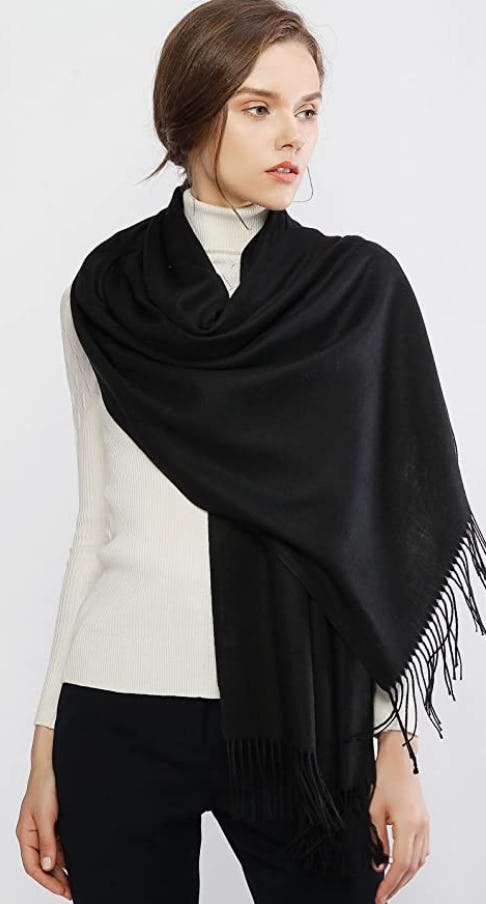 This soft and cozy shawl provides that just-right warm layer to wear over an evening dress. It also looks sophisticated under a coat as a scarf. Or, in a pinch, you could wear it headwrap-style to stay warm while biking through the Alps or jetting around Rome on a Vespa. Nearly 8,00 people said "five stars!" and described it as gorgeous, fabulous, and versatile.
Available colors: 32
Available sizes: 1
This Cute Skirt That's Versatile & Has Pockets
EXLURA High-Waist Midi Swing Skirt
Amazon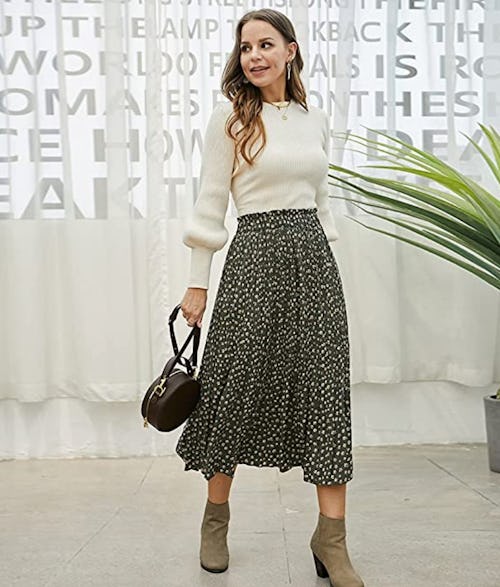 This lightweight, elastic-waist swing skirt is striking when paired with boots for a casual outing or heels for date night. The fabric flows beautifully, and the length can go from midi to maxi depending on what size you buy and how tall you are.
"This skirt is a wardrobe staple for me now," said one reviewer. "It's so comfortable, it's very versatile in that it can be dressed up or down and worn for many seasons, and best of all, IT HAS POCKETS!"
Available colors: 17
Available sizes: X-Small — XX-Large
A Warm Hooded Puffer Coat That's Cute & Sporty
Amazon Essentials Heavyweight Hooded Puffer Coat
Amazon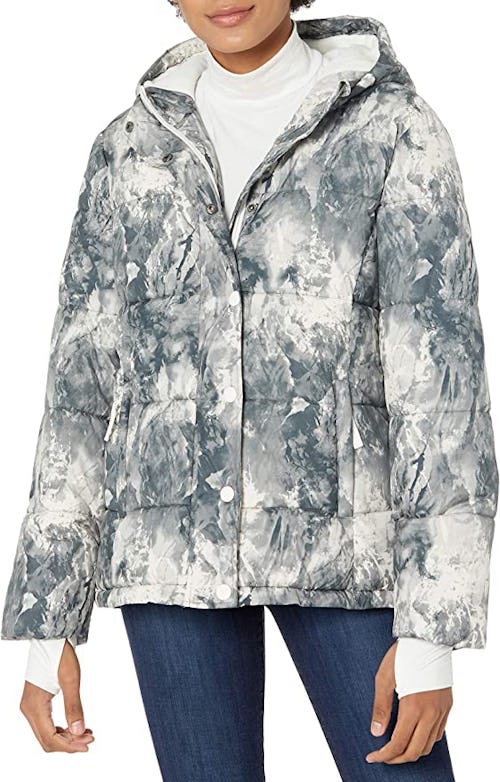 This cute and affordable hooded puffer coat is the winter essential you need to survive an icy blast — and look good doing it. It is water-resistant, has zippered hand pockets, and is very warm, with a fit that allows for room to wear a sweater under it. Thumbhole sleeves keep the wind out and give you a sporty look.
Available colors: 16
Available sizes: X-Small — 6X
The Jumpsuit With Thousands Of Five-Star Reviews
PRETTYGARDEN Off Shoulder Jumpsuit
Amazon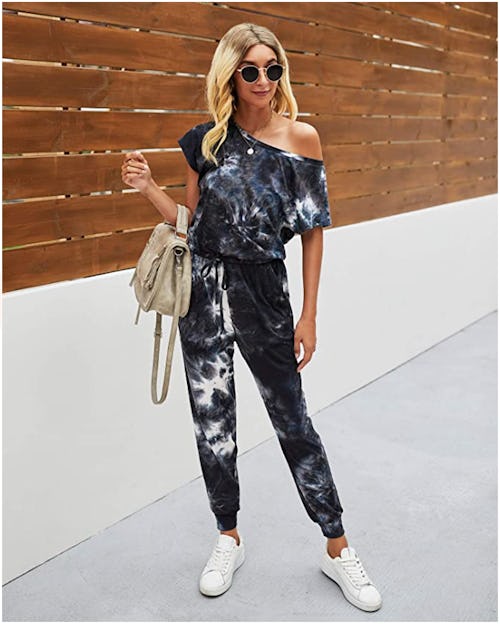 This off-shoulder jumpsuit is the one garment you need to make a cute running-around-town outfit. It's a complete outfit, with jogger-style pants, an off-shoulder neckline, a keyhole back, and an elastic waist that lets you choose how to drape the top. Nearly 34,000 people give it five stars.
Available colors: 31
Available sizes: Small — 3X-Large
A Comfy & Affordable Sweatshirt In So Many Colors
Amazon Essentials French Terry Fleece Crewneck Sweatshirt
Amazon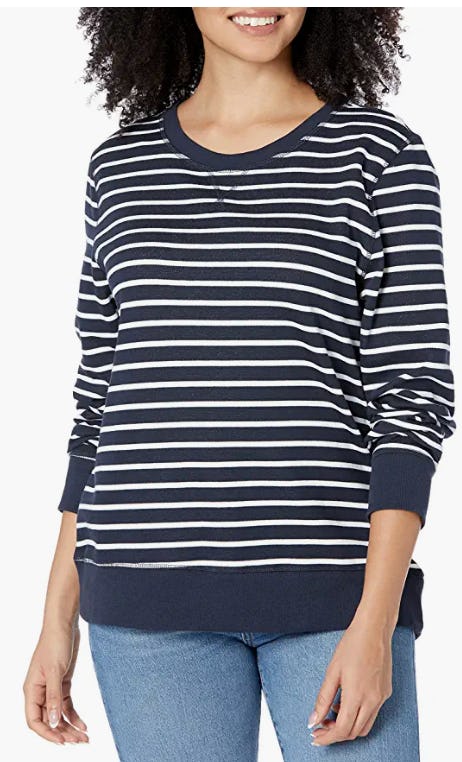 This gym-attire classic is elevated to everyday wear in this French terry crewneck sweatshirt. The long sleeves, crew neck, and generous length make for a comfortable and warm garment you can wear with jeans, leggings, joggers, or to pull on over anything when the room turns cold.
Available colors: 36
Available sizes: X-Small — 6X
The Delicate Gold Chain With Your Initial On A Heart
Fettero Initial Heart Necklace
Amazon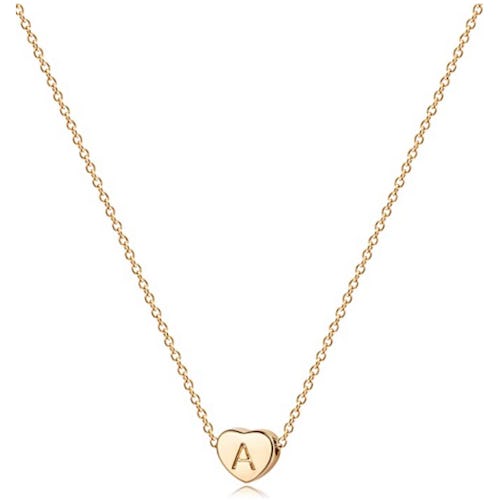 Wear this heart necklace alone for a bit of delicate bling, or layer it with other chains and pendants for an on-trend look. You can choose a plain heart with your initial on it or one with tiny stones encircling the heart. The delicate chain is 13 inches long and comes with a two-inch extension.
Available colors: 53
Available sizes: 1
These Joggers That Are So Buttery Soft
Leggings Depot Joggers
Amazon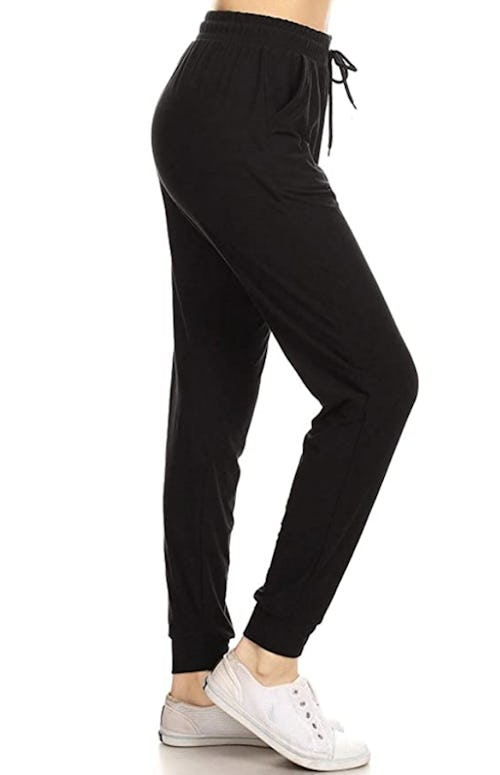 Is any wardrobe complete without a pair of joggers? Add this buttery-soft pair to your collection — there's a vast color and pattern collection to choose from. Made with roomy pockets, the fabric is sumptuously textured.
"I own several pairs of Align Lulu joggers," said one reviewer who was looking for an affordable alternative. "These are amazing!! The material is not identical, but honestly, if I didn't know, I really would think these are the real thing. The material truly has a buttery soft feel to it."
Available colors: 159
Available sizes: Small — 3X
A Soft Cardigan That Can Turn Any Outfit Dressy
Lock and Love Draped Cardigan
Amazon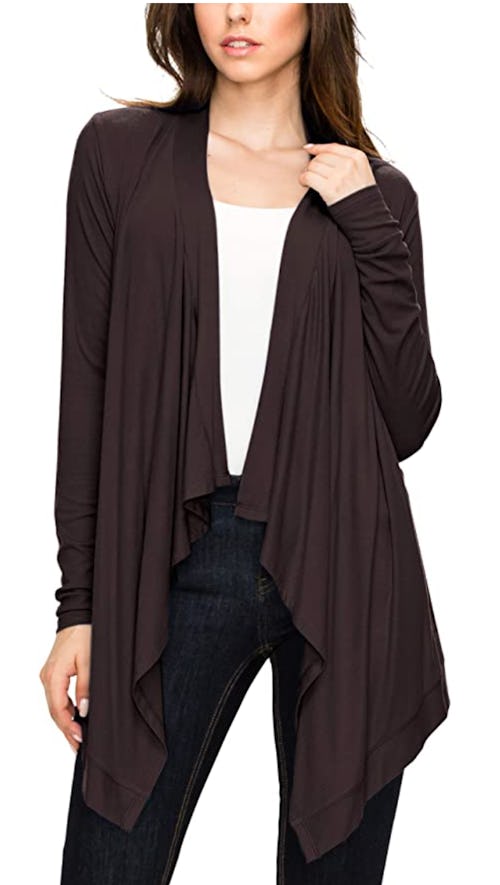 Pull this lightweight, draped cardigan on over your yoga clothes, and you'll be ready for a dinner date or Zoom call in seconds. The open front, waterfall drape, and simple colors will make any outfit camera-ready.
"I love this cardigan! It's lightweight yet warm and cozy […] It tapers nicely in the front, and it's the perfect length in the back.
Available colors: 45
Available sizes: Small — 3X-Large
This Sleep Short Set That's Cute & So Comfy
ZESICA Waffle Knit Pajama Set
Amazon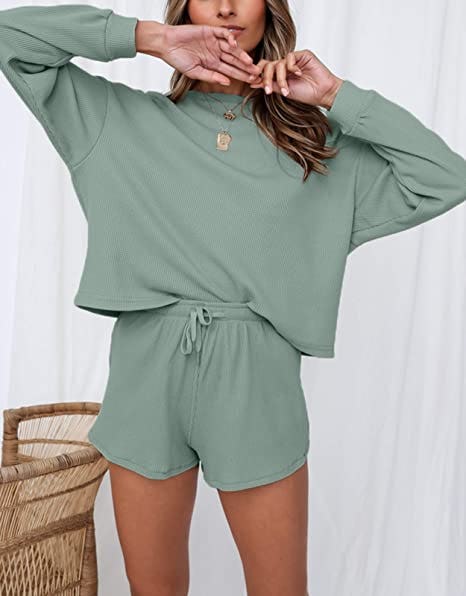 When you're lounging, this waffle-knit pajama set will be your favorite ensemble. The rayon fabric is soft and comfortable. The cut is loose but super cute, and you won't be too hot. It's perfect for sleeping or for partying at a sleepover.
"I wore it at my bachelorette party as my pj/lounge outfit and again at my SILs bachelorette party for the same," said one reviewer. "All the girls asked where I got it."
Available colors: 22
Available sizes: Small — XX-Large
The Batwing Sweater With An Edgy Boutique Style
ANRABESS Turtleneck Batwing Sweater
Amazon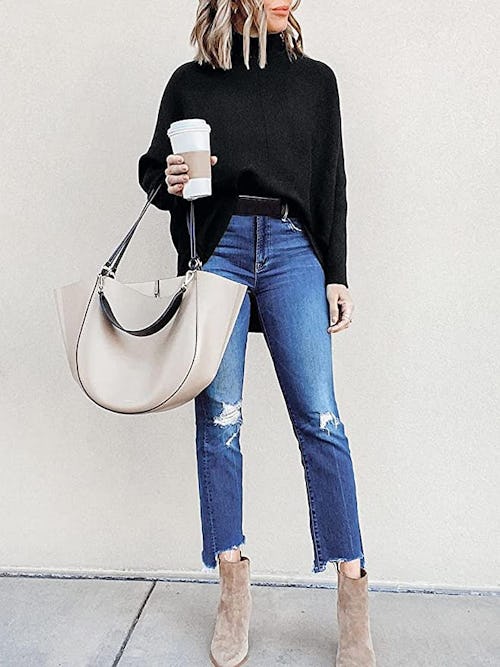 The edgy asymmetrical cut of this batwing sweater gives the impression of being purchased in a SoHo boutique for enormous sums. But it's actually affordable enough to own in several colors. The fitted sleeves contrast beautifully with the swing shape of the body.
"The material is soft, the fit is perfect, [and] it is an overall beautiful sweater," said one reviewer. "I already ordered the other colors."
Available colors: 33
Available sizes: X-Small — X-Large
The Wool Panama Hat People Are Buying In Multiples
Lanzom Wide Brim Floppy Panama Hat
Amazon
Top your outfit with this wide-brim floppy Panama hat to protect your face from the sun, your hair from the wind, and you from getting cold while adding a serious punch of style. The wool blend is warm, and the thin leather-like belt is a great place to tuck a flower or feather. Reviewers are thrilled with it, and many are coming back for another color.
"Super cute and gives the trending vibe without breaking the bank," wrote one reviewer.
Available colors: 31
Available sizes: 1
These Gym Shorts That Are Everything Your Workout Needs
AUTOMET Athletic Sweat Shorts
Amazon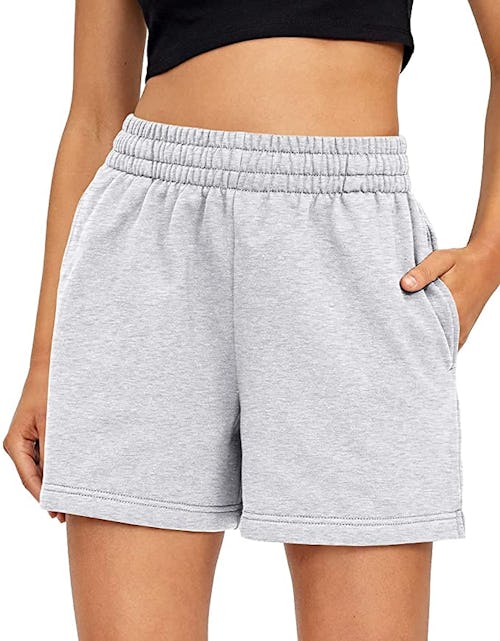 These sweat shorts are a wardrobe essential whether you are headed to the gym, the softball field, or for a walk on a warm day. The high waistband can be worn as is or folded over and the big side pockets give you a place to stash your phone or keys.
Available colors: 33
Available sizes: X-Small — 3X-Large
A Sleeveless Duster That Can Take Any Outfit From Dull To Fun
Popana Sleeveless Duster
Amazon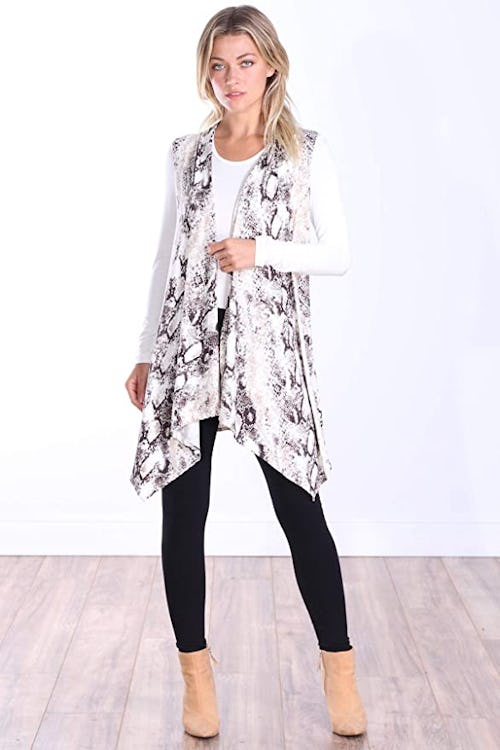 Dress up any tee or tank-and-leggings combo with this sleeveless duster that turns a basic outfit into something you can wear on a date. The loose and flowy fit is cute and comfortable. And the lightweight fabric works well even when the weather is warm.
"I barely opened the package before ordering another one," said one reviewer. "The material is so soft and it flows so naturally."
Available colors: 34
Available sizes: Small — 3X
This Crewneck Bodysuit That's The Perfect Base Layer
LAOLASI Crew Neck Short Sleeve Bodysuit
Amazon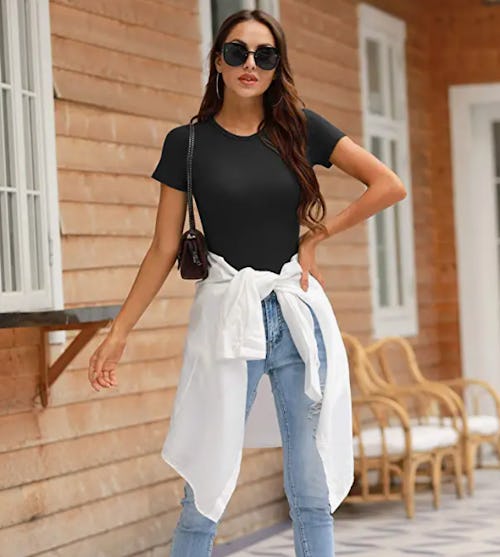 Wear this crew neck, short-sleeve bodysuit when you want a trim and snug fit without struggling to keep a tee tucked in all day. The soft Rayon stretches for comfort and the snap closure makes it easy to get into and out of.
"There's no pulling or bunching, just a nice black leotard," said one reviewer. "I wear this under business casual wear for work."
Available colors: 25
Available sizes: X-Small — 3X-Large
A Cute, Lightweight Top That Gives Sweater Vibes
DOLNINE Plus Size Knotted Top
Amazon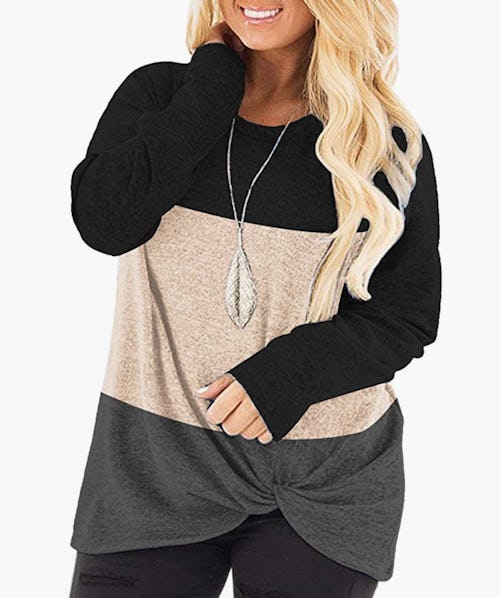 This lightweight knotted top is the perfect length to wear with leggings or bodycon skirts and the knot-front elevates it from sweatshirt to dressy top by adding some shape and interest. You can choose a crewneck or V-neck and the stretchy fabric is light and breathable even though it gives the cozy look of a sweater.
"I absolutely love the look and fit of this shirt," said one reviewer. "And the fact that it comes in several styles is awesome. I will definitely be ordering more."
Available colors: 40
Available sizes: 14 Plus — 28 Plus
This Sturdy Canvas Tote That Can Go Anywhere With Your Gear
Covelin Canvas Tote Bag
Amazon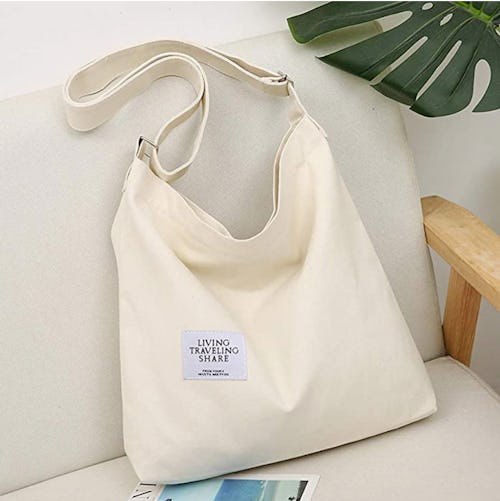 A simple bag that is as comfortable toting your farmer's market purchases as it is traipsing through Europe on a gap year, this inexpensive and lightweight tote bag punches way over its price tag in terms of versatile usability. The adjustable strap lets you carry it over a shoulder or wear it crossbody and the slouchy shape hugs your body and lets you carry as much —or as little — as you need.
Available colors: 81
Available sizes: 1
The Stylish Boyfriend Jeans That Are Supremely Soft
Levi's New Boyfriend Jeans
Amazon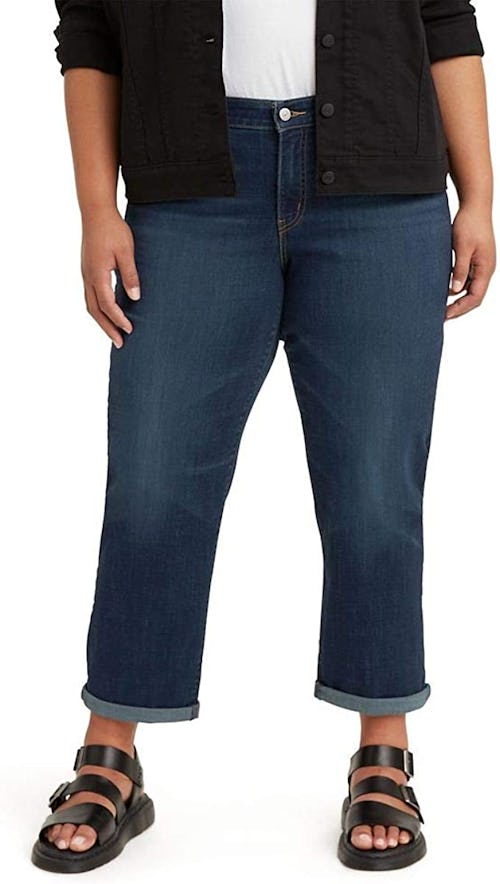 A softer version of old-school denim fabric with a bit of stretch added makes these boyfriend jeans supremely comfortable. The relaxed fit and mid-rise waist only improve on that comfort. And the capri length shows off your cute shoes.
"I am so thrilled with these jeans that I ordered three pairs," said one reviewer. "They are extremely soft […] comfortable, have great stretch, and are very [cute.]"
Available colors: 12
Available sizes: 27 — 46
This Down Jacket That Will Keep You Warm Through Just About Anything
Orolay Women's Thickened Down Jacket
Amazon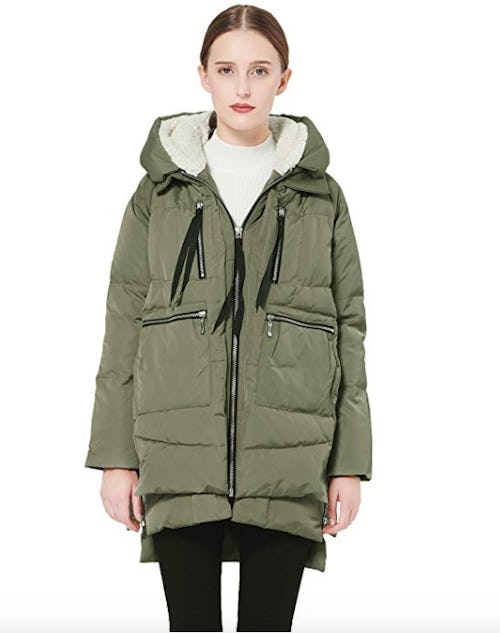 When you want to be warm, this thickened down jacket is the outwear you want. The six massive pockets, down fill, layered style, faux fur lining, and long-in-the-front but longer-in-the-back style have conspired to make this jacket a winner. You can stay warm while carrying a phone, spare mittens, and snacks.
Available colors: 13
Available sizes: XX-Small — 5X-Large
A Pretty Faux Wrap Dress To Fill Your Closet With
Nemidor® Faux Wrap Dress
Amazon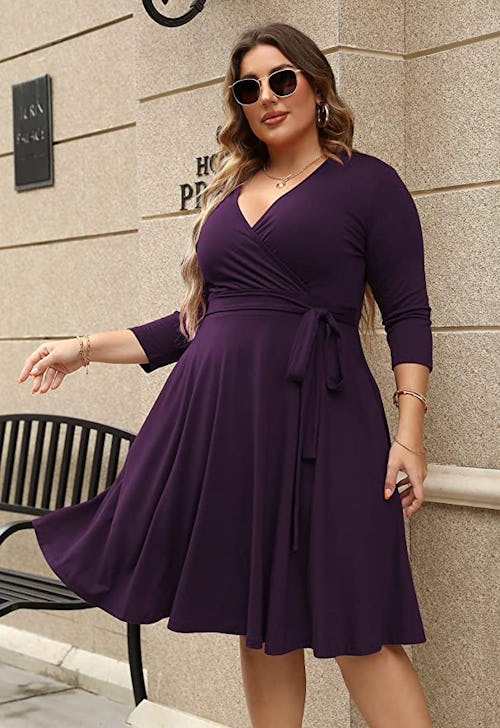 Hang a few of these faux wrap dresses in your closet because they are the perfect combination of comfort and cute. The tie waist lets you adjust the fit and the deep-V neckline gives you plenty of room to show off a beautiful necklace or layered chains. The fabric is soft and moves beautifully. And it has pockets! Choose a few in different colors and patterns and they won't even look like the same dress.
"It's soft to the touch and fits like a dream!" said one reviewer.
Available colors: 32
Available sizes: 14 Plus — 26 Plus