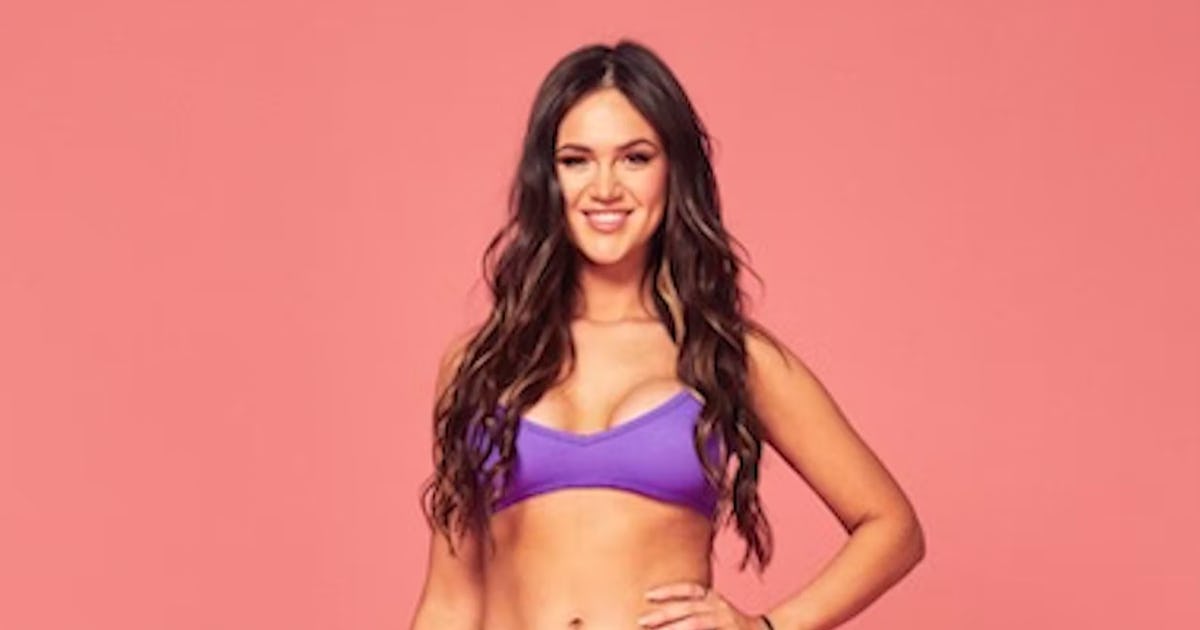 Held in South Africa, and helmed by new host Maya Jama, Love Island is finally back on our screens and there's no better way to stay warm this winter, TBH. Hailing from Swansea, Anna-May Robey is one of the Islanders hoping to find romance in the villa and describes herself as a chatterbox who falls in love quickly. Despite being from Swansea as well, Anna has never met or interacted with fellow Swansea Islander, Paige Thorne, who was part of Season 8 of the dating show. "Swansea is a very small place so I'm quite surprised I didn't know her when she went on but there is a bit of an age gap so maybe that's how we don't have any mutual friends," she told Bustle.
What Is Anna's Job?
Anna, 20, works as a payroll administrator in the Welsh city of Swansea. Like many these days, Anna is a full-time WFH-er, and admits that going without company all day can be a challenge, given her extroverted nature. "I work from home all day, so I don't really speak to people in person for two or three days a week, so when my father comes home, he'll want to sit down and chill out, and I'm there chewing his ear off!" she said.
While Anna isn't sure what her life will look like after the show, she's definitely hoping for a more people-facing role. "I'm doing an unsociable job at the minute, I do payroll and I work from home, so I'd like to do something a bit more sociable like interviewing more people or anything like that," she tells Bustle.
What's Anna's Instagram?
Anna has 21.2k followers on Instagram (and counting). She shares selfies and snaps of herself enjoying fun nights out with her mates. In fact, the Islander was contacted for the show on social media. "I was approached via Instagram and then we hopped on a phone call. And because it was something I had thought about before and people had mentioned it to me, so I thought there's no harm going ahead. It's never something I expected to get but it's really exciting," Anna said to Bustle.
If you're interested in viewing more, you can find her over on @annamayrobey.
What Else Is There To Know About Anna?
The Welsh contestant has her fingers crossed that her time on Love Island won't manage to trump her worst date of all time. "I went on a date once and I never saw him again," she recollected to ITV. "We went for food and shared a bottle of wine. As I was speaking to him he fell asleep! I had to clink his wine glass to wake him up."
While the Islander said she doesn't have one specific type, there are some former contestants she hopes to see again on the show. "From the past seasons, I really liked Ovie when he was on, and maybe Luca and Jacques from the last season — they are quite my type. I wouldn't mind if any of them stepped in, that would be nice," she explained to Bustle.
But what about the dreaded ick? Well, one of Anna's icks is surprisingly specific. "I don't like people who brag or who are really materialistic. Another thing is watching a boy get his haircut and the barber pushing up the seat, you know the pumping thing? I used to go to the barber with my ex and I used to sit there and every time the barber would do it, I would have to look away."
Love Island starts at 9pm on Monday 16th January on ITV2 and ITV X.
This article was originally published on