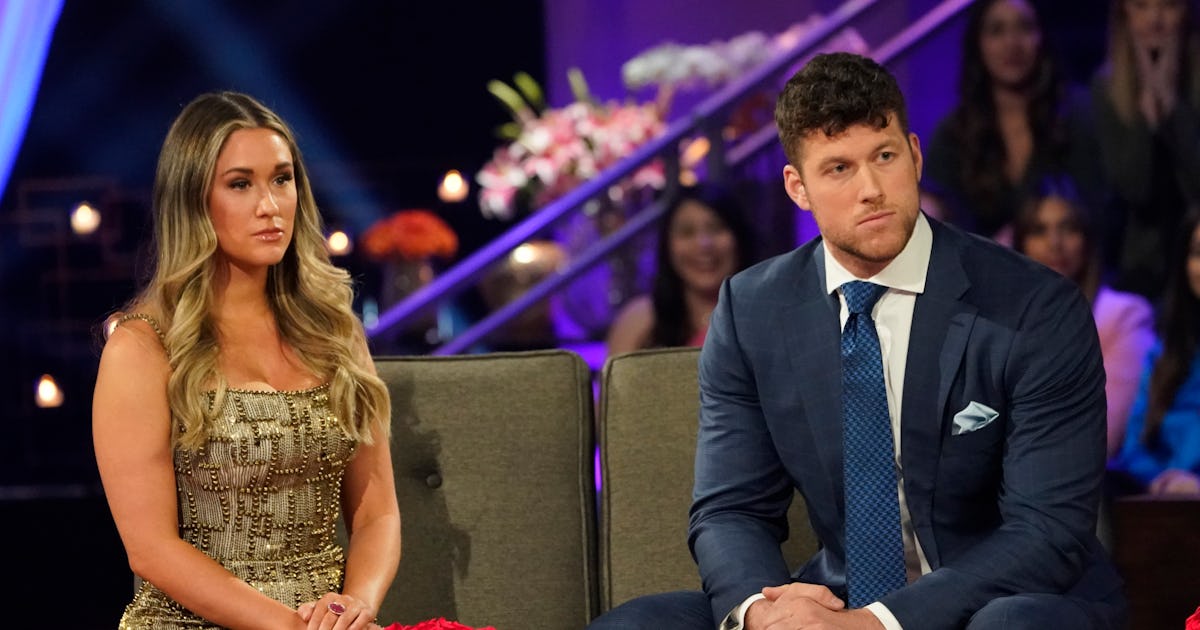 During his time as the lead of The Bachelor, Clayton Echard broke up with Rachel Recchia and Gabby Windey to pursue Susie Evans — a relationship that ultimately ended in September. Gabby and Rachel, of course, had a dual run on The Bachelorette to see if they could find love as leads themselves. However, both of their respective relationships came to an end pretty quickly. But a new TikTok post shows that one piece of the original love quadrangle is spending time together again: Clayton and Rachel.
On Feb. 1, Rachel posted a TikTok where she was sitting on a couch with Clayton. In the video, former Bachelorette Michelle Young (on whose season Clayton originally appeared) lip-syncs audio from Russian Doll, asking Rachel, "Are you gonna tell me what's going on?"
"I would, but I think explaining it might give us both an aneurysm," Rachel responds, gesturing toward Clayton. So, are Clayton and Rachel dating a year after The Bachelor?
The video implies they are spending time together, but maybe it's too complicated to explain right now. Then again, it's totally possible (and probably more likely) that it's a misdirect, and Clayton and Rachel are just friends hanging out as a group.
In Clayton's own Instagram story, he tags Bachelor Nation alums Blake Horstmann and Caelynn Miller-Keyes, in addition to Michelle and Rachel. Also part of the group? Love Is Blind Season 1 cast member Giannina Gibelli, who's in a relationship with Blake.
Blake's story shows a behind-the-scenes clip of Michelle filming Rachel's TikTok, and everyone's laughing in it. So, it could very well be a fun (if chaotic) joke at Bachelor viewers' expense. Blake also tags iHeartMedia, which seems to suggest the group gathering was a sponsored event.
Regardless of the context of their meeting, Clayton and Rachel's reunion is a pleasant surprise. And on Giannina's TikTok, everyone got together for a video captioned, "when you get over your reality tv trauma." So, maybe there was some good healing going on at this event, which based on the group's social posts, seems to have happened in Carmel-by-the-Sea.
Some Bachelor fans did predict (or maybe hope) that Clayton and Rachel would reunite after they both split with their respective partners back in September. But for now, neither Clayton nor Rachel has addressed whether they're actually dating again or just friends.