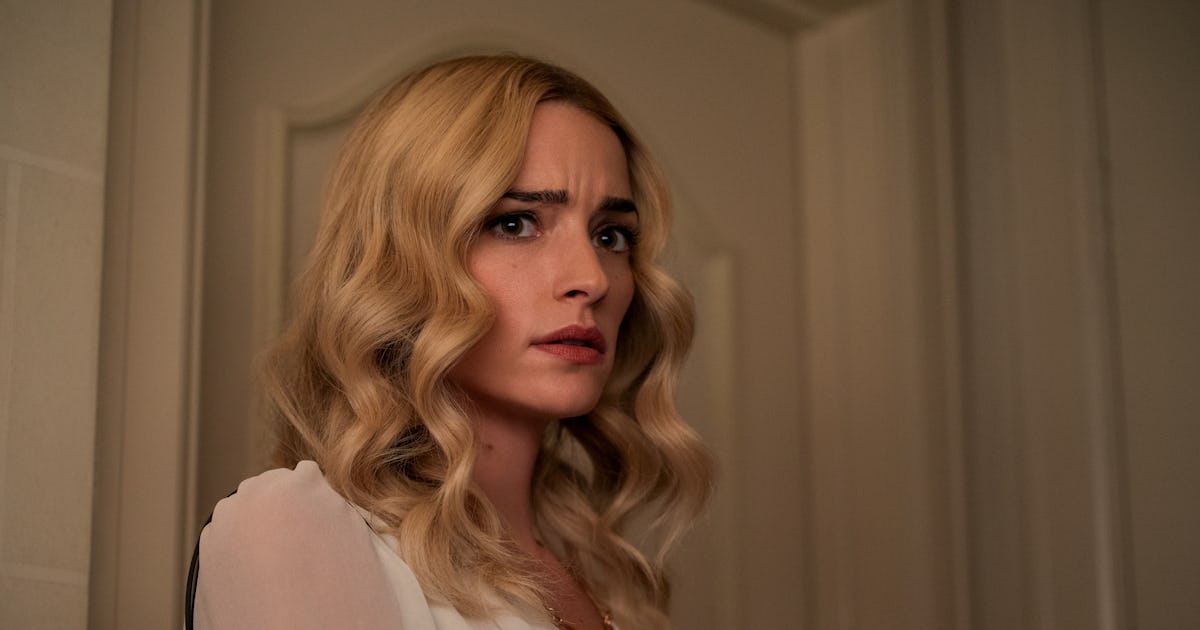 When Ginny & Georgia debuted in February 2021, Brianne Howey, who plays Georgia, did not anticipate the show becoming a runaway hit that topped the streaming charts. "It was kind of mind-blowing," she tells Bustle. "We knew while we were working that we were doing something that was important and special to us. But you never know if it's going to land with anyone else."
Its success is one of many surprising things about the Netflix drama, which ended its first season with several emotional cliffhangers. Now, nearly two years later, Ginny & Georgia Season 2 arrives with more melodrama and twists to spare. (Warning: Spoilers for Season 2 ahead.) Throughout the new season, the mother and daughter pair fight to see eye-to-eye as Georgia confronts her abusive ex Gil (Aaron Ashmore) after he unexpectedly arrives in Wellsbury. Meanwhile, Ginny (Antonia Gentry) struggles to keep her mother's secrets and begins to self-harm as a way to cope.
But just when things seem to be going right for Ginny and Georgia, the finale shakes up their lives again. After failing to mount a case against Georgia for murdering her ex-husband Kenny, private investigator Gabriel Cordova (Alex Mallari Jr.) discovers she was involved in the death of Cynthia's (Sabrina Grdevich) husband Tom. At Georgia's wedding reception, Cordova and the police arrest her for murder, shocking her new husband Paul (Scott Porter), the town, and even Howey herself.
"It's a punch to the gut, listening to Georgia talk about how she doesn't trust happiness, and then she starts to trust happiness," Howey says. "She's putting one foot in front of the other, literally taking baby steps walking towards her future, her happiness. Then the other shoe drops, and it all comes falling down."
Howey breaks down the Season 2 finale, her character's fate, and if there's still hope for Joe's crush on Georgia.
In the beginning, Georgia is pretty stuck in her ways, but she begins to open up slowly throughout the season. What was that journey like for you?
I love getting to see and play Georgia as a fish out of water. I love it when she's out of her element. It's funny and endearing but also good for her. Georgia has plenty of social and cultural blinders that people can relate to, for better or for worse. These are parts of our humanity, whether we like it or not. And it's important for Georgia to start to face them and put some of her pride and her ego aside, which is really hard because that's where she has to learn so much from Ginny. In Season 2, she finally is starting to get the point.
What did you think when she finally told Paul the truth about her past?
The creator and showrunner and I kept going over that scene. I get why Georgia was doing it, and you always got to be on your character's side and have empathy for them, but it was a very risky move.
I love that Ginny is the one who convinced her to do it. Georgia sort of fell through the cracks of society and has never had an adult figure that she can really trust or look up to, and in a way, Ginny is that figure. Vulnerability is Ginny's superpower. Ginny helping Georgia understand to lean into her own vulnerability only brings her closer to Ginny and in the end, to Paul.
Joe also declares his feelings to Georgia this season. Do you think there is still a chance for them to get together?
Georgia's main priority is her children. She is still stuck in survivor mode. Georgia can't even think about what she would personally want had she not lived the life and situations that she's found herself in. Right now all that matters for Georgia is maintaining security, safety, and protection for her family, and that definitely means Paul. And she is absolutely in love with him. He's so amazing with the children. It's so easy for her to fall in love with him.
But I get it. We love Joe. I love Joe. He's such a fun character. One of the most beautiful scenes that Ray [Ablack] and I got to shoot together this season was when Georgia goes to the diner after the horrible Christmas dinner, and she tells him, "I've never felt judged by you." I don't know that Georgia can say that about anybody else in her life, and I think that holds a lot of weight.
Everything seems to come crumbling down at the end with her arrest. What was your reaction to that moment?
It's Ginny & Georgia; nothing's going to be wrapped up in a perfect bow, but I appreciate that because that pertains to real life and our humanity more than anything. It was gut-wrenching, especially shooting it and watching Diesel [La Torraca], who plays Austin, running after the car. My heart just sank. He's such an amazing actor, but watching his sweet face and his run after his mom, I couldn't handle it.
Before the arrest, the wedding itself was a genuinely happy moment. It was a victory for Georgia in a way.
One of the little Easter eggs that I loved was Paul and I raised our hands after we both said "I do" in the same way that we did after his victory speech in Season 1.
What do you imagine is next for Georgia?
What's interesting for a woman who has always thought five steps ahead and has completely orchestrated and manipulated her entire life story and identity, is this is not something Georgia saw coming. So, I don't entirely know. To quote Georgia, "It's not over until it's over." I'm sure she's starting to plant some seeds about what to do next, but this is one of the first times in Georgia's life that the rug has been pulled out from under her, and she doesn't already know what to do next.
Have you heard about Season 3 yet? Is there anything surprising in store?
Story-wise we know where some potential lies, but other than that, no. Of course, it's all surprising. Every time we go in to meet with the creator and showrunner, and we have private meetings with them to go over what to expect, it's just laughing, crying, and taking notes.
This interview was edited and condensed for clarity.