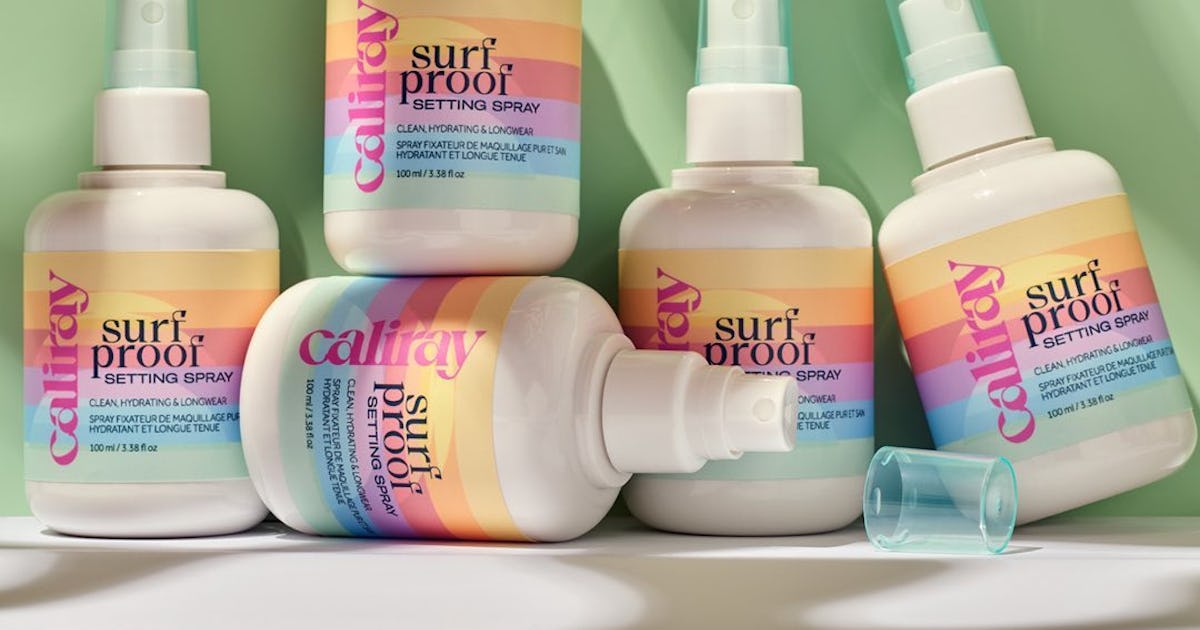 When you think about the setting spray category, Urban Decay's iconic black and purple bottle of All Nighter may first come to mind for many beauty lovers. While there have been countless others of note to hit the market since, there is still so much love and appreciation for what many consider to be the end-all, be-all OG.
That being said, All Nighter stans may want to make a little room in their makeup bags for caliray's Surfproof Hydrating Setting Spray. Wende Zomnir, the mastermind behind the cult-fave Urban Decay product, is the co-founder of caliray, and she's set out to create another formula that may just be your new fave — and it just so happens to be filled with some major skin-loving ingredients.
Infused with the nostalgic essence of sunny California — along with the state's culture of sunrise surfing, afternoon green juices, and late-night mindful meditation — caliray, above all else, is on a serious mission to redefine what it means to be a planet-conscious, as-clean-as-possible brand that *actually* performs. And with an already impressive array of skin-friendly makeup products (including my personal most-used Blurring Collagen Peptide Primer and dewy daydream Blurring Skin Tint), its new setting spray serves as the perfect addition to its line of carefree beauty essentials.
Surfproof is housed in a 100% upcycled bottle, complete with a reusable sprayer that can be transferred to refills. What's inside it is equally impressive: Perhaps my favorite thing about the product is just how fine and soft the mist is. With a zen aroma that leaves you wanting to take countless spritz breaks throughout the day, your skin is never left feeling wet or sticky — rather, your makeup products seem to melt into your skin upon application, and your face is left feeling juicy, plump, and with a subtle dewiness that's particularly beneficial for those with balanced, combo, or dry skin types.
The buzziest active ingredients are what make the formula so good — there's pore-shrinking niacinamide, deeply moisturizing glycerin, oil-controlling zinc lactate, and prickly pear and agave, both of which amp up the hydration factor in a big way.
Though caliray's setting spray is filled with ingredients that feed your skin (and can be beneficial on bare skin), its main purpose is to set your makeup for a full day of wear. And it delivers on that front — a few spritzes ensure that your makeup is left exactly where you placed it no matter what you're up to throughout the day. I won't be surprised if it becomes a hero product for the brand.