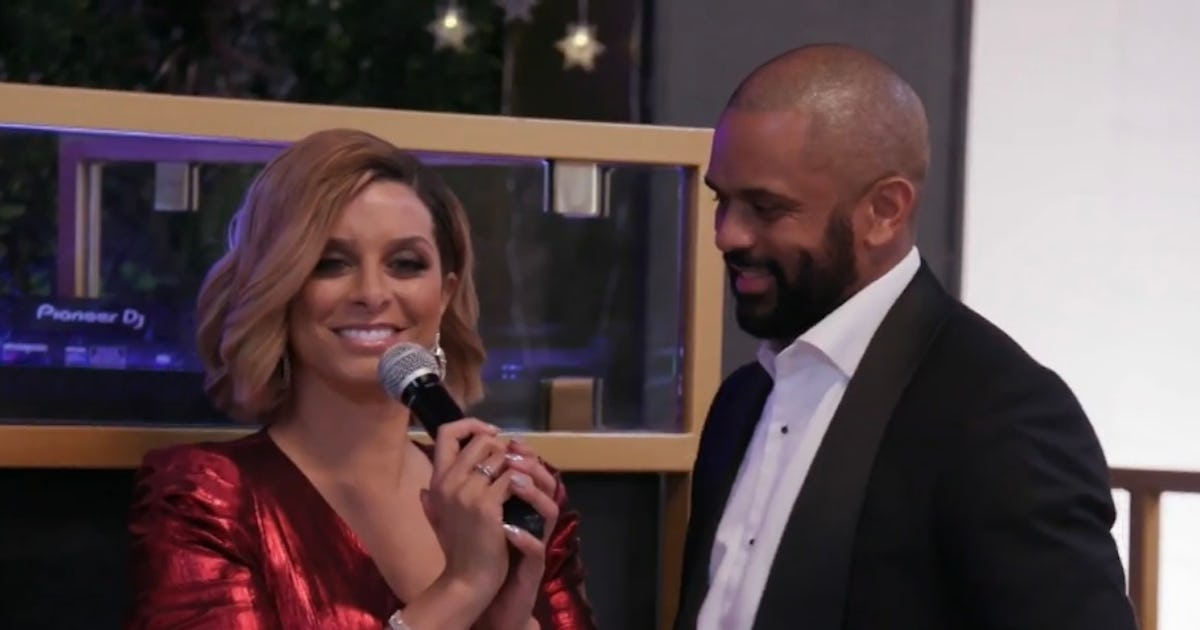 Long before the mystery of Heather Gay's black eye began keeping the Real Housewives fandom up at night, there was another million-dollar question: When will The Real Housewives of Potomac's Robyn Dixon and Juan Dixon get remarried? After getting engaged in December 2019, the high school sweethearts finally gave a wedding update on the Bravo series. During the Jan. 8 episode, the couple told their sons Corey, 14, and Carter, 12, that it was "time to start planning a wedding," meaning it was also time for the boys to get measured for suits.
When the tailor arrived, Robyn told him that they were shooting to get married in July 2022, before the men's basketball season at Coppin State University, where Juan is the head coach, gets busy. As the show noted, July was only 40 days away, leading viewers to wonder if Robyn and Juan got remarried. Though it remains to be seen if their second trip down the aisle will make the cut for RHOP Season 7, there's one major hint that their wedding took place last summer, as planned: Robyn and Juan obtained a marriage license on Aug. 18, 2022, according to People. The magazine also reported, via the Howard County Clerk's Office in Maryland, that the couple could marry as early as Aug. 20, but the certificate also wouldn't expire until February 2023.
Regardless, Robyn made no secret on RHOP that the nuptials would be a "small and intimate" affair, describing it as a "private ceremony" with only four guests: her, Juan, and their two sons. "But we still wanna make it memorable," she said, offering Maryland's Chesapeake Bay as a possible ceremony location. Meanwhile, Corey suggested a destination wedding in Jamaica, which aligns with Robyn's previous statement to Page Six that she wanted to get married somewhere "beautiful and warm."
Of course, Robyn and Juan had to get the "whole prenup conversation" out of the way first. Though he said he still needed somebody to "read the fine print," the former NBA star was on board with hammering out an agreement — even when Robyn suggested an "infidelity clause." With that tricky conversation behind her, the Embellished founder said that she felt a weight had lifted off her chest. "Now I just wanna start planning our wedding," she added. "Like, I can't wait. I'm excited."
As RHOP fans will recall, Robyn and Juan's second trip to the altar follows a long and winding path. Previously married from 2005 to 2012, the pair continued living under the same roof (and even shared a bed) after their divorce, in order to raise Corey and Carter together. From couple's therapy to an eventual Season 5 proposal, they've been taking viewers along on their up-and-down journey ever since RHOP premiered in 2016.
"Sweeter the second time around!" Robyn captioned Instagram photos from Juan's proposal on Dec. 16, 2019, also sharing details of her "non-traditional" custom pink engagement ring. "Thank you to everyone who loved, supported, rooted and prayed for Juan and I. We truly appreciate all of the love and congratulatory wishes as we embark on [Dixons Part Deux]."
Since then, Robyn cited the COVID-19 pandemic as the reason the wedding was on hold, followed by a shift in focus to moving into their dream home in August 2021. At long last, it seems Robyn and Juan are finally remarried, but if not, they have until February 2023 to make it official.