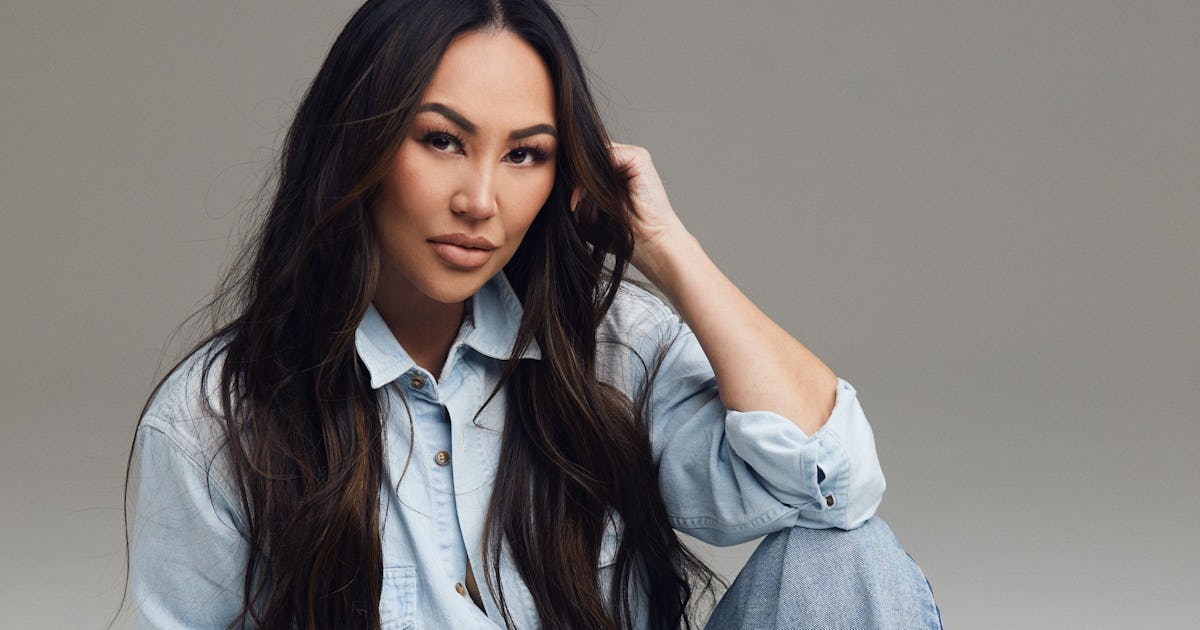 Bling Empire: New York may have just dropped on Netflix, but star Dorothy Wang already has thoughts for a potential Season 2: "Simple Life-esque." "I would love to go work at a Wetzel's Pretzels or Cinnabon," Wang tells Bustle. "Or Panda Express. [Tina Leung] loves Panda Express." But this dream has some limitations. "I don't know if I'd be down to jump in an RV, but I've always loved doing fish-out-of-water experiences like that."
An OG "rich kid" who first shot to fame on E!'s Rich Kids of Beverly Hills in 2014, Wang, 34, has been a reality TV veteran for almost a decade. "I think I've grown up a lot since Rich Kids," she says. After a stint hosting the Facebook Watch dating series Fetch Me A Date and becoming a licensed real estate agent, Wang says her priorities have shifted from prioritizing her wardrobe to simpler, homier joys. "I'm a lot more chill and level-headed in real life than maybe what is perceived," she explains. "I don't actually love the drama of filming, when you walk into a dramatic lunch or dinner and everyone's fighting."
On the latest Bling Empire installment, which follows a new cast of wealthy Asians on the East Coast, fans get to see a chiller side of Wang as she moves cross country and acclimates to New York's unique blend of grit, fashion, and wealth. Wang, an LA native, initially struggled with the change in zip code. "I felt like in the beginning, my life was kind of in shambles," she says of moving coasts and filming simultaneously. "I didn't realize it's actually very emotionally traumatic to move cross-country." Over the course of the season, she can be seen doing everything from learning to hail a cab to going on a blind date and ruffling some feathers with her candor.
Now, a year after her big televised move, Wang seems settled in her Chelsea apartment. She even does a quick photo shoot in her kitchen — the same one where she makes dumplings with her mom on the show — before our Zoom interview officially begins. "Do you mind if we take one photo?" she asks before posing with a bouquet of fresh flowers.
Below, Wang talks about her big move, friendships with her costars, and Bling Empire love interest, Ari.
At the beginning of the season, you had just moved. What was the biggest struggle for you then?
I wanted to move a little bit earlier, but production wanted me to wait. Like, "Can you wait until we start filming?" And I don't know why I was so obedient. I should know this; it's not a good idea to move and start filming a show at the same time. I remember telling the producers, "I actually moved in real-time. You have to give me time to unpack my boxes." And everything is just harder than in LA.
Everyone in LA goes above and beyond. Or maybe I curated a very nice, comfortable life for myself, and everything was so perfect all the time. That was the reason why I wanted to move — because I wanted a shakeup. But when I got here, it was like, the cable internet guy had to come seven times before it worked. In LA, I would just call the telephone company, and it's done in a day. Here, it's this ongoing saga: "Does Dorothy have WiFi?" I went two months without WiFi when I first moved.
On Instagram, you mentioned 2022 being a "transformative year." What did you discover about yourself in New York?
After the initial trials and tribulations, I started to feel so at home here. I had this whole new world to play in. I was also struggling with some health issues during the filming of [Bling Empire] and the filming of New York, and everything started to come together for me here. I started to feel better. You also sometimes don't realize that you feel bad until you start feeling better a little bit. Now I feel like I'm my vibrant self again.
One of the things I loved seeing on the show was your friendship with Tina.
I've known Tina for years and years. We share a best friend, Ezra, so when I would come to New York and visit for Ezra's birthday or Fashion Weeks, I would always see Tina, and she was always lovely and fun. At first, you think she's gonna be kind of bitchy, kind of mean, kind of rude even because she looks so cold and so hot. But she is really the sweetest, most thoughtful. I call her a warm Hello Kitty butterfly unicorn.
Not everyone in the cast was on great terms when you went to Long Island, but you really tried to get everyone to bond. You even prepared a cake fight. What is your approach to friendships?
Honestly, I'm a slow burn, and I think sometimes people take that the wrong way because I don't want to be fake with people. I'm not the person that's gonna be overly fake nice and then talk sh*t behind your back or be like, "Let's do lunch," if I don't really want to do lunch. Logistically, there's not time for everyone to be friends with everyone, so you don't have to pretend. People sometimes jump into it so quickly, and then there's a blowout, and then you realize, "This person is actually not my cup of tea." And then it's more awkward if you've had this fake public relationship.
The friendships that I do build are very real and very long-lasting, and the people that I let into my life and really get along with, they're like my family.
Who surprised you the most out of the cast as you were getting to know them?
I knew of Lynn [Ban] because we have a lot of mutual friends and she's an iconic socialite in New York. But similar to Tina, despite how she dresses and how fierce she is, she's so chill, easy, nice, and sweet.
On the show, you were open to dating. What's the biggest difference between dating in LA and dating in New York?
In LA, dating was hard for me because I was born and raised there. The pool was getting really small. I do feel like everyone here's a little quicker, a little faster paced, and sometimes in LA everyone would always be shocked by how honest I was or how bold or how opinionated I was. Here it doesn't matter.
We saw you develop a romance with Ari. What drew you to him?
We were on a girls' trip. Actually, I was trying to set Ari up with Tina. We were just talking, and he was really fun in that moment. There was a warmth and a fun connection there.
Can viewers expect to see Ari in a potential Season 2?
I guess they would have to see! You know we filmed this a year ago. I moved Jan. 15 last year, so it's really been a full year.
If you could invite anyone to be part of Season 2 or make a cameo, who would it be?
From Bling Empire LA, I would love Jamie [Xie]. I actually told her, "Just move to New York! Join us over here!" Because she's always here. From Rich Kids of Beverly Hills, probably Morgan [Stewart]. I've been trying to talk to Kimora [Lee Simmons]. We'll see!
This interview was edited and condensed for clarity.