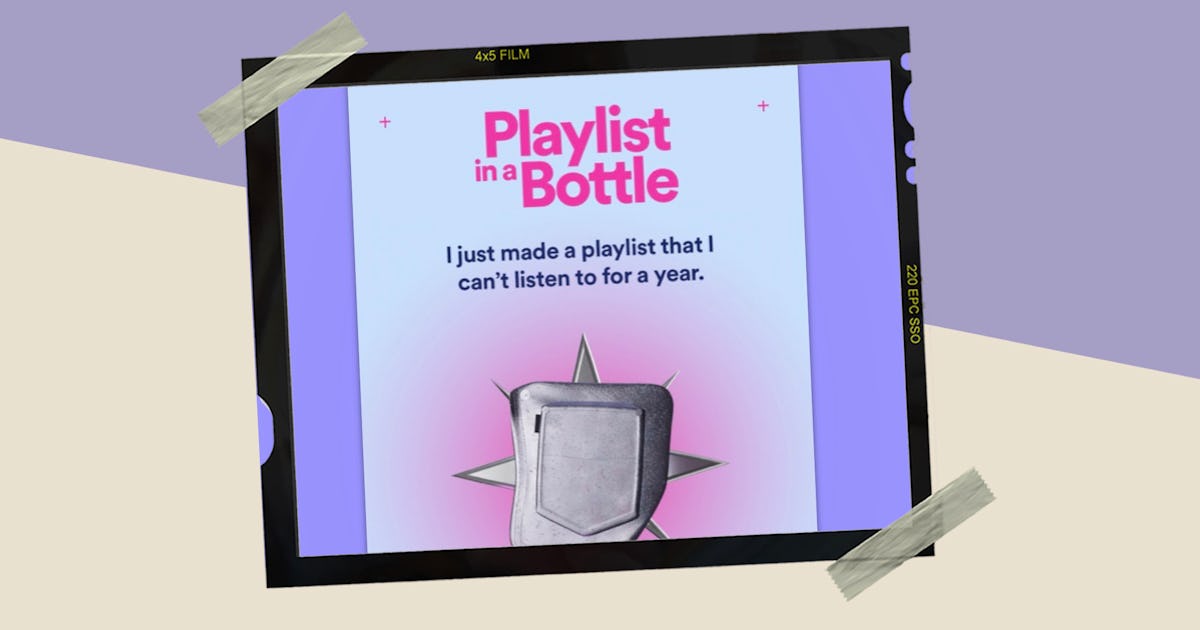 Everybody knows the start of a new year brings new beginnings. More importantly, though, it brings you the chance to actually make your Spotify Wrapped something to be proud of over the next 12 months. If that pressure is too much to fathom right now, don't fret, because Spotify now has "Playlist in a Bottle" that's a way more low-key way to wrap up your year. Here's everything you need to know about the new feature.
What Is Spotify's Playlist In A Bottle?
Starting Jan. 4, 2023, Spotify offered users of the platform the opportunity to create a musical time capsule, aptly called Playlist in a Bottle. With Playlist in a Bottle, users will be prompted to choose songs that fit certain themes. Predictions for the year and favorite songs of the moment are all fair game with prompts like "A song you're going to kiss someone to this year" and "A song that won't make sense a year from now" making the cut. You can choose a specific song by typing in the title or can choose the "Random" button for Spotify to make its own choice based on your listening habits. Once your answers are locked in, the resulting playlist will not be accessible until January 2024, so prepare to hear some fun throwbacks or feel some sort of musical nostalgia a year from now. You have until Jan. 31, 2023 to make your musical time capsule.
How To Make A Playlist In A Bottle On Spotify
First things first, you'll want to ensure your app is up to date to make the feature available to you. From there, go to spotify.com/playlistinabottle and it will redirect you to the Spotify app. Similar to when you receive your Wrapped results, you'll be taken to a new screen that shows colorful animations and buttons. Step one of the process is choosing what you want to put your electronic time capsule in — either a bottle, jean pocket, gumball machine, acorn, lunch box, or teddy bear. When you make your choice, you'll be given the prompts to choose a corresponding song for, and after a couple of answers, you can choose to move forward or "Keep Going" for more prompts.
Once you've filled out as many prompts as your heart desires, you can "Lock In" your answers to seal your playlist for the next 12 months, so make sure your answers are up to your standards and speak to who you are at this very moment. If you want to share with your other social media platforms that you've completed your capsule, you can do so by clicking the "Share" button and choosing Instagram, TikTok, Twitter, and more.
Once that's all done, there's nothing left to do except wait for the capsules to be released in early 2024 — so go ahead and listen to your Friends Mix or make 10-person Blends in the meantime. You'll need something to do while passing the time until your Spotify Playlist in a Bottle is available or Frank Ocean releases a new album. Whichever happens first.