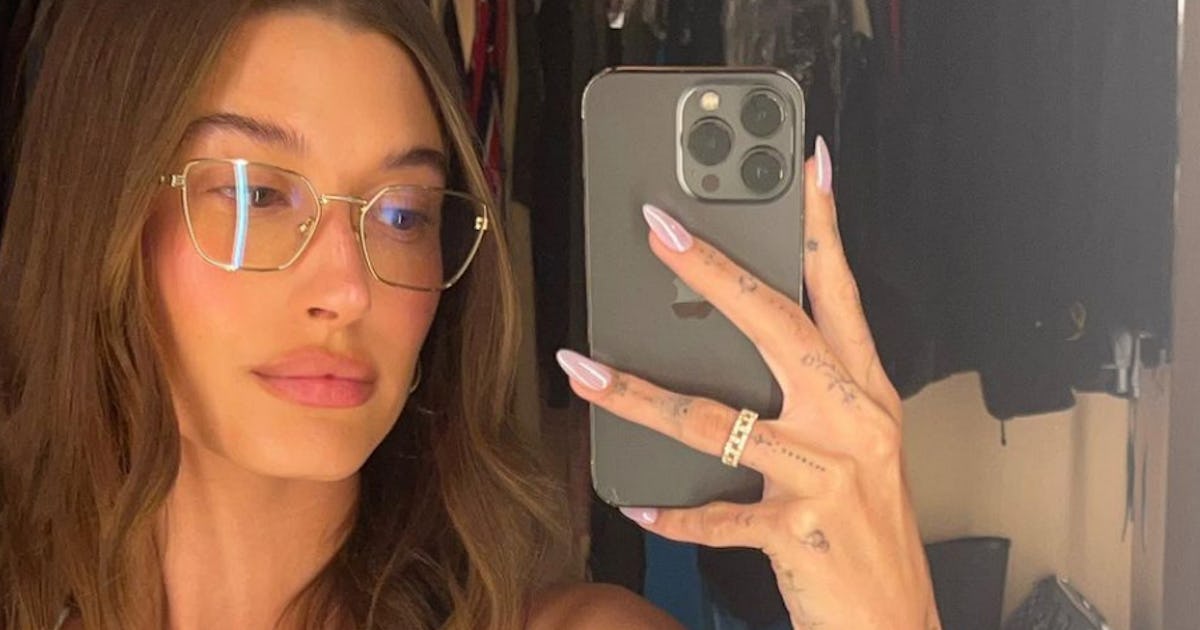 As the platform that turned Hailey Bieber's glazed donut nails into a viral sensation, it's safe to say that TikTok is the home of the hottest nails trends. The latest trend to flood FYPS? THE Russian Manicure, which has 652.5M views and counting. An impossibly neat, glossy finish which was a legion of celebrity fans including Kendall Jenner, Hailey Bieber, Zendaya, and Jasmine Tookes – who went as far as to say that she might never be able to return to "a normal manicure ever again." The meticulous method has raised eyebrows amongst beauty experts, though.
"Like a lot of beauty trends that become popular on social media, the Russian manicure has an element of theatre which makes it addictive to watch," Mylee ambassador Tinu Bello, who incorporates elements of the technique into her own manicure offering at Shoreditch nail salon, Colour Riot Nail and tends to the talons of Zawe Ashton, Dina Asher-Smith, and Holly Willoughby. "What you see on TikTok is the most extreme version of the treatment featuring methods which can create an almost Photoshop-like finish but can cause damage when implemented incorrectly," she warns. So what exactly is a Russian Manicure and is it safe? Here's everything you need to know.
What Is A Russian Manicure?
The defining characteristic of the treatment, which became popular in the UK about five years ago, is the absence of the cuticle- the layer of clear skin situated along the bottom edge of your finger. Unlike most manicures, where nails are soaked then treated with cuticle pushers and cuticle nippers, Russian manicures (a.k.a "E-file" manicures) are performed dry and incorporate an electronic file and variety of drill bits to remove skin around the nail bed. Although Bello maintains that traditional manicures are best, she admits it's difficult to beat the "oomph" and "precision" the specialist design and hardworking materials of the cleaning, exfoliating, and pushing attachments bring to the preparation stage that is so integral to creating the finish celebrity nail artist Lisa Kon describes as "clean and perfect" – and makes the treatment oh-so satisfying to watch.
Because the treatment removes skin around the nail bed it creates an instantly neat, fresh appearance that's the perfect canvas to apply polish which, because of the absence of the cuticle, can be taken extremely close. "My clients love the perfection of the treatment which almost looks as if you're actually growing lacquered nails, as opposed to wearing nail polish," shares Bello who says the 'clean' base creates a manicure which lasts for almost three weeks, compared to traditional gels which tend to average around two and a half weeks, meaning fewer salon visits.
"It's very easy to become hooked on the perfection that only this method can deliver," says Bello who warns that erasing the area around the nail bed creates a vicious cycle. The traumatised skin attempts to repair itself by growing back dryer, which is why she encourages clients to maintain moisture levels and minimise hang nails with hand creams, cuticle oils, and even gentle exfoliators. Not only can your skin health be impaired, the strength of your nail bed can also become compromised if your manicure stays put for too long. "Yes, the look lasts longer, but growth spurts can put pressure on the free edge of the nail which leads to breakages, so it's important to not let your manicure extend its stay."
Is The Russian Manicure Safe?
Like any salon treatment, there's an element of risk when it comes to Russian manicures, especially when you're not in a pair of safe hands. "Drilling close to the nail bed with sharp equipment can cause damage to your nail plate, bleeding, pain, and open wounds which when exposed to bacteria and pathogens which can lead to infections," warns Bello. Russian manicures are invasive treatments which should only be performed by highly-trained professionals with lots of experience, she adds. "To make sure your experience is of the highest and safest standard always do your research: look at the salon's standard of work, the length of time of the treatments (slashed prices and speed are major red flags!), and whether all the tools used are sterilised and pre-packaged."
Whilst the technique delivers the glossy perfection you would expect from a photoshoot, IRL the method might not be as "necessary" as social media would lead you to believe. "I only perform Russian manicures as and when they're required and avoid going as extreme as the tutorials you see on TikTok which are often posted to generate likes," says Bello, who leans on the method when client's nail beds are particularly dry and frayed (think nail biters) and if they're attending a big event where their hands are highlighted, like a wedding.
How Long Do Russian Manicures Take?
Both Bello and Kon agree that you can't hurry perfection. "Russian manicures are thorough, detailed treatments with many stages which shouldn't be rushed, so whilst traditional manicures can be done within roughly 45 minutes, a Russian manicure can take anywhere from an hour and half to two hours if extensions are required," explains Bello.
"The surgeon-like precision of cuticle work can take an hour alone, which means alongside shaping your nail, buffing the surface of the nail bed, application of a specialist base coat which needs time to dry thoroughly, two coats of gel colour, the application of a glossy top coat, then a stint under an LED lamp to seal everything you're looking at a much longer stretch at the salon.
How Much Does A Russian Manicure Cost?
"Russian manicures are complicated which is why they are two to three times more expensive than a standard manicure," explains Kon. But not only does the higher price reflect the length of time the treatment takes, it also factors in the specialist equipment and extensive training required to provide the look, which costs more than traditional manicures, gels, and acrylics, with with prices for Russian manicures complete with gel nails hovering around £40- £50 amongst higher end salons across the UK.