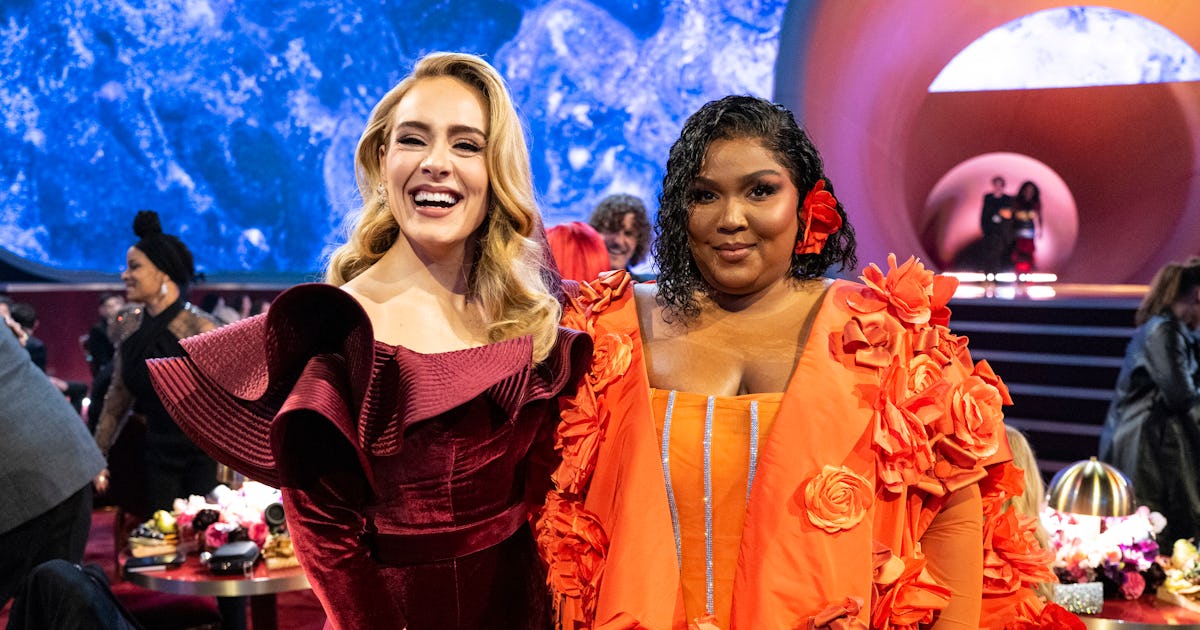 Thanks to her Las Vegas residency, we know "Weekends with Adele" are a good time. Lizzo just confirmed it when she opened up about the two singers' night together at the 65th Annual Grammy Awards during her Elvis Duran and The Morning Show appearance on Friday, Feb. 10. The new Record of the Year winner shared some funny stories from their table, especially their drunken antics and their encounter with Dwayne "The Rock" Johnson.
As a rule, Lizzo loves the star-studded music event. "I always feel like winner when I go to the Grammys, even if I don't get a trophy," she said. This year, though, it sounds like the experience was particularly special because she and Adele got to sit at the same table, at her famous friend's request. "I had zero say in where I was sitting, but Adele had 100% say in where she was sitting," Lizzo explained, before adding that Adele called her via FaceTime a few days before the show to tell her, "Oh my God, oh my God, we're sitting next to each other!"
"She was like, 'I wanted to sit next to you,'" Lizzo continued. "I was like, 'Well, great, because I wanted to sit next to you."
On the night of the show, Lizzo came prepared with a flask for each: She had tequila in hers and white wine — sauvignon blanc — for Adele. A nice gesture, but it didn't work out as expected. "I brought it for Adele, and then I drank hers," Lizzo shared. (Evidently she drinks wine, too.)
Not surprisingly, the two ended up getting pretty drunk over the course of the evening. "I legitimately was so drunk," Lizzo said. "Like, me and Adele were drinking so much that we didn't even really know what the categories were at this point. Like, we were like, 'Wait, did they do, did they do Best New Artist?'"
Any time their names were called, she explained, they "would just be like, 'Smile, smile.'" And she wasn't prepared for when she won Record of the Year for "About Damn Time." "When they called my name, I was actually in total shock because I didn't expect to win at all, let alone in a big one," she said.
Drunk and stunned though she may have been, Lizzo still gave a touching acceptance speech that shouted out her parents, producers, and boyfriend, plus "the artist of our lives," Beyoncé. That speech and her "Special" performance were among the best moments of the night, along with her front-row view of Adele's surprise introduction to Dwayne Johnson. Lizzo touched on the encounter on Elvis Duran and The Morning Show, saying she was "speechless" during their "brief" meeting. "What do you say to The Rock, you know what I mean?" she noted.
All in all, it was a night to remember for Lizzo and Adele. Whether or not they do is another matter entirely.