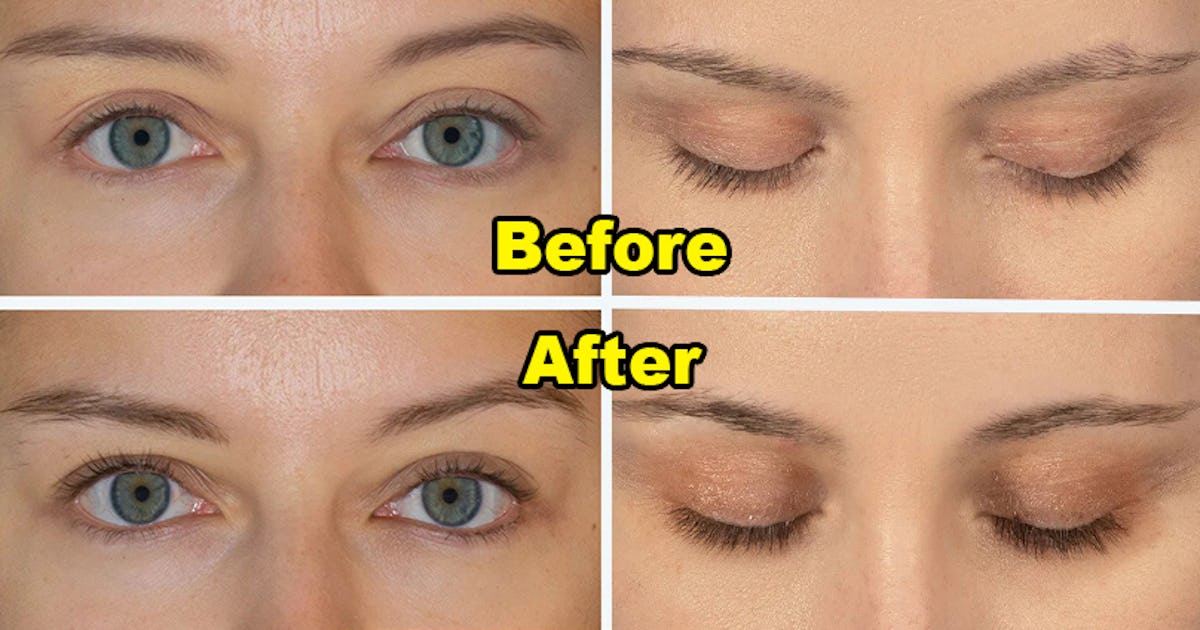 There's a ton of growth (pun intended) in the lash and brow industry as of late, with countless serums and in-office treatments available to give you feathery brows and voluminous lashes. Unfortunately, people with particularly sensitive eyes may not be able to handle the ingredients inside most of these products, particularly prostaglandin analogues, which may cause irritation — or even permanent damage — to your eyes. Even if you don't have sensitive eyes, you may be wary of putting preservatives and chemicals near such a delicate area. Now, this doesn't mean that your quest for fuller brows and eyelashes has to come to an end. Luckily, twenty/twenty beauty, the ophthalmologist-founded brand, created the Get Growing Lash & Brow Serum that's safe to use for everyone.
Fast Facts:
Price: $52
Size: 10 milliliters
Suitable For: Everyone, including contact lens wearers and those with sensitive eyes.
Cruelty-Free: Yes
Vegan: Yes
Twenty/twenty beauty was founded by an ophthalmologist who set forth on a mission to create eye-friendly products that can slot into people's daily lives without the risk of irritation. The brand currently has a suite of vegan and cruelty-free products like mascara, eyeshadow, and even a tinted brow gel that offer the same benefits as traditional cosmetics while being gentle enough for people with sensitive eyes or contact lens wearers.
About The Product
The brand created the Get Growing Lash & Brow Serum because the ingredients that are found in many lash and brow serums can be potentially harmful to the eyes and eye area. This one, on the other hand, promotes the look of healthier brows and lashes without prostaglandin analogues, parabens, phthalates, fragrance, and any other potential irritants. Instead, this formula relies on a combination of castor, argan, and coconut oils that work synergistically to condition the hair follicles and support healthy growth. So, this is quite literally an all-natural brow and lash serum in the truest sense, as it's completely free of chemicals and preservatives, and is comprised entirely of plant-derived oils instead. That means it's not a big deal if you get it in your eyes.
When put up against other brow and lash serums on the market, the Get Growing Lash & Brow Serum has pretty special packaging. Most lash and brow serums typically come in a tube with a spoolie attachment that can harbor bacteria. Conversely, this serum comes in a pump bottle to keep the formula contaminant-free until the very last drop.
How To Use It
To use the serum, dispense a single pump onto your ring finger and pat it into the base of both your upper and lower lash lines. After that, apply a pump of the product onto both of your brows, smoothing the product over the entirety of your brows with your fingers or a brush. The brand recommends applying this product nightly to help promote the appearance of density in your brow and lash hairs in about 90 days.
What People Are Saying
Want to know what real people have to say about this product? Check out their reviews:
"I purchased the Get Growing Lash and Brow Serum not expecting much. It's been 3 weeks only since I started applying it to my eyelashes and brows. Not only is it oddly very soothing to my eye area, I have seen a dramatic difference in my lashes when I apply mascara. My eyelashes have never been long but they had thinned with age. Now they really stand out. The real draw to me was the formulation was made without Prostaglandin. I wish I had taken a before picture but as I stated I wasn't expecting much […]" —Carolyn M.
"Have been using this for 3 months now and the serum really works! I used to use [another lash serum] before and switched to this product and it's phenomenal. My lashes are super long and I don't suffer from dry eye. Already ordered my second bottle." —Marisol R.
"This has been a great product not only for lashes and brows, which are looking healthier, but also for my sensitive eyelids. […] My eyelids were becoming more sensitive to products and much drier. This product is the only treatment that I've found that not only doesn't irritate, but also treats the dryness, and lessens redness. Thanks so much!" —Stephanie B.
Shop The Get Growing Lash & Brow Serum