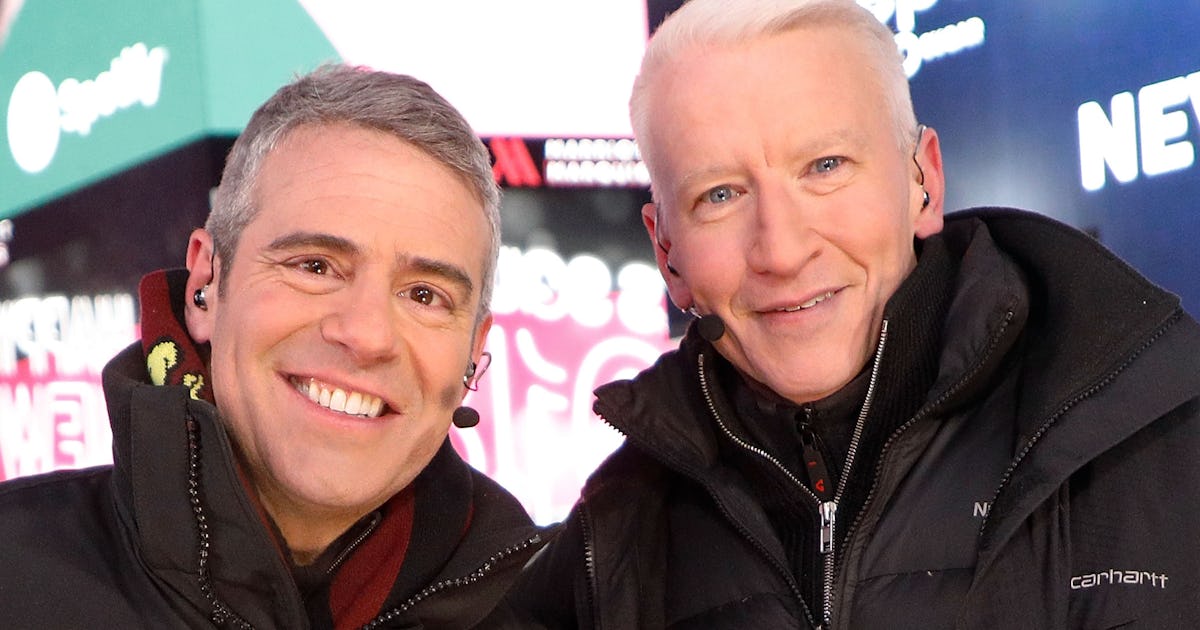 While the New Year tends to bring uncertainty, what has been constant over the years is CNN's New Year's Eve Live coverage. Every year on live TV, hosts Anderson Cooper and Andy Cohen get drunk on shots while counting down to the ball drop. Cooper's giggles, Cohen's rants, and New Orleans correspondent Don Lemon's antics have been a comforting annual year-ender.
CNN, however, decided to go the sober route this year. Variety reported that per a mandate by company CEO Chris Licht, New Year's Eve Live's correspondents are no longer allowed to drink on-air to avoid damaging their "respectability." And though Cohen initially said he would still be imbibing with Cooper, he later announced that they would be adhering to the new rule. "We aren't drinking, but we're going to have a BLAST," Cohen told Page Six.
During the Dec. 31 coverage, Cohen and Cooper kept true to their dry coverage promise. In lieu of the hosts' regular tequila shots (and, once, Jäger), they opted for mystery shots instead. "It has been our tradition to toast with you every hour," Cohen said. In keeping with tradition, he explained that they'll instead be drinking unidentified liquids, aka mystery shots, and will attempt to guess the contents of the glasses — that ranged from pickle juice to apple cider vinegar.
But Twitter was unimpressed and in a furor, demanding that the hosts be allowed to drink. One user wrote, "LET THEM DRINK!" over and over. Another called it a crime. "The fact that #CNNNYE is depriving us of the national treasures that are drunk Anderson Cooper and Andy Cohen is a goddam crime."
Twitter especially didn't like the "mystery shots" which included children's juice boxes and buttermilk. Cohen himself wasn't happy about taking a shot of apple cider vinegar, jokingly screaming "I need tequila! Honestly!" after his sip.
Some users deemed the drinks unforgivable. "Juice boxes? I will never forgive you for taking the most fun part of new years from us @CNN. Let @Andy and @andersoncooper drink!!"
Viewers could always count on Cohen to at least try and amp up the fun, however. "We should just talk about the elephant in the room. We can't drink," Cohen began. Though Cooper said it wasn't "a big deal" for him, he asked if his co-host would make it through the night. Cohen responded by saying, "Do I have a pocket full of edibles? I do. Will I take them? I don't know."
"Andy is on it already and he's 100% sober," user xoraveen wrote.
Still, the consensus seems to be for the hosts to have tequila.
Clearly, some traditions just aren't meant to be broken.