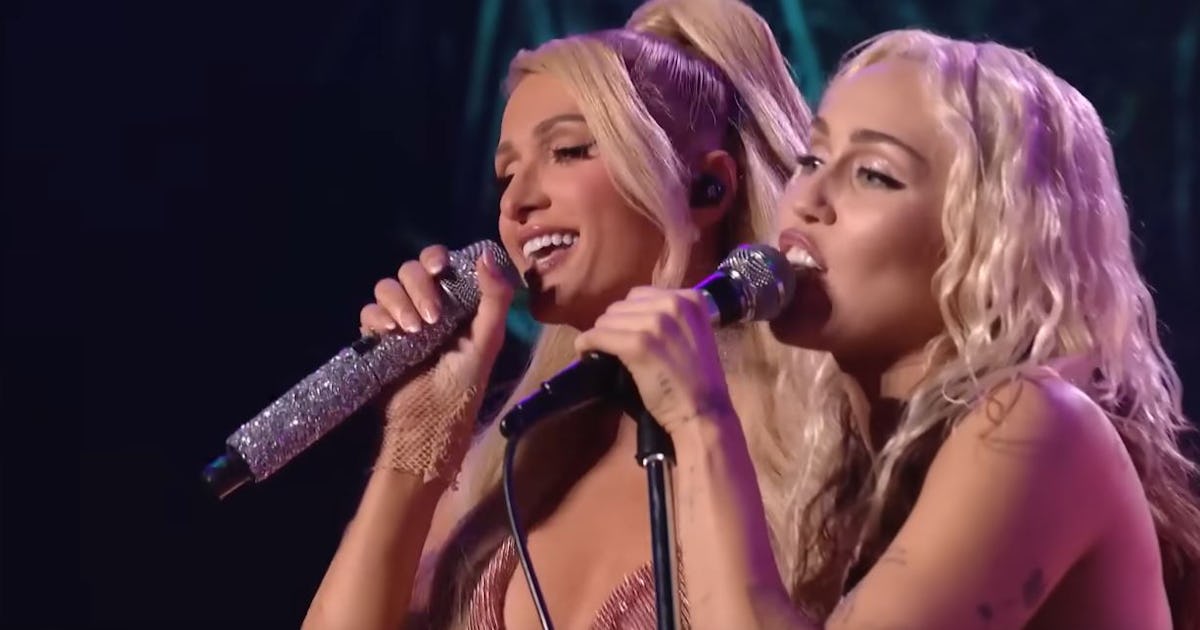 Dolly Parton and Miley Cyrus promised a "legendary" night in the leadup to Miley's New Year's Eve Party, and the NBC-produced celebration didn't disappoint. The two closed out the year atop a star-studded list of performers that also included Sia, Latto, Rae Sremmurd, Liily, Fletcher, and more. However, one of the most buzzed about musical moments of the Miami-based show featured a name that was never announced beforehand: Paris Hilton.
The reality star-turned-DJ took the stage for a surprise performance of her recently updated hit "Stars Are Blind." Before the reveal, though, it was just Cyrus who took the stage in a millennial pink dress as the opening bars played. Then Sia jumped in for a duet to the nostalgic hit. And finally, Hilton came out, adding to the chaotic magic. (The "Sing it, Paris" moment really gave "Sing to me, Paolo" vibes, as a Twitter user pointed out.)
In retrospect, a year that celebrated the early 2000s so hard could only end with 2006's "Stars Are Blind" coming back in a big way. Hilton announced her updated version on Instagram on Dec. 30, calling it "Paris' Version," and Cyrus and Sia helped her bring it into the spotlight, much to the delight of fans. Countless viewers tweeted about the performance, calling it "iconic," "hot," and even "a cultural reset." One person called it "the highlight of [their] night," adding, "6th grade me was alive again." As Hilton herself obviously said while onstage, "That's hot."
Hilton originally released "Stars Are Blind" on her 2006 album, Paris, at the height of her reality TV fame. It was a surprise hit to the general public, but as Hilton told Bustle in September 2020, she knew "exactly what [she] was doing." "That song is such a huge part of me, my brand, and my life," she added. "Any time I walk into a club or anywhere, the DJ always puts it on. If I was a song, that would be me."
After performing the new version with Cyrus and Sia in Miami, Hilton gushed about the experience on Instagram. "I had so much fun singing #StarsAreBlind on @MileyCyrus' New Years Eve Special with Miley & @SiaMusic!" she wrote, in part. "The perfect way to ring in 2023 and celebrate my new version of this iconic song."
The night was full of special music moments, of course. Cyrus and Parton performed several of their respective hits as duets, including "Wrecking Ball," "I Will Always Love You," and "Jolene." They also borrowed from the legendary Patsy Cline, covering "Walkin' After Midnight," as well as rock icon Joan Jett's "I Love Rock 'n Roll." Separately, Cyrus performed her hit "Midnight Sky" with Fletcher, who may have hinted at the "Stars Are Blind" surprise before the show when she posted a photo with Cyrus on Instagram, writing, "miley's so hot" in her caption.