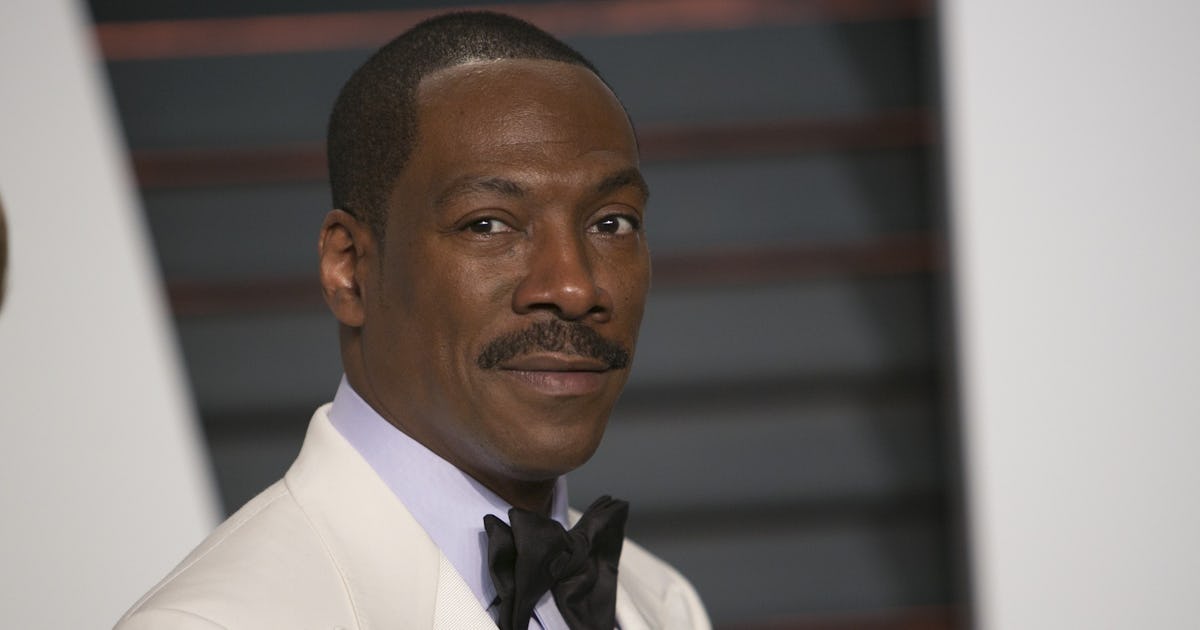 Eddie Murphy is one of the most recognizable faces — and voices — in comedy. A trailblazer who started his career at just 19 years old, Murphy's filmography has given him commercial and critical success with projects like Boomerang, Dr. Doolittle, and Dreamgirls under his belt. His contributions to film will be recognized at the 2023 Golden Globes where he'll receive the Cecil B. DeMille Award. Recent honorees have included Jane Fonda, Tom Hanks, Oprah Winfrey, and Denzel Washington.
Not long after the ceremony, you'll be able to catch a new Eddie Murphy film when the comedy You People hits Netflix. Written and directed by black-ish scribe Kenya Barris, the film premieres on Jan. 27 and centers on a romance between people from two opposing cultures.
Murphy has never been shy about taking jobs solely for the paycheck, which has added significant amounts to his bank account. "Every bad decision I've made has been based on money," he told Newsweek in 1996. "I grew up in the projects and you don't turn down money there. You take it, because you never know when it's all going to end. I made Beverly Hills Cop III because they offered me $15 million. That $15 million was worth having Roger Ebert's thumb up my *ss."
Here's a deep dive into how Murphy makes his money.
2 Ways Eddie Murphy Makes His Millions
1. Actor & Comedian
Murphy got his start on Saturday Night Live in the early 1980s where he originated long-running character sketches like Buckwheat, Mister Robinson, and Gumby. Joining at just 19 years old, it's believed that Murphy helped revive the show while it was struggling from both a cast and audience perspective; a 2015 list ranked him as the second-most influential cast member of the NBC sketch series behind John Belushi. According to Celebrity Net Worth, he earned $4,500 per episode in 1981 after which his salary was bumped to $30,000 per episode.
From there, he broke out into mainstream comedy films, headlining major franchises like 48 Hours, Beverly Hills Cop, Coming to America, Nutty Professor, and more. He also lent his voice to animated films like Mulan and the Shrek franchise. The third Beverly Hills Cop film brought him $15 million, while a backend deal struck for Nutty Professor II is believed to have earned him at least $60 million.
His film career has also received prestige recognition — in 2006, he was nominated for an Academy Award for Dreamgirls. Many thought he should have received another nomination for his work in 2019's Dolemite Is My Name. In 2021, he signed a three-picture first-look deal with Amazon Studios after they acquired Coming 2 America for $125 million.
Outside of his scripted work, Murphy is also an established stand-up comic. His 1987 special Eddie Murphy Raw made $50.5 million from an $8 million budget. In 2019, Netflix paid $70 million for a series of comedy specials, which will mark his first stand-up special in over 30 years when they air.
2. Real Estate
In the early 2000s, Murphy purchased a plot of land and custom-built an estate in Beverly Hills for $20 million. He originally purchased the 3.7-acre lot in 2001 for a cool $10 million. The property includes an 18,600 square-foot house with 10 bedrooms, 17 bathrooms, and an extensive library, as well as a tennis court, swimming pool, hot tub, four-car garage, barbecue pit, courtyard, and underground vault.
But that's not his only property; he reportedly also owns an entire private island. It is believed that he purchased a private island in the Bahamas called Rooster Cay for $15 million in 2007. The island is located off the coast of Nassau, and Private Island Magazine (via Forbes) states that the comedian used to also own another cay called Pearl Island.
Murphy has owned and sold a slew of other homes in both California and the New York/New Jersey area.
What Is Eddie Murphy's Net Worth?
According to Celebrity Net Worth, Murphy has earned at least $300 million from movies during his career. In his personal life, Murphy has fathered 10 children from five different women, with the children's ages ranging from their mid-30s to toddlers, and also had to pay his ex-wife Nicole Mitchell Murphy $15 million during their 2006 divorce settlement.
Despite family obligations, the actor has found ways to continue to earn money and live large. With his Netflix comedy and Prime Video first-look deals in place, he's poised to add even more to his bottom line in the coming years.