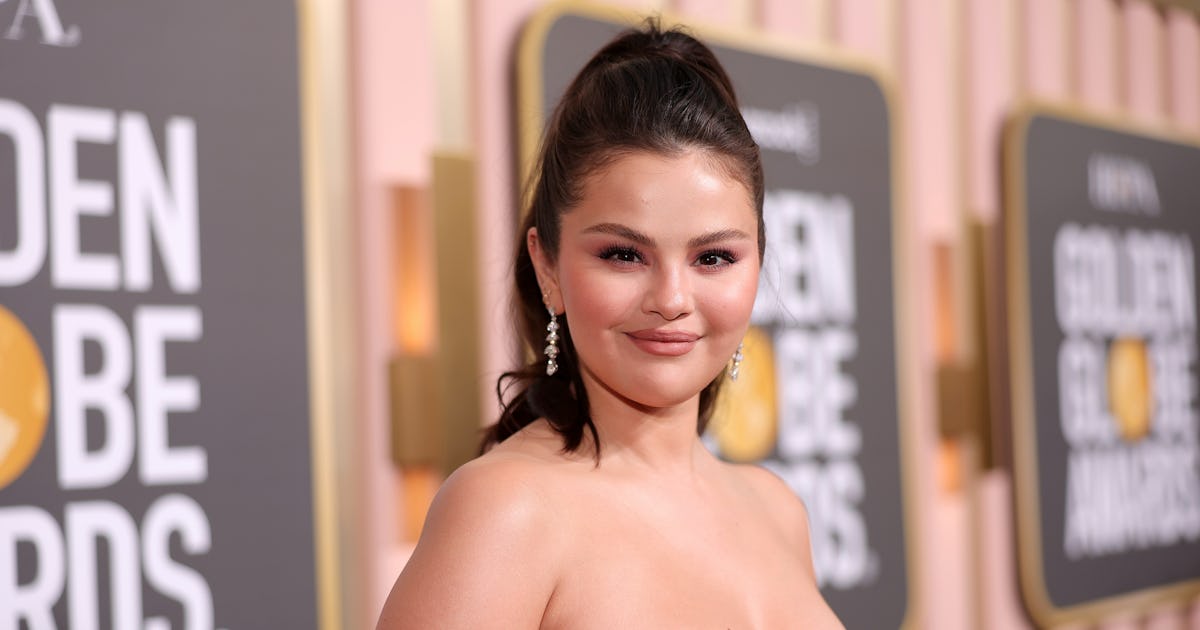 If you ever needed proof that Selena Gomez is wise to limit her social media use, it came after the 2023 Golden Globes. The "My Mind and Me" singer attended the awards show with her 9-year-old sister, Gracie Teefey, on Tuesday, Jan. 10, and unfortunately became the target of some body-shaming comments online. Gomez apparently saw them, because her Instagram live after the show addressed her current size.
Both sisters were in Gomez's live, which was captured and posted on TikTok by the user PopNewsDaily. The video shows the two riding in a car — "streaming Taylor and miley [sic]," according to the account's caption — when the Only Murders in the Building star alluded to internet body shaming. She brushed off trolls' criticism, saying, "I'm a little bit big right now because I enjoyed myself during the holidays." She then turned to Gracie to ask, "I mean, right?"
"Yeah," Gracie agreed, prompting her big sister to laugh.
Although Gomez seemed able to dismiss the cruel and unnecessary comments, many fans responding to the TikTok did not find the situation amusing. "She shouldn't have to explain why her body looks how it does," one person pointed out. Another fan commented, "This makes me so sad." Yet another fan added, "I don't understand why people have to be so mean. Why comment on anyone's appearance? It's not necessary. We are so much more than our looks."
Unfortunately, dealing with body shaming is nothing new for the singer-actor. In September 2015, she opened up to Ryan Seacrest about starting to see harsh comments about her weight that past year, as Us Weekly reported, and how it took her "a long time" to "feel very empowered and confident" in where she was. She added, "I did gain weight, but I don't care." Even so, the attacks on her weight later contributed to her decision to step back from social media, she told Raquelle Stevens on her Giving Back Generation podcast in November 2019.
Gomez's social media breaks eventually led to a years-long moratorium, during which time she deleted the apps and put her assistant in charge of posting on her behalf. "I say that because that's a huge, significant part of why I feel like I've been as healthy as I have been," she told WWD in October 2021. "I'm completely unaware of actually what's going on in pop culture, and that makes me really happy. And maybe that doesn't make everybody else happy, but for me, it's really saved my life."
Gomez only just got back on Instagram, as she revealed in a Jan. 10 post. Hopefully body-shaming trolls haven't managed to ruin the experience for her already — but if so, you'll know why we can't have nice things.