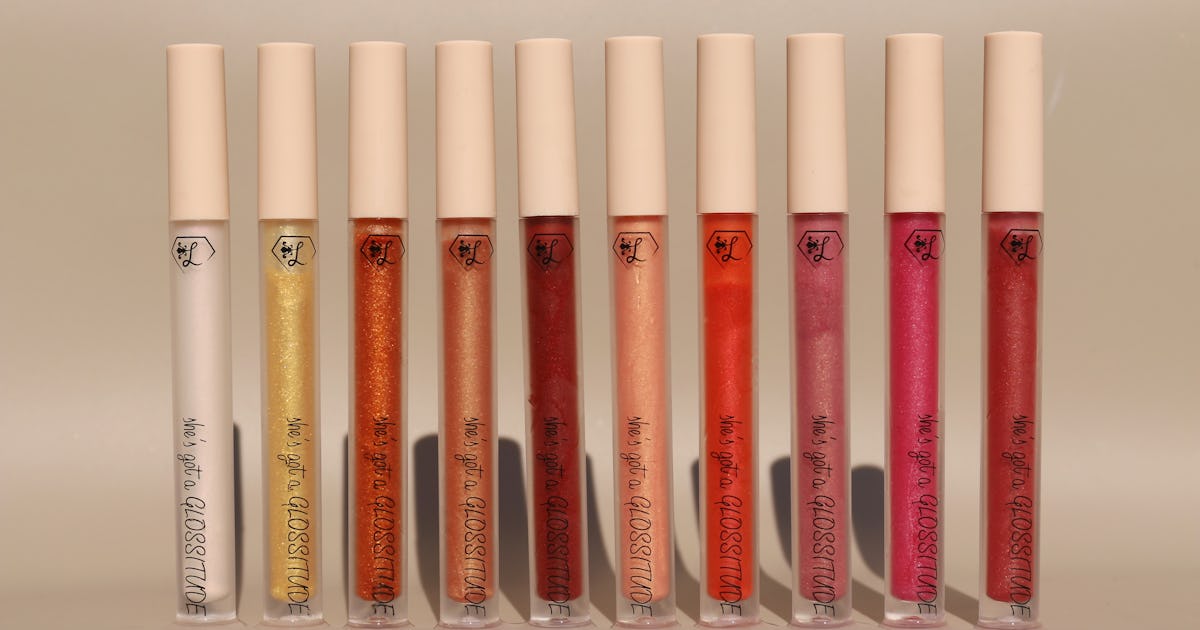 Glossy lips (and lids) are having a major beauty moment this season, but as we head into the cooler months, the idea of coating dry, chapped lips in a film of sticky gloss may seem… less than appealing. To get a handle on both your fall/winter beauty look and your winterized skin-care routine, consider picking up a tube or two of She's Got A Glossitude Lip Gloss from Black-owned brand LeyMorriso Cosmetics. Comprising 50% gloss and 50% skin care, all 10 shades on offer combine the juicy color and radiant sheen you love about your favorite glosses, with the long-lasting nourishment you'd expect of a more intensive lip treatment.
Read on to learn more about these buzzy new glosses, plus a review of how the skin care/makeup hybrids actually perform.
The Story Behind LeyMorriso Cosmetics' Good-For-Skin Makeup
If you're a makeup lover with finicky skin, you likely know how frustrating it can be to miss out on certain beauty looks because they just don't play well with your skin type. Shirley Mbang, LeyMorriso founder and CEO, understands that struggle: After immigrating from Nigeria to arid Montana, she developed dyshidrotic eczema, a type of eczema that triggers the development of small, itchy blisters on the hands and feet, but which also triggered chronic dryness, soreness, and flakiness on her lips. After scouring the cosmetics industry for a long-term fix and coming up short, she set out to create her own line of products, in tandem with a cosmetic chemist, that both imparted skin benefits and looked gorgeous.
She's Got A Glossitude Lip Glosses are the brand's newest offering, and they're intended to feel just as nourishing as a balm — and even reap similar, long-lasting healing effects — so they can be a better choice than sticky, drying glosses for those with drier or more sensitive skin.
An Honest Review Of LeyMorriso Lip Glosses
She's Got A Glossitude Lip Glosses are available in 10 shades to suit every skin tone and aesthetic, from vibrant orchid to frosty cocoa to pure gold. They all come packaged in long, slim tubes that easily slip into your purse, and have a small doe-foot sponge for precise application. I liked every shade in the collection (even the glittery yellow gold, which I wouldn't typically reach for), but you can read more about a few of my favorites below.
1. A Sheer, Dewy Gloss For Everyday Wear
Sheer with the faintest shimmer, MLBB has more of a dewy finish than a reflective shine, so it's perfect for pulling together a minimal everyday look or adding a touch of moisture to a matte lipstick. It feels a bit heavier on the lips than other glosses in my collection, but it applies smoothly and isn't sticky in the slightest. Plus, my lips actually feel plush and smooth to the touch when it comes off — and it tastes like strawberry Blow Pops.
2. This Sultry Cinnamon Shade For Vampy Fall/Winter Looks
Of all the LeyMorriso lip glosses I've tried, LOL, a '90s-inspired cinnamon shade, has the most impressive color payoff — what you see in the tube is what you get on your lips, a rarity for lip glosses. The pigment is shot through with subtle chocolate and gold sparkles that you have to squint to see, but which add a dynamic effect. Though this shade is beautiful on its own, I also like layering it over an oxblood lipstick for a vampy, super-saturated evening look.
3. A Buttery Soft Blush-Coral That Enhances Your Natural Lip Color
TTYL has the least discernible shimmer or glitter of the bunch, so it applies like butter and feels so smooth on — it really feels just as comfortable and nourishing as a lip balm, and my lips are noticeably softer when I remove it. The color payoff is less vibrant than I'd expected from the bright coral-tangerine bottle, but that only makes it more wearable; it's relatively subdued, surprisingly, and the blush undertone serves to deepen and enrich my natural lip color. This has earned a permanent place in my purse.
4. This Glam Rose-Brown Gloss With Chunky Gold Glitter
Though the image above looks like a deep red, in reality, Gorg is a frosty rose-brown with big chunks of gold glitter — the stuff Y2K-glam fantasies are made of. The glitter gives the formula a grainy feel, but it doesn't feel irritating (and my skin is pretty sensitive). And since the shade is neutral, neither too warm nor too cool, it'll look gorgeous on every skin tone. I'd liken it to Fenty Beauty Gloss Bomb in Fenty Glow, but with a healthy dose of sparkle.
A Closer Look At LeyMorriso's Healing & Nourishing Lip Glosses
Touted as 50% gloss and 50% skin care, She's Got A Glossitude Lip Glosses align with the brand's mission to create products that perform just as well as luxury cosmetics, but with more targeted skin benefits. Here's a quick rundown of the major ingredients, which you'll likely recognize from your skin-care products.
Coenzyme Q10 (CoQ10): Also known as ubiquinone, CoQ10 is a potent antioxidant found naturally in every cell in the body, and is necessary for energy production. It has so many topical benefits, including decreasing free radical damage, evening out skin tone, and triggering collagen and elastin production, resulting in plumper, smoother skin (or lips) overall.
Ceramides: Often found in the most intensive lip treatments, ceramides work to restore and bolster the skin barrier to lock moisture in, and stave away environmental aggressors that can trigger dryness and irritation.
Bisabolol: Bisabolol is often used in skin-care products as a natural fragrance, but as the oil is derived from the healing chamomile plant, it also works wonderfully to soothe irritation and redness associated with dry, chapped skin or lips.
Sepilift DPHP™: Approved by ECOCERT and NATRUE, Sepilift DPHP™ is a cosmetic compound with myriad skin benefits, particularly firming, smoothing, and plumping the skin by contracting collagen fibers, and encouraging long-lasting moisture retention.
Hyaluronic Acid: Among the most widely used ingredients in skin care, hyaluronic acid is a humectant that attracts and locks in hydration, creating a plumped and radiant effect in the process.
The formula is rounded out with jojoba oil and shea butter, which are technically used as carrier oils here, but have major moisturizing and healing benefits in their own rights.
Discover More From LeyMorriso Cosmetics
In addition to the glosses, LeyMorriso Cosmetics offers a curated collection of vegan skin-care, body-care, and makeup products. They're all high-performing, packed with good-for-skin ingredients, and priced fairly, especially considering the quality of the formulas; though I'm particularly intrigued by the products below, from a vibrant, multidimensional eyeshadow palette to a dewy liquid blush infused with hyaluronic acid.
This article was originally published on