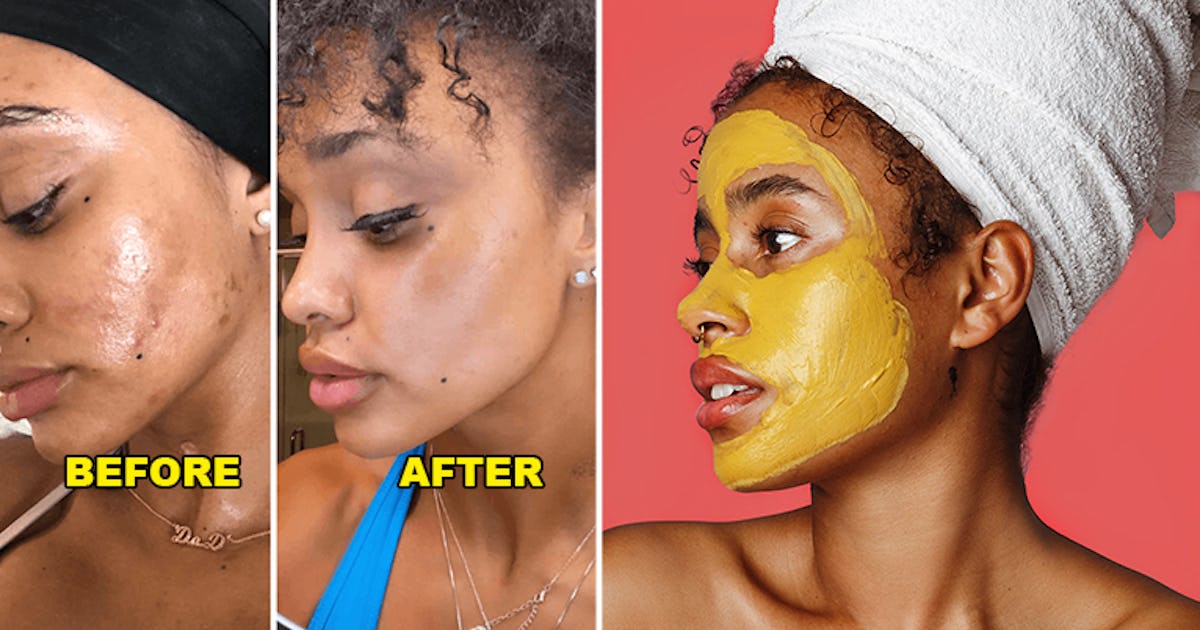 From glittery peel-off masks to sheet masks that (temporarily) turn your face into a Disney character's, some face masks are utterly fun. But in the same vein, a lot of these selfie-targeted masks are straight-up gimmicky, and focus more on the way they look than what's actually inside. That's not the case with the buzzy, bright yellow face mask that's currently taking over the internet: Gleamin's Vitamin C Clay Mask is loaded with naturally derived ingredients that can seriously be beneficial for your skin. Even more importantly, it doesn't contain any unnecessary additives like fragrance, metallic pigments, or glitter. That bright yellow color? It comes from turmeric, not artificial dye.
Is your interest piqued? Then keep reading to learn more about it. But you may want to act fast, according to the brand the mask has already sold out 14 times.
Fast Facts:
$40 for 2 ounces.
Ideal for congested, dull, or uneven skin.
Made with pure Australian clay & antioxidant-rich botanicals.
Comes with an applicator brush.
Vegan and cruelty-free.
What's In Gleamin's Vitamin C Clay Mask?
Pure Australian kaolin clay forms the base of this face mask, and clay has long been used for its skin-healing properties (purportedly since prehistoric times). Clay is great for things like cleansing and purifying, and can therefore help with skin concerns such as excess oil and congested pores.
What really makes this mask stand out is its high concentration of skin-brightening ingredients. (Remember, brighter skin refers to skin that looks clearer and more even; and a more even complexion = increased radiance.) First, you've got vitamin C, which is one of the most popular ingredients recommended by dermatologists for helping to fade unwanted hyperpigmentation. (It's also an antioxidant that helps protect your skin from UV aggressors and free radicals, and promotes the production of collagen.) Then, there's also turmeric in here, an ingredient that's been popular in Ayurvedic medicine for centuries because of its antioxidant, anti-inflammatory, and antimicrobial activities. Meanwhile, anecdotal evidence points to turmeric as being another amazing solution for brighter skin. Other antioxidant-rich botanicals, like kakadu plums and caviar lime, round out the formula. Last, to prevent your skin from drying out (like so many clay masks can), Gleamin formulated their vitamin C and turmeric mask with aloe leaf juice, castor oil, and almond oil.
Who Is This Mask Good For?
Though anyone can safely use the Gleamin Vitamin C Clay Mask, it's going to be particularly beneficial for those with acne, congested pores, unwanted hyperpigmentation, or generally dull, tired-looking skin. That said, even if you don't have any of these specific concerns, all of the nutrients in this mask would make it a nice once-in-a-while treat for most skin types.
If you break out from time to time, this mask can be used to help prevent and fade any leftover acne marks, so if that's a concern of yours, it can't hurt to keep a jar on hand. And, if a beach vacation or the sunny weather have left you with some unexpected sun damage, applying this mask regularly may be able to help restore your complexion.
As for how often to use this mask — the brand recommends anywhere from one to three times per week, depending on your skin type and skin care goals. If you're planning on buying this mask primarily to treat acne and hyperpigmentation, you can go for the maximum; otherwise, most skin types should stick with one or two times a week. (However, since this mask doesn't contain any harsh chemical exfoliants, you technically could use this mask everyday if you wanted to. All of the ingredients are pretty gentle, so there isn't really a risk of skin damage or irritation.)
Shop The Gleamin Vitamin C Clay Mask
More From Gleamin:
Studies referenced:
Treatment Modalities for Acne, by Lizelle Fox, Candice Csongradi, Marique Aucamp, Jeanetta Du Plessis, andMinja Gerber; https://www.mdpi.com/1420-3049/21/8/1063/htm
Vitamin C in dermatology, by Pumori Saokar Telang; https://www.ncbi.nlm.nih.gov/pmc/articles/PMC3673383/
The Roles of Vitamin C in Skin Health, by Juliet M. Pullar, Anitra C. Carr, and Margreet C. M. Vissers; https://www.ncbi.nlm.nih.gov/pmc/articles/PMC5579659/
Effects of Turmeric (Curcuma longa) on Skin Health: A Systematic Review of the Clinical Evidence, by Alexandra R Vaughn, Amy Branum, Raja K Sivamani; https://pubmed.ncbi.nlm.nih.gov/27213821/
This article was originally published on