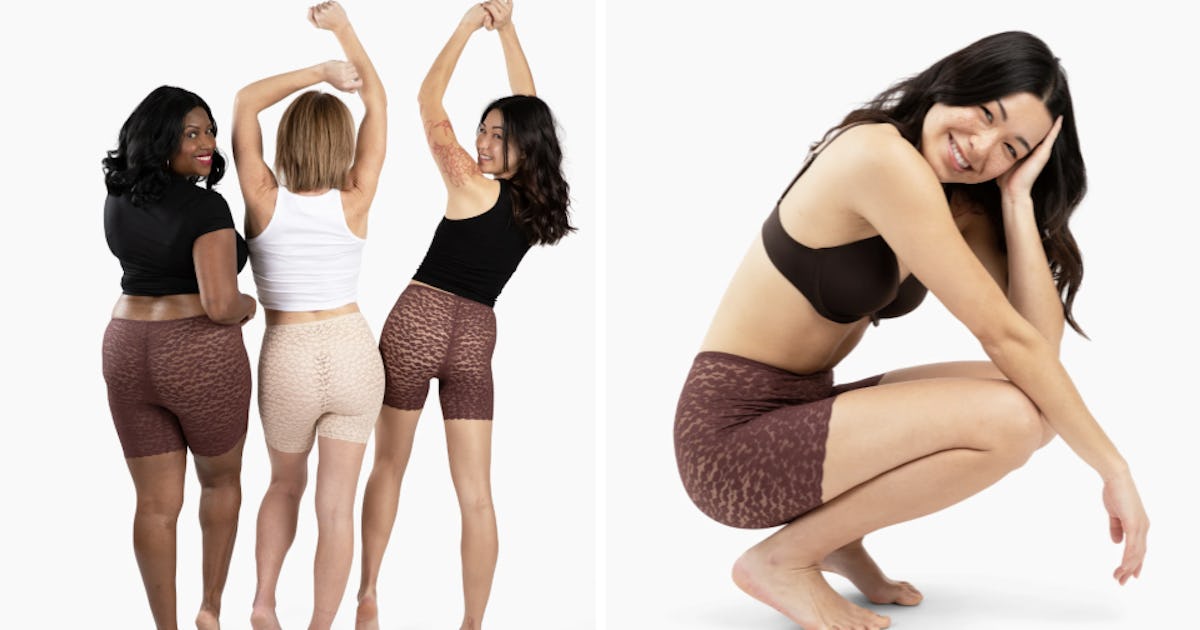 In college, I started wearing dresses and skirts on a daily basis because they felt like an easy, comfortable way to put an outfit together in a snap — and I've never looked back. That said, dresses and skirts do come with pitfalls, namely chafing and sometimes a lack of coverage. Luckily, there are ways around that that don't involve pants, like stretchy, thin shorts-like underwear that offer coverage, comfort, and style, all at the same time.
FAST FACTS:
Slip-short with a high waist that hits mid-thigh
Offers coverage and chafe protection under skirts and dresses
Made from four-way stretch lace with a 100% cotton gusset
Scalloped edges that won't show under clothing
Available in five colors and six sizes
The brand Bloomers Intimates is all about full-coverage silhouettes that are unexpectedly sexy. Its first hero product was Her Highness, a lacy high-waisted brief. However, thanks to its long-thigh silhouette, the Pantyloon is Bloomers' most full-coverage design so far. As a result, when worn underneath dresses and skirts, it offers light support, moderate coverage, breathability, and protection against thigh chafing. But since these combine fuller coverage with gorgeous material, they're also an excellent option if you're looking to take the exposed underwear trend for a spin.
The Pantyloon is made from four-way lace (82% nylon and 18% spandex) with a 100% cotton gusset. It also has a high waist and scalloped edges that lay flat against your skin so you won't see any panty lines underneath your clothing. Currently, you can get it in five colors and six sizes. Each pair even comes with a laundry bag for careful machine washing at home.
What Reviewers Have To Say
Pantyloons are a new release, meaning they don't have nearly as much reviewer feedback as prior designs (like the Her Highness lace brief, which has earned an overall 4.9-star rating after more than 100 reviews). That said, the ratings on the Pantyloon so far have been stellar.
One reviewer wrote: "So comfortable under my slip skirt, had no visible panty lines, and did not ride up. I felt confident and comfortable."
Another raved, "These Pantyloons really surprised me to be honest – You never know what you'll get when it comes to lace and bike short styles but these are amazing! The lace is super soft, the shorts are comfortable, and shockingly they never rode up on my thighs (and I have curves). They're the perfect piece to wear under dresses."
Finally, one reviewer whose Pantyloons didn't fit perfectly said the "customer service was amazing" and they've since exchanged them for a pair that's "beautiful" and "fits better."
More Styles From Bloomers Intimates