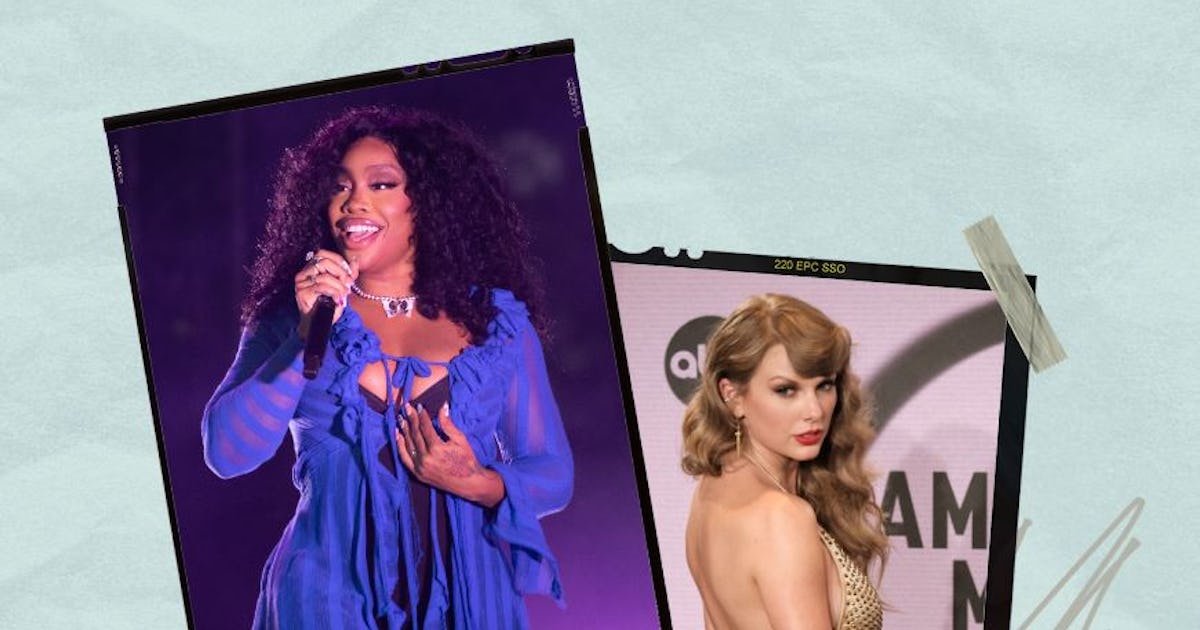 A battle in music sales spilled over onto Twitter and became a heated fan war this week. It all centered on SZA (real name: Solána Imani Rowe) and Taylor Swift's individual efforts to top the Billboard 200 chart for the week-long period ending on Jan. 6. As the two artists promoted their most recent albums — SOS and Midnights, respectively — some members of their fan bases publicly speculated about there being bad blood between them. However, SZA made sure to shut down rumors of beef quickly, including by sending "LOVE TO EVERYONE," in a Jan. 5 tweet.
Before SZA's tweet, she was leading Swift in the final push to midnight, poised to take the top spot for the fourth week in a row, but the "Anti-Hero" singer didn't seem ready to concede. Swift shared an Instagram story as she was "taking a break from tour rehearsal" to promote her four new Midnights digital albums with behind-the-song bonus material. One Twitter user showed a screenshot of the digital albums selling for $4.99 and suggested it was part of an effort to stop SOS from reaching No. 1 again. "Desperate isn't even the word anymore," they added.
Meanwhile, SZA had something up her sleeve, too: a new digital version of SOS with a solo version of "Open Arms," plus the new track "PSA." A fan shared the update on Twitter, writing, "Sza said you wanna be funny Taylor ? I can be HILARIOUS." Another wrote, "taylor vs sza on my tl. sister against sister, mother against mother."
As fans read into their actions (even calling it "a war"), SZA decided it was time to weigh in and publicly debunk any rumors of a feud. "Uhh I feel silly that I even have to say this but i [sic] see supporters arguing and I hate that," she began her tweet. "I don't have beef w ANYONE especially not Taylor lmao I genuinely loved her album and the writing!"
The "Good Days" singer added that "everyone's jus tryna do their BEST as we all should," before ultimately concluding with "LOVE TO EVERYONE." She signed off with a goodnight and a white heart emoji.
Chart Data's Twitter account gave an update on the race on Jan. 6 with intel from Hits Daily Double that called it a "dead heat." The updated projections were delayed, so fans didn't get to find out right away which artist came away with the win. The week prior, when SZA came out on top, she wrote on Instagram, "3 weeks at number one fully minding my business n not giving a f*ck . Thank God," so that may continue to be her attitude, no matter how many weeks she is ultimately able to rack up.