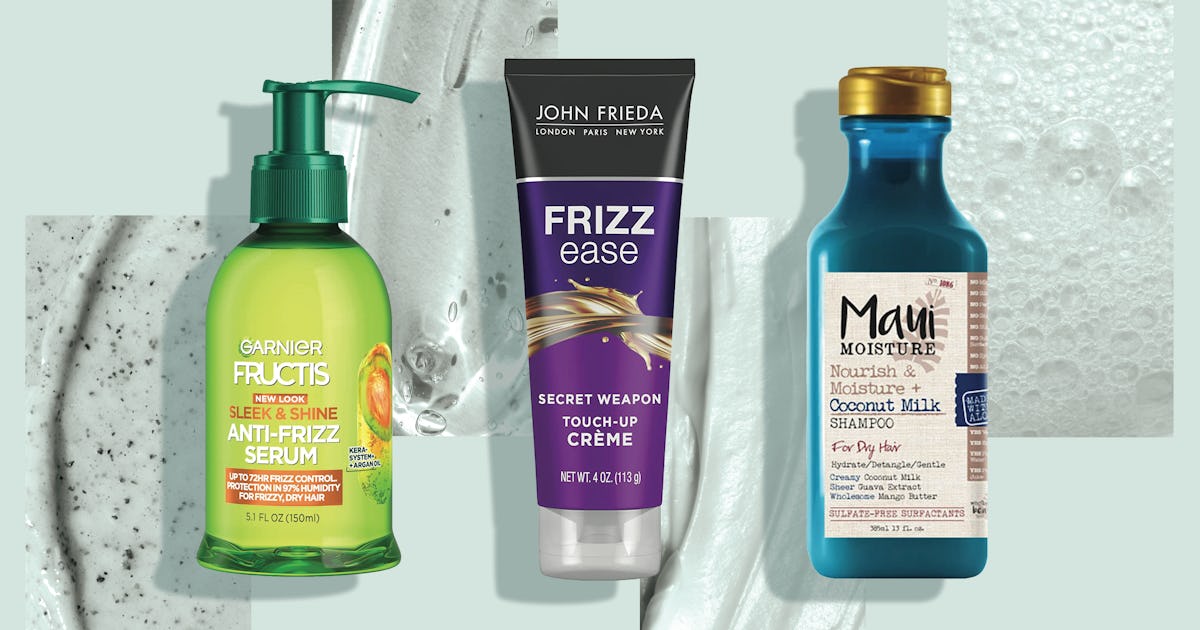 No matter what kind of hair you have, at some point, you're likely to experience frizz. That's because in addition to commonly known causes of frizz (like humidity and harsh weather), things like excessive heat styling and dyeing your hair can contribute to frizz, too. More moisture is the key to achieving a smoother, sleeker look, and the best drugstore products for frizzy hair — which range from leave-in conditioners to wash-out treatments — combine moisturizing oils, butters, and proteins with a budget-friendly price tag.
If you're experiencing unwanted frizz, you can also make some adjustments to your daily routine. Sleeping on silk pillowcases, using a microfiber towel after shampooing, and cutting back on heat styling (and always using a heat protectant when you do) can all contribute to smoother hair.
Because dry and dehydrated hair will absorb excess moisture from the environment, which causes that frizzy appearance, you want to be careful that your hair products don't contain any ingredients that could be zapping it of the moisture it needs. Ingredients in hair care products that you'll want to avoid include sulfates, parabens, and drying alcohols like propanol and denatured alcohol (commonly listed as alcohol denat.) You may also want to be careful about using hair products that contain silicones too frequently. Even though they're great for detangling and giving hair an immediate smoothing effect, silicones can build up over time and prevent your hair from being able to absorb moisturizing ingredients (they can also weigh down finer hair). Additionally, should you opt for a keratin-enriched product, you'll want to take special care that you follow the directions in terms of how long you leave the product on and how often you use it. While keratin is popular for repairing damaged hair, too much can actually have the opposite effect and end up causing frizz (and the same goes for any other type of protein-enriched hair product).
Shop The Best Drugstore Products For Frizzy Hair
In a hurry? Here are the best drugstore products for frizzy hair:
1. Best Shampoo & Conditioner For Frizzy Hair
How you wash your hair can impact its health — and thus, its susceptibility to becoming dry and more prone to frizz — particularly if you have color-treated hair or are trying to repair some existing damage. This Maui Moisture duo was formulated for dry hair types, whether that stems from a natural tendency to being dry or from using hot tools too frequently. The sulfate-free and silicone-free shampoo is aloe vera-based to infuse your hair with lightweight hydration as it cleanses, and the conditioner is also silicone-free. Instead, it uses fatty acid-rich ingredients like mango seed butter, guava seed oil, and coconut oil to resotre moisture, seal split ends, and add shine.
Key Ingredients: Aloe Vera, Coconut Water, Coconut Fruit Extract, Mango Seed Butter, Coconut Oil, Panthenol, Glycerin Size: 13 oz. Sulfate-Free: Yes Silicone-Free: Yes Cruelty-Free: Yes
Relevant Review: "This Maui Moisture set smells amazing. It's a coconut scent, rich, but not fake like some are. My hair is dry from color and the cold winter weather. The shampoo lathers well and cleans well without over-drying my hair or scalp. The conditioner is thick and detangles well. It feels moisturizing and smoothed some of my hairs frizziness […]"
2. Best Leave-In Conditioner For Frizzy Hair
For thicker, curly hair types looking for more moisture, this Cantu Argan Oil Leave-In Conditioning Repair Cream offers multiple ways for you to rehydrate your hair. As a leave-in treatment, you can apply it onto the ends of your hair while it's still damp and comb it through to immediately smooth unwanted flyaways and frizz. Or, you can use this as a more intense treatment, either leaving it in your hair overnight with a shower cap or rinsing it out after 20 minutes. Either way, the rich conditioner uses ingredients like shea butter, argan oil, and olive fruit oil to improve your hair's health and minimize frizz in the process.
Key Ingredients: Glycerin, Olive Fruit Oil, Shea Butter, Argan Oil Size: 16 oz. Sulfate-Free: Yes Silicone-Free: Yes Cruelty-Free: Yes
Relevant Review: "I got this for my heat damaged 3c hair; and it completely eliminated my frizz and my hair doesn't feel like dry straw after two days anymore. My hair is bouncy now. Make sure to apply it very evenly though […] Scrunch it out!"
3. Best Mask For Frizzy Hair
Of course, finer hair textures can experience frizz, too, and overloading your hair with heavy butters and oils will only serve to weigh your hair down and leave it looking greasy. Instead of a heavy-duty leave-in, try a lightweight hair mask like the Pantene Miracle Rescue Intense Rescue Shots. The moisture-restoring treatment uses ingredients like glycerin and panthenol to help eliminate frizz that occurs from dryness and split ends while encouraging healthier and shinier hair overall. You'll find that the treatment is packaged in single-use ampoules (making it great for travel) but depending on your hair length and thickness, you can get multiple uses out of each tube.
Key Ingredients: Glycerin, Panthenol Size: 0.5 oz. (Pack Of 8) Sulfate-Free: Yes Silicone-Free: No Cruelty-Free: No
Relevant Review: "After using this product I must say it's absolutely an amazing one. […] After one use, this was one of my favorites. The cream has a tan tint to it but did not add any color to my hair. It's very thick and only takes a small amount for full coverage of my lower back length hair. The scent is amazing of course, its Pantene!Added loads of shine, hydration and moisture to my hair. Resulting in less frizz, better shine and fewer split ends.I am a believer of this miracle!"
4. Best Serum For Frizzy Hair
Garnier's Sleek & Shine collection has been a drugstore favorite for decades. The Sleek & Shine Anti-Frizz Serum is also an Amazon-approved product with more than 20,000 five-star ratings. Suitable for all hair types (though you'll definitely want to be more conservative with your application if you have fine hair), the serum combines argan and apricot oils with the brand's Kera-System+ formula to smooth hair, add shine, and protect against frizz for up to 72 hours. You can apply the serum to damp or dry hair depending on your styling preference, but one pump of the serum is all you need to notice the benefits.
Key Ingredients: Argan Oil, Apricot Oil Size: 5.1 oz. Sulfate-Free: Yes Silicone-Free: No Cruelty-Free: Yes
Relevant Review: "I've been searching for a product to use in my hair that will help with the frizz, but was starting to lose hope. Most products take away the frizz for about 10 minutes and then you're back to being a lioness. However I am in love with this hair product. It lasts all day, and not only does it take away the frizz and give you shine, it also has made the waves/curls in my hair more prominent. I just love it!"
5. Best Curl Mousse For Frizzy Hair
If you typically opt for a mousse to style your hair, pass on the usual alcohol-infused formula and try a moisture-rich product like SheaMoisture's Coconut & Hibiscus Frizz-Free Curl Mousse. The drugstore mousse was designed to help enhance your natural curls without leaving your hair feeling crunchy or sticky. In addition to coconut oil, the formula contains nourishing ingredients like shea butter and hydrolyzed silk to leave hair smooth and soft, as well as neem seed oil to reduce frizz and impart your curls with shine.
Key Ingredients: Shea Butter, Panthenol, Coconut Oil, Hydrolyzed Silk, Neem Seed Oil, Glycerin Size: 7.5 oz. Sulfate-Free: Yes Silicone-Free: Yes Cruelty-Free: Yes
Relevant Review: "Wow, I was not expecting to love this product so much! It gives my curls great definition without any crunchiness, and has been very helpful with the summer frizz."
6. Best Styling Cream For Frizzy Hair
Another drugstore hero brand when it comes to achieving smoother hair, John Frieda's Secret Weapon Touch-Up Crème is perfect for anyone looking for frizz prevention post-styling (or throughout the day). No matter what type of hair you have, the tiniest dab of cream is all you need to smooth away frizz and flyaways with the help of ingredients like avocado oil and hydrolyzed wheat protein. Even though it's under $10, this styling product will save you even more money since you're using such a small amount of the cream each time.
Key Ingredients: Avocado Oil, Glycerin, Hydrolyzed Wheat Protein Size: 4 oz. Sulfate-Free: Yes Silicone-Free: No Cruelty-Free: No
Relevant Review: "Never used this before on my frizzy hair, was I missing something wonderful! Tamed my frizz without any oily feel or look and didn't flatten my hairdo. Nice scent and feel for the money."
7. Best Gel For Frizzy Hair
For another curl-enhancing product, Ouidad's Advanced Climate Control Heat & Humidity Gel includes moisturizing ingredients like panthenol, ceramides, and hydrolyzed wheat protein to give curls definition without the crunch. The multi-beneficial formula was designed to protect hair against damage caused by daily environmental exposure to things like the sun and pollution. To eliminate unwanted frizz by locking in moisture and keeping out humidity, the gel uses the brand's Anti-Frizz Nano Technology, which is infused with a type of silk-derived protein.
Key Ingredients: Hydrolyzed Wheat Protein, Vitamin E, Panthenol, Glycerin, Ceramides, Castor Oil Size: 8.5 oz. Sulfate-Free: Yes Silicone-Free: Yes Cruelty-Free: Yes
Relevant Review: "This gel is the best thing that's ever happened to my hair. I used to always get frizz shortly after or sometimes while diffusing, not anymore. My hair is curlier than ever before, but still soft and bouncy. Not to mention I got four days of great hair with no refreshing, a first for me. This stuff is magical. […]"
8. Best Oil For Frizzy Hair
If a serum doesn't cut it for your thicker hair, try a more concentrated oil. Among the thousands of rave reviews on Amazon, multiple reviewers have called this OGX Renewing + Argan Oil Of Morocco a great alternative to the pricier (and cult-favorite) Moroccanoil Treatment. Nutrient-rich Moroccan argan oil is the star ingredient in here, but the formula also contains silk proteins to hydrate frizzy hair and add shine. As a bonus, you can apply this oil onto dry skin on your body, too.
Key Ingredients: Argan Oil Size: 3.3 oz. Sulfate-Free: Yes Silicone-Free: No Cruelty-Free: No
Relevant Review: "This is my absolute favorite hair product that I cannot live without. I have long, thick, curly hair and live in a high-humidity area. Without this stuff, I cannot keep my hair down all day without it frizzing up. I tried everything! Who knew that a little bottle of inexpensive product could do so much for my hair? Life saver for my curls!"
9. Best Curl Refresher For Frizzy Hair
If your hair needs a hit of moisture in between washes, Pacifica Beauty's Pineapple Curls Refresher Mist was designed specifically to rehydrate and define your curls. Free from silicones, the vegan and cruelty-free formula uses linseed oil, hyaluronic acid, and panthenol to give curls lightweight moisture that helps to seal out frizz without being heavy or greasy. Vitamin C-rich pineapple not only inspired the mist's tropical scent, but it also helps protect hair against damage and adds a glossy shine.
Key Ingredients: Glycerin, Aloe Leaf Juice, Linseed Oil, Hyaluronic Acid, Panthenol, Avocado Oil, Coconut Oil Size: 4 oz. Sulfate-Free: Yes Silicone-Free: Yes Cruelty-Free: Yes
Relevant Review: "Absolutely [love] this, it has a great scent, conditions well on both wet and dry hair, bye bye frizz and dryness hello hydration! I just wish they made a bigger size"
10. Best Heat Protectant For Frizzy Hair
Using hot styling tools too often, or improperly, is a major cause of frizz. If you can't totally give up on your flat iron or curling wand, try dialing back the heat and always prep your hair with a heat protectant. The Mielle Organics Mongongo Oil Thermal & Heat Protectant Spray can be misted through hair while it's still damp to defend against the effects of heat. Great for thicker hair types, the heat protectant is also full of moisturizing ingredients like argan, almond, and mongongo oils that improve the hair's health and reduce unwanted frizz.
Key Ingredients: Sweet Almond Oil, Argan Oil, Mongongo Kernel Oil, Grape Seed Oil, Vitamin E, Hydrolyzed Wheat Protein Size: 4 oz. Sulfate-Free: Yes Silicone-Free: No Cruelty-Free: Yes
Relevant Review: "Works wonders. Keeps hair soft and moisturized. Less frizz."
11. Best Keratin Treatment For Frizzy Hair
If damaged hair is what's contributing to your frizz, you may want to consider a keratin treatment to help improve hydration and prevent further breakage. CHI's Keratin Silk Infusion is a leave-in treatment that combines keratin to rebuild the hair's cuticle with hydrolyzed silk to immediately leave hair feeling smoother and softer. Safe for all hair types, the infusion also helps protect hair when used prior to styling your hair with heat.
Key Ingredients: Keratin Amino Acids, Hydrolyzed Silk, Argan Oil, Jojoba Seed Oil, Glycerin Size: 6 oz. Sulfate-Free: Yes Silicone-Free: No Cruelty-Free: Yes
Relevant Review: "Curly hair in the humid south is a battle on its own. Straight hair is not an option! But even the curls frizz here in South Carolina…so extra help is needed. The Chi oil is my secret weapon! I put it on to smooth the curls when the frizz tries to kick in. It doesn't make your hair crunchy…just a small amount is all you need."
About The Author
Marissa DeSantis has worked as a beauty writer and editor for nearly 10 years. Her pieces can be found across print and digital publications like Bustle, Evening Standard, Teen Vogue, and InStyle.