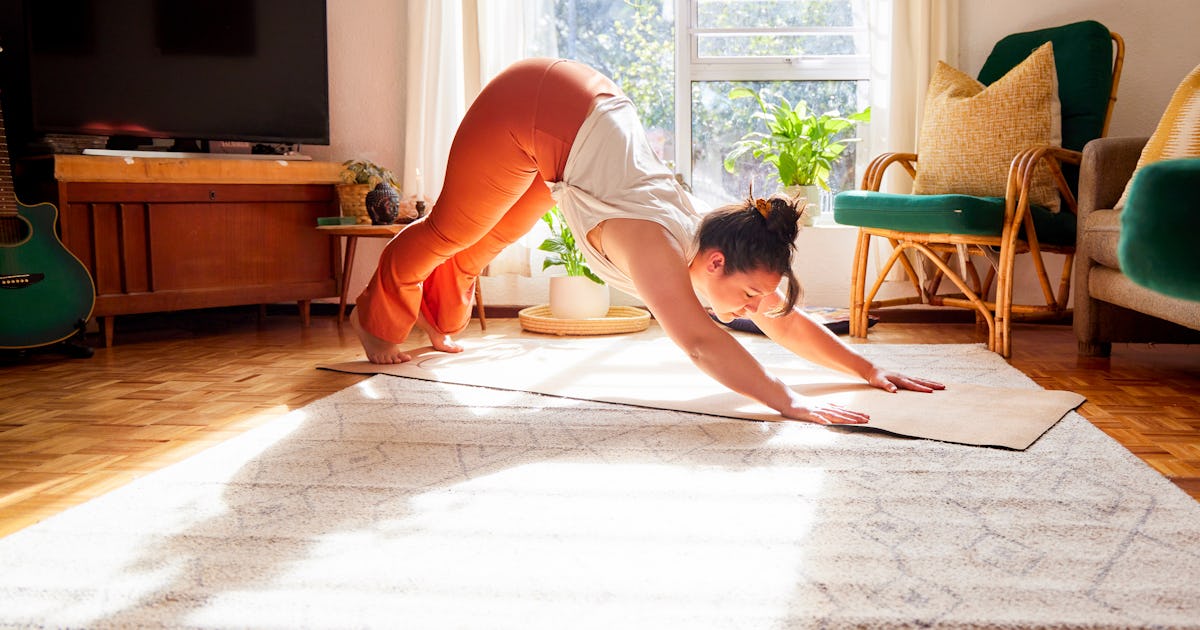 The start of a new year always feels like a great time to reassess your approach to exercise. Usually, that means signing up for a gym membership or setting a few goals for yourself, but with all the fitness trends coming your way in 2023, there will be no shortage of fun and fresh ways to change how you sweat.
While you can switch up your exercise routine any day of the year, January's resolution-setting tradition offers the perfect moment to hit pause and think about what you want for yourself, especially after the busyness of the holidays, says Mark Mullett, the co-founder and co-CEO of digital workout platform obé Fitness. He recommends considering what you like in your current workout regimen — and what just isn't your cup of tea. From there, you can tweak your fitness game to something you enjoy.
In 2022, the workout world saw a surge in low-impact exercise classes, game-inspired fitness, and interactive strength training. This year, experts predict a new wave of wearables, more tech-heavy workout platforms, and smarter, more accessible ways to sweat. For the lowdown, keep scrolling for a glimpse at all the biggest fitness trends of 2023 that are guaranteed to change how you work out.
1. Workout Stacking
According to Mullett, doing multiple rounds of mini workouts will be the next big thing in 2023. While there's a long-standing notion that workouts have to be 45 minutes or an hour long in order to count, he says folks are leaning into the idea of 10-minute, bite-sized chunks of exercise instead. Think 10 minutes of yoga, cardio, or strength training — whatever suits your fancy.
From there, the idea is to "stack" them back-to-back to create a longer, more diverse workout. (You can also do mini workouts one at a time as they fit into your day.) "We're seeing people realize with their busy schedules that grabbing 10 minutes here and 10 minutes there is actually just as good [as a single longer session]," he says.
2. All Things Group Fitness
According to Noah Neiman, the co-founder of Rumble Boxing in New York City, group fitness classes will continue making a comeback in 2023. In fact, he predicts an explosion in both group fitness boutiques and brick-and-mortar gyms, which is great to hear if you've missed sweating in places beyond your living room.
While at-home workouts will always be an option post-lockdown (more on that below), you'll definitely have more options when it comes to taking classes IRL. "We've seen a slow but steady climb back to pre-lockdown attendance [in group fitness classes]," Neiman tells Bustle. "Look for an even steeper climb in people attending live workouts in the new year."
3. Gym As Community
The gym might even become your hangout space this year, says Lauren McAlister, a fitness and wellness expert at Mindbody and ClassPass, certified nutritional therapy consultant, and co-owner of McAlister Training.
She notes that many people will use fitness as a way to feel connected to others, and that folks will be more likely to get memberships at gyms that are well-known for their community-building activities. Think post-sweat bites and hangouts, and even studios with lounges for attendees to work from or chat with others before class.
4. Futuristic Wearable Tech
Want a ring that reports your heart rate? Or a wearable that tells you how well you did during a workout? Then get excited about companies like WHOOP and Oura, which Neiman says are paving the way for new types of fit tech that you wear. WHOOP is a device that keeps track of your daily effort and recovery while providing insights into how you can optimize your performance, while the Oura is a ring that measures your fitness, stress levels, and sleep so you can truly tap into your wellness stats. Be on the lookout for more advancements in the world of fitness trackers and what they can do.
5. VR Workouts
Neiman predicts more people will want to try out VR tech for their workouts as the metaverse becomes even more of a thing. (The hashtag #vrworkouts already has over 2 billion views on TikTok, so it's clearly catching on.) "VR headsets such as Meta, Oculus, or the industry favorite Valve Index will see a bigger adoption in 2023 than ever before," he says. If you want to throw jabs on a volcano in Iceland while working out in the metaverse, consider this your excuse to get a headset.
6. Reframing Exercise As Movement
According to Alayna Curry, an AFAA-certified fitness instructor and licensed Zumba instructor, 2023 will see people challenging and redefining what counts as exercise. While a "workout" typically brings to mind running or doing squats, Curry says the new year is all about expanding the definition to include things like walking your dog, playing basketball, dancing to music, etc. — anything that gets you moving. "I see a shift towards this type of gentle fitness where people are focused on benefits instead of aesthetics, like elevated mood, better sleep, and improved strength," she says.
7. At-Home & Gym Hybrid Workouts
Even though more gyms are open, there's no need to delete your fitness apps or give up on your at-home workout regimen. Curry believes a hybrid workout routine will continue to be a popular way to sweat. "I envision some choosing to work out both at home and the gym, but not one or the other exclusively," she says. "There are great benefits to each option." The biggest perk? You choose where and how you fit your workout in based on what works on any given day.
8. Outdoor Workouts & Retreats
Liz Wexler, a yoga, Pilates, and cycle teacher at Equinox, says that 2023 will also get more people outside, whether that means walking, doing yoga in the park, or signing up for a wellness retreat. "I see more workouts in nature, like kayaking, hiking, cross-country skiing, and playing sports," she tells Bustle. "More brands are catering to that kind of outdoorsy clothing and lifestyle, too." Rob Wagener, a NASM-certified personal trainer, agrees. "People are going to be ready to get out of their homes more this year for some natural vitamin D and fresh air as they sweat," he says.
9. Rest & Recovery
If the past was all about the hustle and grind, 2023 will focus on slowing down long enough to truly recover between workouts — which is an essential part of a healthy fitness routine, after all. Wexler predicts there will be an increased interest in recovery studios like The Well, Stretch*d, and StretchLab where you can go for one-on-one stretch sessions and other futuristic recovery treatments, like red light healing, all in the name of giving your body the TLC it needs post-workout.
10. A-List Guests In Virtual Workout Classes
Expect to see more celeb cameos in your virtual exercise classes. Ashley Mills, the co-founder and co-CEO of obé Fitness, says she's noticed just how much folks love fun workout classes that are designed to be as uplifting as possible. At obé, that might mean taking a class hosted by Rosé from RuPaul's Drag Race or another fun celebrity. "It really is meant to be fun and light and something that gives your cheeks a bit of a workout," she tells Bustle. Over on Peloton, you may have caught Ashton Kutcher and his A-list guests (like Kim Kardashian and Natalie Portman) taking tread classes on camera, and you can now sweat along with cycling instructor Cody Rigby in his LOL Cody series that features workouts-slash-convos with the likes of Carly Rae Jepson and Bowen Yang.
11. '80s Revival
Mills sees step classes becoming more popular than ever in 2023. If you're picturing 1980s-style cardio classes that involve marching up and down on a platform to music, you're correct. Trampolines (aka rebounders) are also back in as a fun piece of fitness equipment. "We have bounce classes and people live for those," Mills says.
The overall consensus? Fitness in 2023 is all about fun workouts that make you want to sweat.
Sources:
Mark Mullett, co-founder, co-CEO of obé Fitness
Alayna Curry, AFAA-certified fitness instructor, licensed Zumba instructor
Noah Neiman, co-founder of Rumble Boxing in NYC
Lauren McAlister, fitness and wellness expert at Mindbody & ClassPass, certified nutritional therapy consultant, co-owner of McAlister Training
Liz Wexler, yoga, Pilates, cycle teacher at Equinox in New York City
Rob Wagener, NASM-certified personal trainer
Ashley Mills, co-founder, co-CEO at obé Fitness