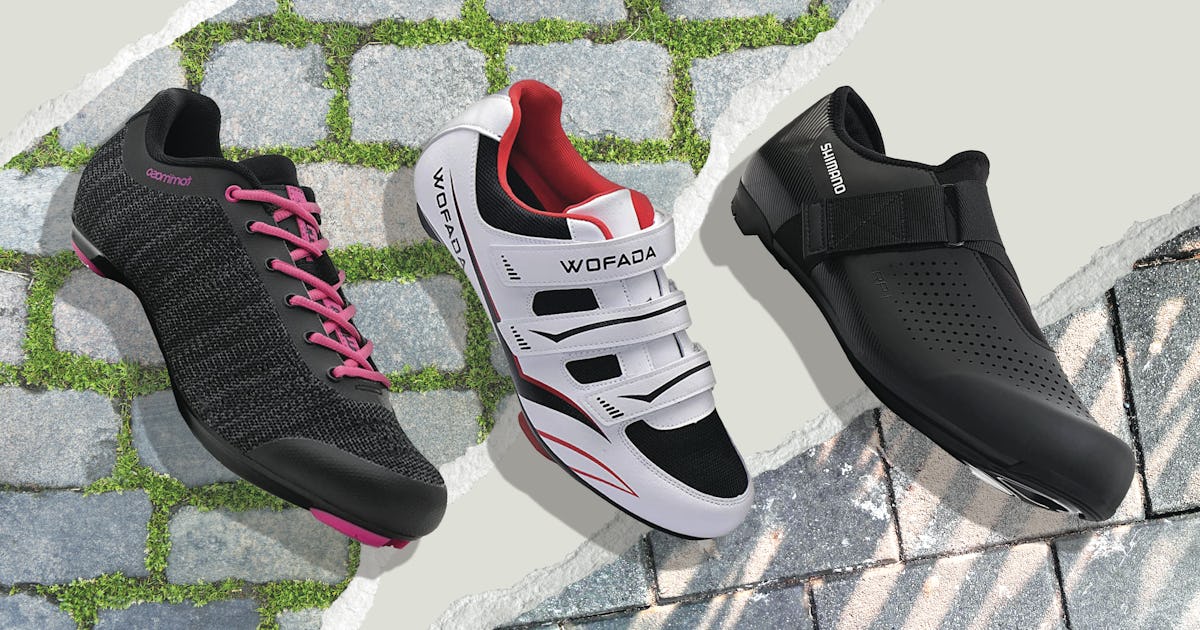 Whether at-home cyclers or studio regulars, many SoulCycle loyalists choose to invest in their own cycling shoes for their classes or to use with the SoulCycle bike that launched in 2020. While the shoes sold on their site can set you back hundreds of dollars, there are plenty of great options that'll work for your SoulCycle workouts without costing as much. The best cycling shoes for SoulCycle (and the type recommended by SoulCycle) have Look Delta cleats, though SPD cleats are also compatible with their bikes. If you're planning on riding non-SoulCycle bikes, you may want one choice over the other. Look Delta cleats are the best shoes for Peloton bikes as well as Flywheel classes, whereas SPD cleats are found on most bikes you might find at your gym or health club.
A little background: Unlike many other popular cycling bikes, the SoulCycle bike features a reversible pedal with one side for Look Delta clips and one side for SPD clips. For that reason, you can easily flip the pedals and clip in whichever pair you own. Given that SoulCycle recommends Look Delta, you'll primarily see shoes with Look Delta clips on this list. But there are a few pairs of cycling shoes on here that are compatible with both Look Delta and SPD clips (purchased separately), so you can change them out as you need. These will be the most customizable if you want to have your bases covered.
Beyond the clip style, you'll want to treat shopping for indoor cycling shoes similar to any other shoe you'd shop for. Cycling shoes with mesh uppers will breathe well when you're sweating, and strap versus lace-up designs are largely a matter of preference (though lace-free designs might be the most secure for high-intensity cycling sessions).
Shop The Best Cycling Shoes For SoulCycle
In a hurry? These are the best cycling shoes for SoulCycle on Amazon:
Not sure which cycling shoes you should get? Here's a roundup of some excellent options to choose from.
1. The Overall Best, All Things Considered
This popular pair of cycling shoes has won over many SoulCycle riders, with one writing that these are "better than [the] SoulCycle shoes." These shoes feature a synthetic leather upper that hugs your feet and three straps to keep your shoes in place during your ride. They're also designed with multiple mesh panels to allow for breathability when you start to sweat. With a fiberglass sole that's reinforced, these shoes offer great power transfer for a faster ride. This pair comes with Look Delta clips included, making it ideal for SoulCycle, Flywheel, or Peloton bikes, but you could also opt for the version that comes with SPD clips, if that's the clip style that is best for your needs.
A rave review: "I'm so so happy with this purchase. I do Soulcycle about 1x a week, and I took these in – they attached the clips for me and BOOM! Absolutely transformed my already really pleasant experience. I 100% recommend."
Clip type: Look Delta clips included (other options are available with SPD clips) | Sizes: 6 — 11 | Colors and styles: 15
2. The Best SoulCycle Shoes With Laces
As opposed to the straps on the similar Tommaso cycling shoes above, this knit pair of shoes has a lace-up design. They also feature a flexible knit upper that offers even better airflow when compared to the ones above, and a bit more stretch if your feet naturally swell during a workout. They also have a fiberglass reinforced sole for top-notch power transfer when you're on your bike. This pair is similarly available with either Look Delta or SPD cleats (or with neither, if you already have cleats), but I've linked the pair with Look Delta clips above, per SoulCycle's recommendation. Just keep in mind, the closure style may make them a little more prone to loose laces that interfere with your ride. That said, they'll still get the job done and are great for sweaty feet or those who prefer lacing up their indoor cycling shoes.
A rave review: "These are super cute and extremely comfortable! I love that they form fit like a typical sneaker vs being a hard outer shell like some other clip ins are. I was a beginner and using sneakers with cages prior to these shoes and I felt the difference day 1 of using these."
Clip type: Look Delta clips included (other options are available with SPD clips) | Sizes: 6 — 11 | Colors and styles: 12
3. The Best SPD Cycling Shoes For SoulCycle
If you prefer SPD clips and wish to use that side of your SoulCycle pedal or venture into road cycling, these Shimano cycling shoes are a fan favorite. They feature a Y-shaped strap across the top for a secure fit, a soft slip-on upper, and ventilation perforations for airflow. Similar to the two pairs above, these cycle shoes have fiberglass reinforced soles to ensure you can powerfully pedal during your workout. They're also compatible with both SPD and three-bolt SPD-SL cleats; however, SPD-SL cleats don't typically work seamlessly with Look Delta pedals. And, while they're more affordable than the one above, you'll have to buy your clips separately, which means these may end up being more expensive depending on which clips you go with.
A rave review: "I ride at SoulCycle often and i couldn't be happier with these spin shoes. They fit great and have awesome ventilation."
Clip type: SPD and SPD-SL (not included); consider this pair of Shimano SPD clips or this pair of Shimano SPD-SL clips | Sizes: 6.5 — 16.5 | Colors: 1
4. The Best Budget Cycling Shoes
These affordable cycling shoes are great if you're just starting out with SoulCycle or aren't ready to go all-in on a pricier pair just yet. They feature a three-strap design, lightweight synthetic upper, and a supportive nylon sole that's not quite as strong as the fiberglass soles in the picks above, but is a decent choice for a budget-friendly pick. They're also compatible with Look Delta, SPD, and SPD-SL cleats and come with a pair of Delta cleats so you can begin riding right away.
A rave review: "The shoes are lightweight but very sturdy. I like the three tight velcro straps, and my feet feel really comfortable wearing them. […] I have tried those on my indoor bicycle, and it feels great."
Clip type: Compatible with Look Delta, SPD, and SPD-SL (Look Delta cleats are included) | Sizes: 6.5 — 14.5 | Colors: 8
This article was originally published on