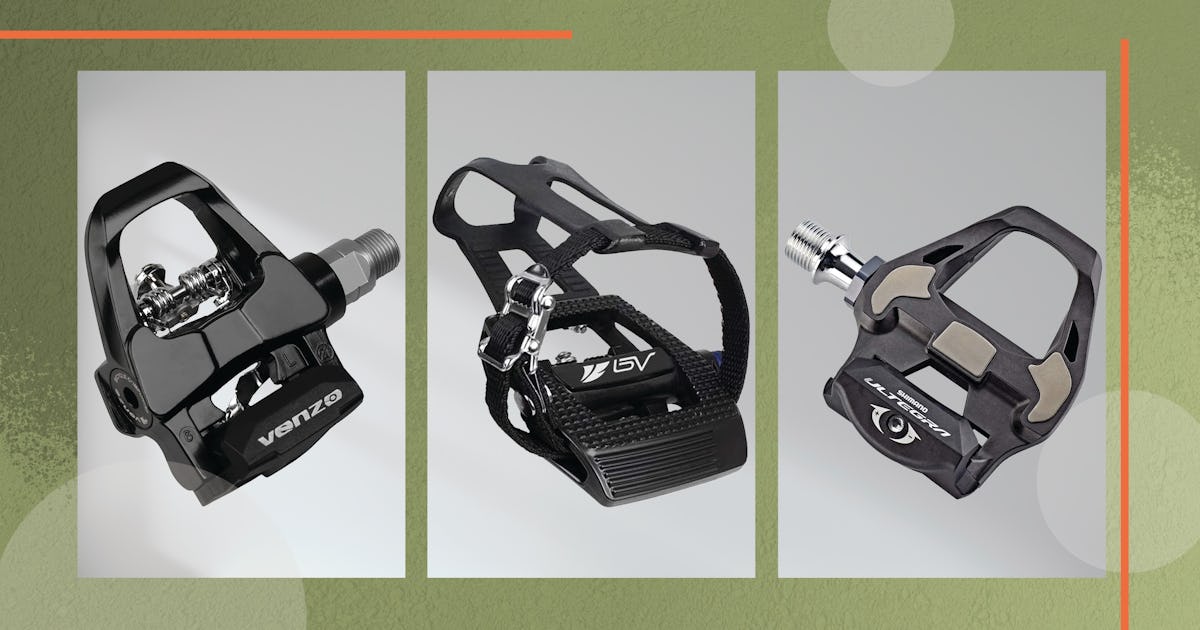 Whether you already have a pair of Shimano Pedalling Dynamics (SPD) cycling shoes, just prefer them, or want to accommodate various users in your household, the best SPD pedals for Peloton use a 9/16-inch connection to fit your bike and are available in dual-sided and three-in-one designs to accommodate a variety of cycling and athletic shoes to swap. Plus, these SPD pedal alternatives to Peloton's standard Delta pedals are all super durable and come with the cleats needed for use so you might.
What To Look For When Choosing A Pair Of Pedals
Shimano Pedalling Dynamics-style pedals all feature a two-bolt design; however, if multiple people use your Peloton, it may be helpful to consider the kind of footwear they have. Some pedals feature designs that can accommodate SPD cleats as well as Look Delta cleats or regular shoes. And even if you love cycling with cleats, you may find the ability to cycle with regular shoes helpful when it comes to boot camp classes that require on- and off-bike exercises.
These pedals also boast modification options such as tension adjustments that allow you to customize how easy it is to remove your shoe from the pedal and removable toe cages for support with regular shoes. All of the pedals on this list are made with durable materials such as aluminum and stainless steel, but some high-end models feature a carbon composite material to make them lighter for ultra-fast pedaling.
Shop The Best SPD Pedals For Peloton Bikes
In a hurry? Here are the top picks for the best SPD Pedals For Peloton Bikes:
With these considerations in mind, check out the best SPD pedals for Peloton bikes.
1. These SPD Pedals Reddit Users Swear By
These Peloton-compatible SPD bike pedals are recommended by several Reddit users. One commenter wrote, "I use these on my Peloton and my road bike. Couldn't be more pleased." Great for multiple users, these pedals feature a convenient dual-sided design that accommodates SPD cleats on one side and has a platform for sneakers and street shoes on the other. They boast a durable aluminum body with a tension adjuster to customize how easy it is to clip in and out of the pedal and they come with a pair of two-bolt cleats (model SM-SH56) that attach easily to your SPD-compatible cycling shoes (such as this pair from Shimano). Plus, they boast a bright and shiny silver finish and come with a two-year warranty.
One Reviewer Wrote: "I bought these so I didn't have to buy the expensive Peloton bike shoes. This fits perfectly with my shoes that have SPD clips."
2. These Ultra-Lightweight Pedals That Work With SPD & Delta Cleats With 4.8 Stars
For Peloton enthusiasts and professional cyclists alike, these Shimano Ultegra pedals are designed for maximum efficiency. The SL in their name stands for "super light," which can be justified considering the two pedals together weigh just 8.75 ounces. They also use a three-bolt attachment instead of the standard SPD two-bolt design, and can be used with both SPD-SL and Delta cleats. These pedals are made of a carbon composite body and stainless steel plate for lightweight durability, have an extra-wide platform for pedaling efficiency, and have adjustable entry-and-release tension settings for customized in and out. These pedals come with a set of SM-SH11 cleats, and can be used with any SPD-SL or Delta cleat accommodating cycling shoe to have you flying through your next workout.
One Reviewer Wrote: "I purchased these pedals as replacements for my Peloton Bike.. These are simply the BEST.. These pedals weigh less, feel more comfortable, and are can't miss on the Peloton! Highly Recommend!"
3. A Versatile 3-In-1 Pedal
For the ultimate in versatility, check out these three-in-one pedals that feature dual SPD and Delta pedals, plus toe cages for use with regular athletic shoes. The pedals are made of a durable aluminum body, feature an adjustable toe clip for a customized riding position, and have adjustable cleat tension for easy removal. This kit includes a set of C01F SPD compatible cleats, ARC1 Look Delta cleats, a toe cage, and a two-year warranty.
One Reviewer Wrote: "Extremely easy to install. I prefer SPD and my wife still uses the stock Peloton Look style shoes. This pedal allows for both. Pedals are very sturdy and after numerous uses they have performed as expected."
4. These Under-$50 Pedals With Nylon Straps
These SPD pedals are a great budget-friendly option that'll give you the flexibility of choosing between wearing cycling cleats and regular shoes. The durable aluminum pedals feature a removable nylon strap toe cage to help keep regular shoes in place, and the two SPD cleats needed for clipped riding are included. They have adjustable cleat tensions for customized detaching, feature a black and silver finish, and come with a one-year warranty.
One Reviewer Wrote: "We ordered these pedals so we could use our Shimano indoor bike shoes with the Peloton Bike+. They fit and work perfectly. Also appreciate the toe cages on the backside so our kids can use the bike with their regular shoes."