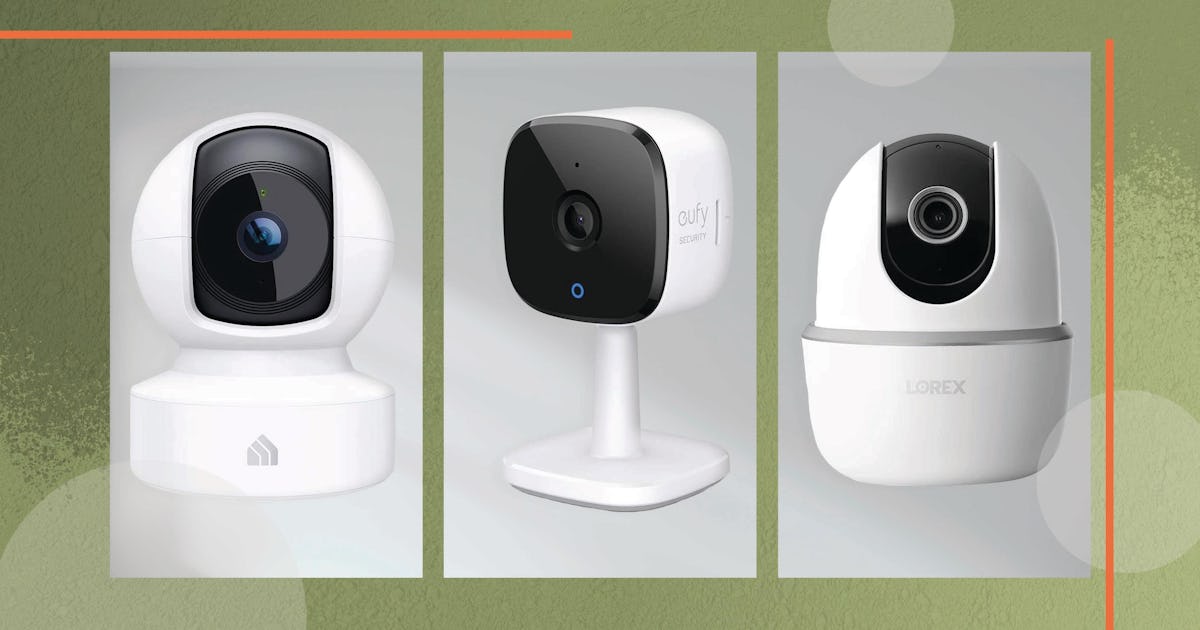 There are countless security cameras out there — but unfortunately, many of them require a subscription with a monthly fee to use key features like viewing recorded footage. The best indoor cameras without subscriptions (or with optional ones) will allow you to view your camera in live mode and access your recorded footage without paying extra. It'll also have all of the features you'll need to effectively keep an eye on your home.
What To Look For In A Subscription-Free Security Camera
Storage: Recorded footage is either stored locally, on a physical device or an SD card, or online in the cloud. In order to store footage in the cloud, you'll probably be paying for someone to host it, which is where the subscription usually comes in. For that reason, local storage with an optional subscription or no subscription at all is typically the way to go though you may need to purchase an SD card separately. Note that a few brands will let you check your cloud storage for free if it's within a certain span of time, like seven days.
Quality: A security camera without a subscription should deliver clear, high-quality video at any time of day. Look for a camera that offers at least 1080p HD video, as well as night vision. All of the cameras on this list meet that minimum requirement — and many surpass it.
Power source: Most indoor security cameras plug into a standard wall outlet, but if you're looking for portability and cord-free use, you can also find some that run on batteries. Just remember that you'll need to either replace them or recharge them regularly, otherwise your camera and your footage will be inaccessible.
Additional features: Finally, consider the additional features that'll make your life easier. Do you want two-way audio so you can communicate with your family members? How about Alexa compatibility for voice-activated control? Do you want your security camera to double as a pet cam that pans and tilts to locate your fur baby? These cameras offer all of that and more.
Shop The Best Security Cameras Without Subscriptions
In a hurry? Here are the top picks for in-home cameras with no monthly fees.
Stay fee-free with the no-subscription indoor cameras below!
1. The Overall Best No-Subscription Security System
Pros:
Includes two (or three) cord-free, mountable cameras
16GB eMMC Home Base stores up to three months of footage
Military-grade encryption for security
Cons:
It's the most expensive option on this list
The eufy Home Security System comes with two cameras or three, and it can be used inside or out thanks to its IP67 weatherproof rating. While it's definitely an investment up-front, it has plenty of features that have earned it an overall 4.5-star rating from more than 11,000 reviewers. The rechargeable batteries last for up to 180 days so you can mount the cameras anywhere and the included 16GB eMMC securely and locally stores up to three months of footage. Other noteworthy features include two-way audio, military-grade encryption, night vision, integration with other smart devices, human detection, and the ability to set specific zones for your motion alerts.
One reviewer wrote: "Works great! No subscriptions! These work as they are supposed to and exceed my expectations. Tried the Blink cameras and they do not work well at all and really slow to display anything. Got these instead and am quite happy with the performance. Almost instant video."
Video quality: 1080p | Cloud storage: None | Local storage: Up to 16GB (eMMC Home Base included) | Power source: Rechargeable batteries, power adapter
2. The Best Budget Security Camera
Pros:
Quality features for less than $30
Earned an overall 4.4-star rating from more than 15,000 reviewers
Cons:
Requires purchasing a SD card to store videos
One reviewer congratulated Kasa for developing a camera with "ALL the right features" — but it still costs a fraction of what leading-brand cameras cost. The Kasa indoor security camera pans, tilts, tracks motion, and has night vision, so you can clearly see what's happening in your home, day or night. It also has two-way audio and works with Amazon Alexa or Google Home, plus you can sync it up with your other smart Kasa devices to trigger a chain of events. (If the camera senses motion, for example, you can prompt it to turn on your smart bulbs.) Skip the optional subscription and purchase an SD card to view your recordings without a monthly fee.
One reviewer wrote: "Get the EC70 with a 64GB sd card and you'll be all set. No need for paying for cloud service.. you can view the live camera view and the recordings over cellular network and over other people's Wi-Fi through TP-LINK's Kasa app so you don't have to be on the same network. […] I have been very happy with these cameras so far. I have five of them and I've had no problems."
Video quality: 1080p | Cloud storage: Optional subscription | Local storage: Up to 64 GB (sold separately) | Power source: Power adapter
3. The Best Security System With Free Cloud Storage
Pros:
Free cloud storage for the 7 most recent days
High-quality video and high-tech features
Includes two cameras
Can add optional micro-SD card
Cons:
Some reviewers report that the app is a bit glitchy
It's not made by a well-known brand, but there are three reasons why this home security camera system is a top pick: For one, it's racked up over 3,200 five-star ratings from buyers. For another, it comes with two Super HD cameras that offer a ton of great features, all for well under $100. Finally, this brand allows for micro-SD storage (sold separately) and will let you access your footage on the Reolink Cloud for free, no subscription required, for the last seven days. Other noteworthy features include night vision, motion sensors, two-way audio, tilt/pan movement, and Alexa/Google Assistant compatibility.
One reviewer wrote: "I'm impressed by the quality of this camera, especially for the price. […] The setup was very painless. I downloaded the app from the play store (android), plugged in the cameras, and followed the prompts. The best part? You don't need to pay for a subscription service to view historic recordings. This is free for a limited view time on one camera."
Video quality: 2304 x 1296 | Cloud storage: Optional subscription or free for up to seven days | Local storage: Up to 128GB (sold separately) | Power source: Power adapter
4. A Solo Security Cam With Impressive Features
Pros:
High-tech features like AI detection and activity zones
A Consumer Reports pick with high customer ratings
2K resolution
Cons:
The eufy brand dominated Consumer Reports' best security cameras without subscriptions category, and the standalone eufy Solo IndoorCam was called "one of the best and most reasonably priced models." Its high-tech features include 2K video clarity, real-time two-way audio, smart integration into Apple HomeKit, Google Assistant/Amazon Alexa compatibility, motion sensors, and night vision. This camera even uses AI to alert you to loud noises, differentiate animals from humans, and use activity zones that auto-respond to your pet if they're doing something they shouldn't be. (In other words, you can record yourself saying "get off the couch" and set it to play whenever your dog gets on the couch.) Best of all, the cloud subscription is optional and you can purchase an SD card for local storage.
One reviewer wrote: "Big value for price. Camera's detection is good. It is very nice to be able to save all motion alerts locally by using a MicroSD card. Additionally, you have access to features that are behind a paywall with other companies. For example, Ring requires you to have a subscription to enable People Only mode."
Video quality: 2K | Cloud storage: Optional subscription | Local storage: Up to 128 GB (sold separately) | Power source: Power adapter
5. The Indoor Security Camera With The Most Local Storage
Pros:
Comes with a 16GB MicroSD card for local storage & expandable up to 256GB
Comes with a mounting kit and magnetic base
2K resolution
Cons:
Some reviewers report that light aimed at the camera at night causes glitches
Most security cameras require you to purchase your own SD card — and even then, they only hold up to 128GB of storage. The Lorex Pan & Tilt indoor security camera is the exception. This one comes with a 16GB MicroSD card and it can be upgraded to hold 256GB of footage. It's also a Consumer Reports Best Buy Pick because of its motorized pan and tilt, monitoring zones, person detection, and Alexa voice-activation control. Thanks to its magnetic base and included anchor screws, it's easy to mount anywhere, and its two-way talk, night vision, and 2K video quality make you feel like you're practically there.
One reviewer wrote: "This really is a great camera. We mounted it on the ceiling in my kiddos room after being very unhappy with the Blink camera. This has no subscription at all […]. It's instantly live and had a great microphone. The room is pretty large and it covers it all well. […]. It also alerts you if a person is detected. This would be awesome to have more of them. I LOVE this brand."
Video quality: 2K | Cloud storage: None | Local storage: Up to 256GB (16GB included) | Power source: Power adapter
Also Great: A Best-Selling SD Card
For cameras that require a separate SD card, the SanDisk memory card has an incredible 4.8-star average rating from over 171,000 buyers, and a few hundred of them mention security cameras. It's available in two generations, eight capacities, and a few multipacks. Most importantly, it offers fast transfer speeds and full HD video recording and playback, all for a reasonable price. (Just be sure to check compatibility with your camera of choice before purchasing.)
One reviewer wrote: "I bought three of these to use on the security cameras around my house. SanDisk has a great reputation and is yet to disappoint me. I've lost count of how many of these I've bought over the years."
Other available sizes: 32GB, 128GB, 200GB, 256GB, 400GB, 512GB, 1TB