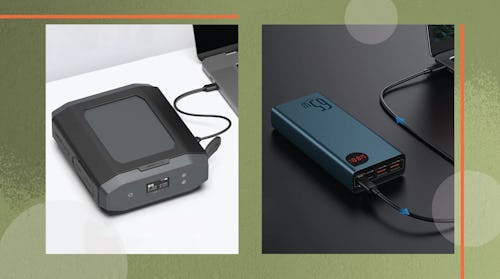 Whether you need to use your Macbook Pro on the go or simply want a backup power source in case of emergency, a portable charger will provide a substantial charge when you don't have access to an outlet. The best portable chargers for a Macbook Pro have large charging capacities, short charging times, and convenient features. The right charger for you will depend on your specific Macbook Pro's model as well as your power requirements, size, and feature preferences, as well as your desired price point.
What To Consider When Shopping For A Portable Charger For MacBook Pros
Capacity: One of the most important considerations when choosing a portable charger is the amount of power the unit can hold. MacBook Pros have much larger energy requirements than cell phones, but the specific capacity will depend on the capabilities and size of the MacBook. According to the Apple website, the 14- and 16-inch MacBook Pros feature a 70-watt battery, and the newer M2 13-inch Macbook Pro features a 58.2-watt battery. So, to get a full charge for a Macbook Pro 14" model, you'll want to choose a power bank with at least 70 watts of energy. Milliamp hours (mAh) is another common unit of measurement for the energy capacity of portable chargers and, generally, chargers with a mAh of 20,000 and above will provide a significant charge for Macbook Pros.
Size: Additionally, the smaller your portable charger is, the easier it will be to carry around. Many are small enough to fit in the palm of your hand while some higher-capacity chargers are a bit larger.
Helpful Features: Other convenient features include power indicator lights, fast charging times, and multiple outlets for charging several devices at once. Most of the chargers on this list require a USB-C cord to link to your computer, but if your Macbook utilizes a MagSafe Charger, you'll want to look for chargers with the appropriate ports.
There are many accessories available for Apple's popular MacBook Pro and a portable charger is essential in keeping you powered up when you're out and about. Check out these highly-rated portable chargers available on Amazon.
1. The Overall Best Portable Charger For A MacBook Pro
Baseus 100W Portable Charger
Amazon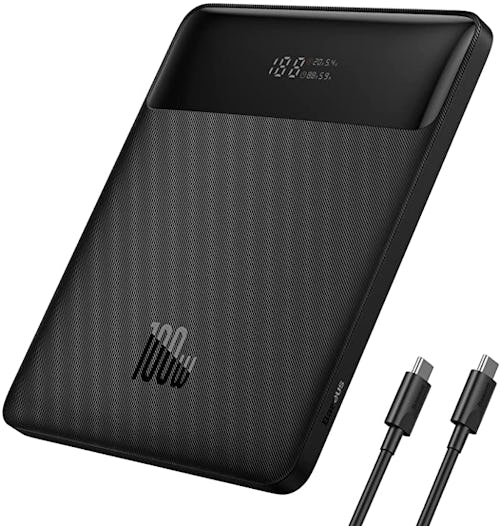 With 100 watts of juice, this portable charger has the capacity to deliver a full charge to most MacBook Pros. It features a super-fast 1.5-hour recharge time, an LED power display, and a surprisingly slim and lightweight design. You can charge two devices simultaneously with its two charging ports and it comes with both a USB-C cable and a 12-month warranty to get you started.
A Helpful Review: "Tested on a 2018 15 inch macbook pro, a 2020 Zephyrus G14, an Iphone Xr, and a Galaxy s21. […] I typically get around 2.5 hours of video editing on a both my macbook pro and my windows based zephyrus G14 from the internal battery, then another 1.5 from this battery bank. […] My favorite feature is that the powerbank itself has fast charging, so it takes less than 2 hours to recharge. I am used to it taking many hours to charge other powerbanks."
Energy Capacity: 100 Watts | Weight: 1.08 pounds
2. The Best Lightweight Pick
Baseus 65-Watt Power Bank
Amazon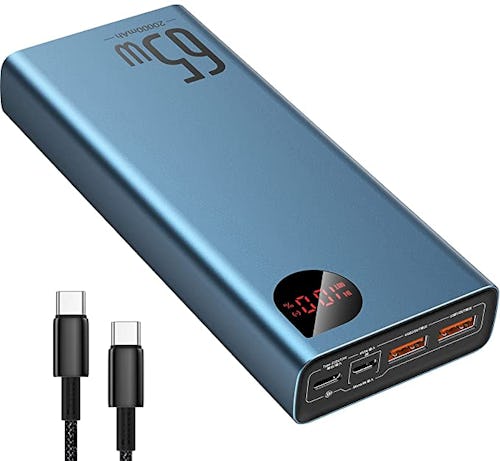 This 65-watt portable charger is the most lightweight option on this list weighing in at less than a pound. Despite being ultra-light, it features four ports, an LED charge indicator, and an aluminum alloy housing to protect against overheating. Don't let the small size trick you — this charger boasts enough energy to charge a MacBook Pro 15-inch 1.1 times and can be fully recharged in just two hours. It's easy to transport, measuring just six inches long, and includes a USB-C cable and an 18-month warranty.
A Helpful Review: "It works great, better than expected. I discharged the internal laptop battery down to 15% and then plugged in this charger. I used the laptop the entire time for various things, but keeping the screen on constantly and ran some background utilities to ensure the CPU would not drop below 50% the entire time. After 2.5 hours this charger had discharged completely, and my internal battery was charged up to 55%. I typically get around 6 hours of battery life from the internal laptop battery, so this extended that over 75% (with this test I got almost 11 hours out of it)."
Energy Capacity: 65 Watts | Weight: Less than 1 pound
3. A Portable Charger That's Compatible With MagSafe Chargers
Krisdonia Portable Charger
Amazon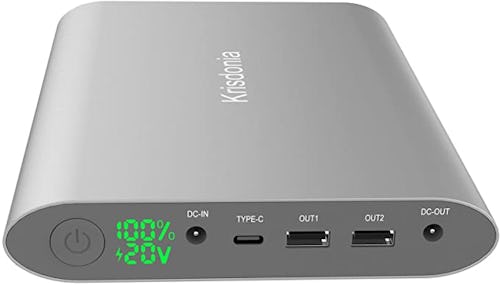 If your MacBook uses a MagSafe charger, this one's for you. This portable charger can provide up to a 100-watt charge, features customizable voltage settings, and offers everything you need to charge your devices including a MagSafe 2 cable, AC adapter, DC adapter, USB cable, 28 laptop charge connectors, and a carrying case. While it's unable to conduct USB-C to USB-C charging, you can use the DC-out port with a type C converter. The charger also features an LED display, recharges in six to eight hours, and comes in at just under 20 inches long. A word of discretion: this power bank holds too much energy to be TSA-approved so it's not the best choice if you need a charger for the airport. It's also available in black.
A Helpful Review: "I work from home, but sometimes, I like to get out of the house and work out a few coffee shops, around town. Sometimes, the shop either won't have an outlet I can plug my laptop into, or someone is using it to charge their device (or worse, someone is just sitting in front of it and not using it). I have a power pack for my phone, but I needed something that would give my laptop a full charge. After conducting a lot of research, I settled on this one. I worked perfectly. I provided a full charge for my 2015 MacBook Pro (15"). It does add a bit of weight to my laptop bag, but not enough to be a bother."
Energy Capacity: 100 Watts | Weight: 2.55 pounds
4. A Power Bank With A Flashlight
Sikon 100 Watt Power Bank
Amazon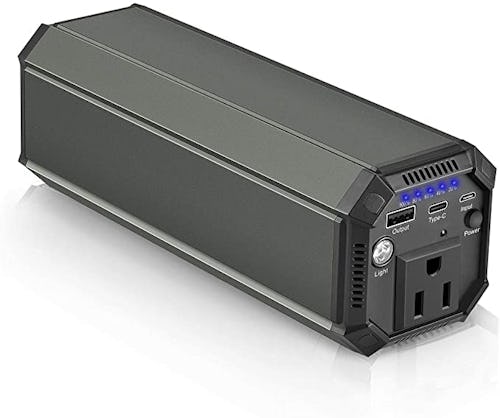 This portable charger with an LED flashlight will let you charge your MacBook Pro while being able to see in the dark, making it ideal for power outages. It offers 100 watts of energy and features multiple protections to keep the charger from putting out too much current. It has an AC outlet, a USB output, and a USB-C output and input. The charger is approximately eight inches long and the kit includes a USB-C charging cable, a micro USB charging cable, and a portable case.
A Helpful Review: "I chose this power bank over other options for 3 reasons, form factor, US plane legal capacity and USB C in/out. I used it to charge my MacBook air on the go while traveling and it works wonderfully. It around tripled my battery life, with a full workload while fitting easily inside a small pocket in my backpack. Only thing I would add to it is a direct 12v DC output, but with multiple USBs I can get over that."
Energy Capacity: 100 Watts | Weight: 2.1 pounds
5. This Long-Lasting Charger With Solar Charging
Omni Ultimate 100 Watt
Amazon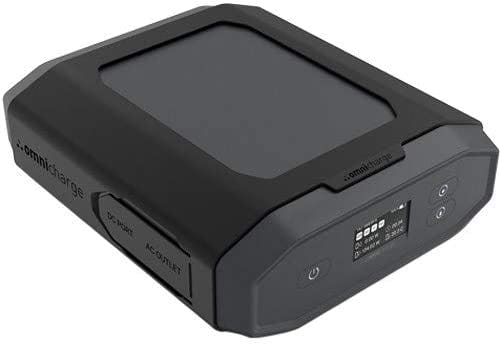 Yes, this is a spendy option but it has everything you need with a 120-watt AC port, an adjustable DC port, two USB-C ports, and two USB-A ports. Even more impressive, it features a removable and replaceable battery (so this is a long-term investment) and has solar charging capabilities. Pass-through charging enables you to charge multiple devices simultaneously and the LED screen provides real-time data on power levels. This beast is capable of charging cameras, phones, drones, MacBooks, and even CPAP machines, according to the manufacturer. It comes in at 1.3 pounds and comes with a 100-watt USB-C cable and a protective case to keep this investment safe and sound.
A Helpful Review: "I've always liked omnicharge's products and love that they include an outlet on it. […] If the battery ever goes out, you can always buy a new one and replace it on this. […] I even have it doing pass through charging where the battery charges, but also is charging my MacBook Pro at the same time. It's an excellent product and a part of my every day carry. It keeps you powered wherever you go, especially where there isn't any outlets. It does take most of the battery's charge though when you charge a MacBook Pro 15 inch from zero to full. But it extends my use of my laptop for another charge cycle. It's beefy and a little heavy, but worth it when you're outside at a bench for an example and have no outlets to power your devices."
Energy Capacity: 142 Watts | Weight: 1.3 pounds