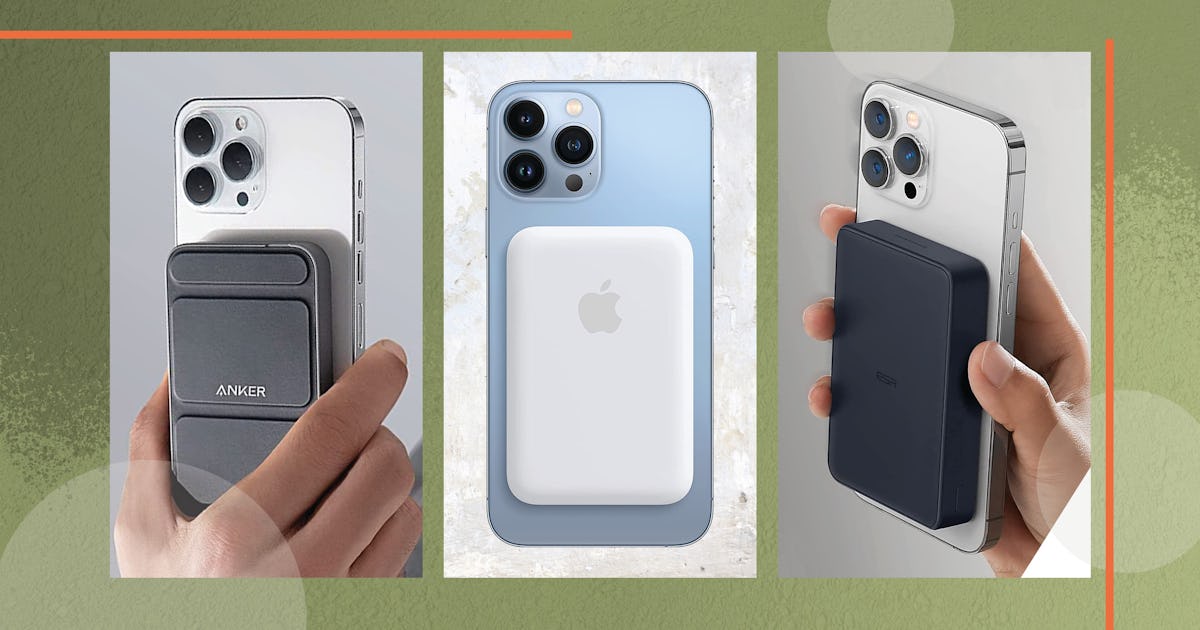 If you find yourself running out of battery in the middle of the day, having a backup battery pack can help keep you connected and worry free. And if you have an iPhone 12, 13, or 14 (including the Pro and Pro Max models), the best MagSafe battery packs can provide you with up to two full charges, snap easily onto your phone via magnets, and boast compact designs that'll let you continue using your phone while it charges.
What To Look For In A MagSafe Battery Pack
Charge Speed
When shopping, you'll find that there are two classifications of MagSafe battery packs available: Made for MagSafe and MagSafe compatible. Made for MagSafe battery packs receive quality assurance from Apple and can charge your phone faster, while MagSafe-compatible battery packs have magnets to attach to your phone but don't have Apple certifications and typically charge at half the speed— they also tend to be cheaper.
Battery Capacity
Another detail to consider is the battery capacity or how much of a charge it will provide. Often, you'll see this measured in milliampere hours (mAh). iPhones 12, 13, and 14 have battery capacities that allow them to get close to a full charge from a 5,000 mAh battery, and one to two charges from a 10,000 mAh battery, depending on the specific model. Usually, an increase in capacity is matched by an increase in size, however, all of the battery packs below weigh less than eight ounces and will fit on the back of your phone.
Compatibility
You'll also want to make sure the battery pack you're considering will work well with your iPhone model. Most Magsafe battery packs work seamlessly with iPhones 12, 13, and 14 (including the Pro and Pro Max models), but some Amazon reviewers note that not all options work well with iPhone mini models. For those phones, check via the brand's compatibility specs and the overall size of the battery pack compared to the size of your iPhone mini — reviews from fellow users can also help you find a good pick. Something to keep in mind when choosing a MagSafe battery pack is that they won't work well if you have a case on your phone that's not MagSafe compatible — a great excuse to get a new case.
Regardless of the battery pack you choose, all of the options on this list have pass-through charging abilities to charge your battery pack and phone simultaneously or they can charge two devices at once — one wired and one wirelessly. They also feature strong magnets so they'll stay securely attached to your phone.
Scroll on to fuel your phone from day to night with the best MagSafe Battery Packs available on Amazon.
1. The Overall Best MagSafe Battery Pack
The Apple MagSafe battery pack is the only option on the list that's Made for MagSafe. It is also designed to help maintain your iPhone's battery health in situations where your MagSafe battery pack is connected to power for a long time. According to Apple's website, this pack will provide a 70% additional charge to iPhone 12 and 13 minis, a 60% charge to iPhones 12, 13, and 14, including the Pro series, and a 40% additional charge to the Pro Max series for iPhone models 12, 13, and 14. The sleek design measures less than half an inch thick for comfortable use while charging. However, the recommended power adapter and USB-C to Lightning cable needed for recharging are sold separately.
One Reviewer Wrote: "I had been using portable chargers for years and was so frustrated with the inconvenience of carrying them. I moved to charging cases but they all stopped working because you have to install them just right. This battery pack is a game changer. It's been six months and this battery pack keeps my phone charged all day. I'm a heavy phone user and I'm amazed at how long my phone stays charged."
Capacity: 1,460 mAh according to MacWorld | Dimensions: 3.75 x 2.5 x 0.43 inches | Weight: 6.4 ounces | Charging Cable: USB-C to Lightning cable (sold separately) | Colors: 1
2. This High-Capacity MagSafe Compatible Battery Pack
For multiple phones or when you need more than one charge, the Anker 633 battery pack has an extra-large capacity that's capable of taking an iPhone 13 from zero to 100% almost twice. A little kickstand in the back offers a nice viewing angle for watching shows or video chatting and strong magnets ensure a secure connection. The battery pack is also equipped with temperature control, radiation shielding, and foreign object detection for safety. It's not the lightest battery on the list (weighing in at 7.68 ounces) but it does come with a USB-C to USB-C charging cable and is available in three colors.
One Reviewer Wrote: "This one is essentially all you could ever need. Gives me near 2 charges on my Iphone 13 pro max and isn't too bulky on the back to comfortably be connected while being in my pocket. The fact that you can charge both the powerbank and the phone at the same time is great, though it does charge slower (as expected). I especially like the fact that you can shut the powerbank off when using it solely as a stand. Not to mention it has a USB C (bi-directional) and A input port."
Capacity: 10,000 mAh | Dimensions: 4.21 x 2.61 x 0.71 inches | Weight: 7.68 ounces | Charging Cable: USB-C to USB-C cable (included) | Colors: 3
3. This MagSafe Battery Pack That Works Great With iPhone Minis
If you're looking for a battery pack for your iPhone mini, consider this one from Baseus. Many reviewers confirm that it fits well on their iPhone minis. One reviewer wrote, "This is the first third-party MagSafe battery I've seen for a reasonable price that actually works well with my iPhone mini 12." It packs 6,000 mAh (enough to provide a full charge to most iPhones) and is one of the lightest battery packs on this list — it weighs just 4.9 ounces. A strong magnet helps it snap into place while multiple protections keep it from overheating or over-charging your device. The contact surface is made of soft silicone to prevent scratches to your case or phone and LED lights on the bottom of the charger indicate the remaining battery.
One Reviewer Wrote: "This little battery packs a bunch of power. It charges my iPhone 13 quickly and it is so easy to just snap it on the back of my phone. The magnet is strong. I can put the battery on my phone holder and just snap my phone onto it."
Capacity: 6,000 mAh | Dimensions: 3.86 x 2.52 x 0.59 inches | Weight: 4.9 ounces | Charging Cable: USB-C to USB-C cable (included) | Colors: 2
4. A Battery Pack With A Foldable Kickstand
Convenient features and fun colors turn this otherwise utilitarian device into a fun addition for your phone. In colors such as buds green, misty blue, and lilac, this battery pack boasts a foldable flap that can prop up your iPhone for hands-free viewing. While it won't provide a completely full charge for iPhone models 12 through 14, the 5,000 mAh capacity can still give you a good bump between 50% and 95% — helping you make it through the day. It's not compatible with non-magnetic phone cases or iPhone minis but this battery pack is great for regular, Pro, and Pro Max models, and it comes with the two-foot USB-C to USB-C cable needed for charging. LED lights on the bottom show you how much battery is left and multiple safety features help to protect your devices.
One Reviewer Wrote: "We had a rental car, but it didn't have a USB for charging your phone. Luckily I bought this battery pack so I could keep my phone charged while constant using maps for directions. Only a few times did charging pause because the phone was getting warm while charging, but that is expected when wirelessly charging, using google maps, and listening to music all at the same time. This is going to be my primary battery backup now. The MagSafe feature is just too convenient, not needing to use the lightning cable to charge my phone. Love it."
Capacity: 5,000 mAh | Dimensions: 4.13 x 2.62 x 0.5 inches | Weight: 5 ounces | Charging Cable: USB-C to USB-C cable (included) | Colors: 6
6. A High-Capacity Battery Pack Under $50
If you're looking for the most bang for your buck, consider this 10,000 mAh battery pack that's capable of providing almost two full charges on some iPhone models. A strong magnetic connection allows you to use your phone as you normally would while charging and the USB-C to USB-C cable needed for recharging the power bank is included. This battery pack is one of the larger and heavier options on the list but its capacity-to-price ratio may make it well worth the extra bulk. While some reviewers note using this battery pack for their iPhone minis, the width of the pack is slightly larger than the width of some iPhone mini models — making it less suitable for iPhone minis than some other options on this list.
One Reviewer Wrote: "First off let me say, capacity vs price is great. For the same price you will find other battery packs with half the capacity. With my 14 pro max, the MagSafe connection is very strong and will not slide off your phone with a MagSafe case installed or just the bare phone. It's not the fastest charger ever but that doesn't matter when you have a strong magnetic connection and can just leave it attached."
Capacity: 10,000 mAh | Dimensions: 4.09 x 2.72 x 0.7 inches | Weight: 7.6 ounces | Charging Cable: USB-C to USB-C cable (included, according to reviewers) | Colors: 2