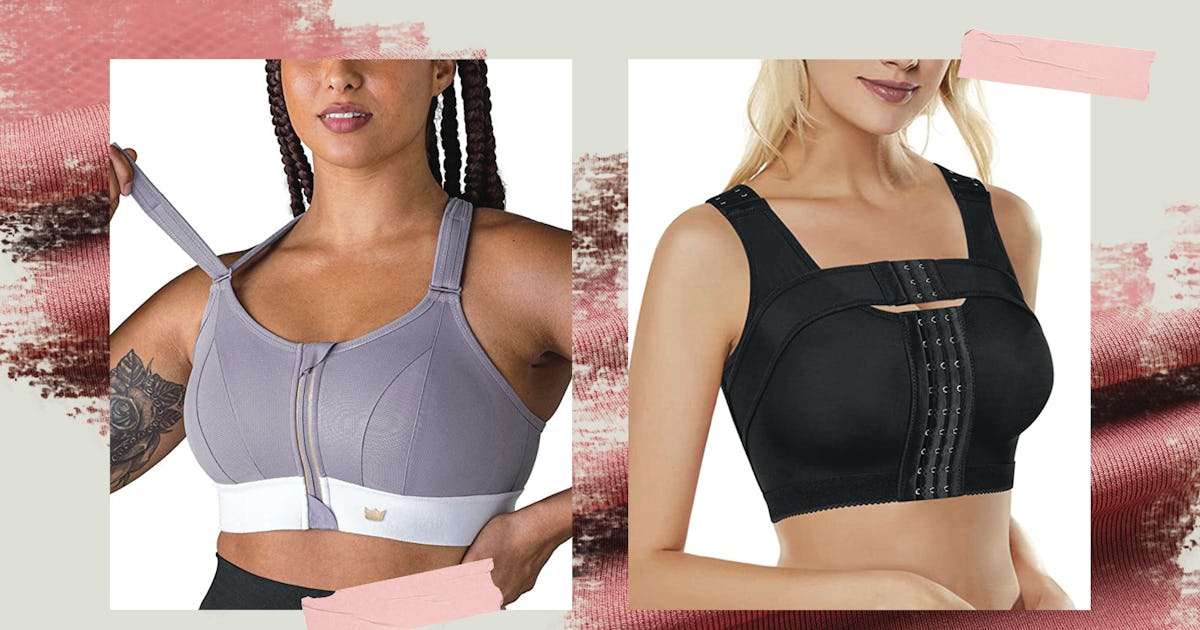 After a breast augmentation, a good post-op bra can help with common post-surgery symptoms such as "pain, soreness, numbness, stiffness, swelling, bruising, and redness, all of which can be normal within the first few days and up to a month post-op," Dr. Sean Kelishadi, M.D., a board-certified plastic surgeon tells Bustle. But your lacy push-up bra or go-to lounge bra isn't going to cut it — according to Kelishadi and Dr. Michael J. Stein, M.D., the two experts Bustle spoke to, the best bras for implants are wireless front-closure bras with a fair amount of compression. Note that while all the bras on this list are ideal for implants post-surgery, they're also great for other breast-related surgeries, like breast reductions and mastectomies.
The Experts
Based out of New York City, Dr. Michael J. Stein, M.D., is a double board-certified aesthetic surgeon specializing in reconstructive surgeries. He is an Assistant Clinical Professor of Surgery at Columbia University and Assistant Attending in the Department of Plastic Surgery at Lenox Hill Hospital and Manhattan Eye Ear and Throat Hospital. He earned his medical degree at the University of British Columbia.
Dr. Sean Kelishadi, M.D., is a board-certified plastic surgeon based out of Newport Beach, California, and currently serves as the president of SSK Plastic Surgery. He earned his medical degree at the University of Tennessee-Memphis College of Medicine.
What To Look For In The Best Bras For Implants
According to Stein, you'll have to wear a post-op bra "all day and all night, only taking it off to shower" for a full month after your surgery. To find the best bras for implants, the experts recommend considering three key factors. Here's what you need to know about each.
Underwire-Free
First and foremost, Stein advises against wearing bras with underwires, or "tight bands in the breast fold," as either "can rub against the incision and complicate healing." Instead, he says to opt for a wireless bra with a "snug but comfortable fit" that won't irritate incisions.
Compression
"In the immediate postoperative period, it's good to compress the breasts to help prevent bleeding and fluid accumulation," says Stein; Kelishadi adds that compression also "helps to reduce excess swelling." Gentle compression bras can also minimize movement and reduce bounce.
Fit & Closure
Front-closure bras, like those with zipper, Velcro, or hook-and-eye closures, "tend to be more user-friendly early on," Kelishadi says. Stein also explains that a bra that's "easy to take on and off prevents too much stretching that might exacerbate pain and potentially put unnecessary pressure on the incision while it is healing." As swelling starts to subside, your bra may start to feel a little loose, so choosing one with fully adjustable straps allows for more customization as your body continues to heal, says Kelishadi.
Material
In keeping with the spirit of making life easier, Stein suggests choosing bras "made from a material that can be easily be washed." All of the bras on this list are made of soft, non-irritating materials that are also machine washable, either according to the brand or reviewers.
With that guidance in mind, scroll on to shop seven of the best bras for implants, designed specifically with recovery in mind. (According to Stein, you'll be able to wear whatever bra you like one month post-op.)