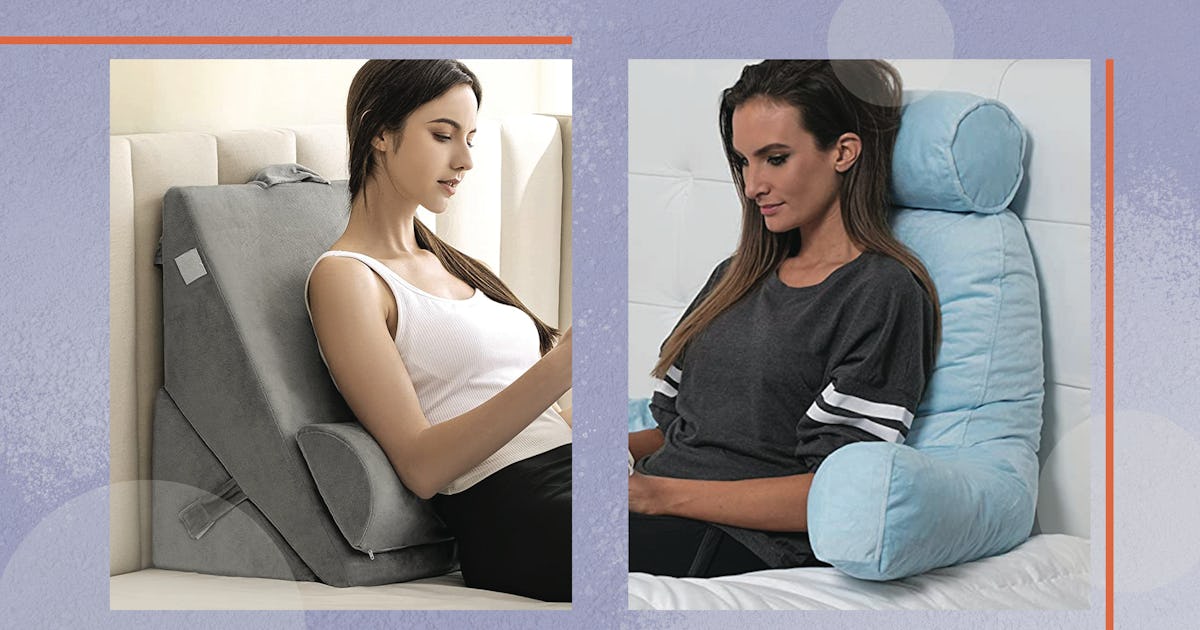 If your bed is a prime spot for reading, watching TV, or WFH tasks, the best pillows for sitting up in bed can offer you different kinds of support than your standard pillow and keep you in an upright position. There are a wide array of pillow types that can work for sitting up, including reading, wedge, bolster, and pillows so decide what kind of support best suits your body and needs. Apart from overall design, you'll also want to consider if you prefer a pillow with firm or plush filling — or one with removable filling you can adjust to suit your preferences.
What To Look For In A Pillow For Sitting Up In Bed
Pillow Design
There are several different types of pillows for sitting up in bed, and your ideal option will depend on your preferences.
Reading pillows offers a suitable amount of support when you want to maintain an upright position when you're reading or watching TV in bed — plus, they usually have built-in armrests that make them extra comfortable for users.
Wedge pillows provide support to keep your torso upright. Some are also designed to double as support for other parts of your body — say, your knees — while you sleep making them extra versatile.
People who frequently switch from sitting to lying down might prefer a long body pillow, which can be maneuvered to suit a variety of positions. A small bolster pillow can be another versatile, more compact option.
For those who want something that serves both function and style, pillow inserts might be your best bet, as you can pair them with decorative covers you love.
Filling
It's also important to think about what's in your pillow (aka the filling). While firm pillows are better at retaining loft, they aren't often as plush and cozy as soft pillows. For the best of both worlds, you might want to opt for a pillow that allows you to insert or remove the filling as you please so you can find the right fit.
Other Helpful Features
Finally, if you like to snack or drink while you're in bed, you might consider snagging a pillow with a washable cover. A pillow with pockets could also be useful if you want a place to stash your phone, TV remote, or other small items.
Shop The Best Pillows For Sitting Up In Bed
In a hurry? Here are the best pillows for sitting up in bed:
With all this in mind, here's a roundup of the best pillows for sitting up in bed, all of which you can snag on Amazon.
1. The Fan-Favorite Reading Pillow
This popular reading pillow amassed an overall 4.4 stars after more than 14,000 Amazon ratings, and shoppers love using it to sit up in bed to read or watch TV. The pillow is designed with built-in armrests, plus a side pocket and a larger back pocket for your book, e-reader, or magazines. The detachable neck roll offers more support — and a place to rest your head.
The pillow is stuffed with a shredded memory foam filling, which you can remove or re-add to your preferred firmness. You can also purchase more filling if needed. The plush covers are machine washable, and you can purchase replacements separately. While on the larger side (it's 31 inches tall and 39 inches wide), a handle makes it easy to move the pillow out of the way when you're ready to tuck into bed.
Positive Amazon review: "I was so tired of constantly arranging multitudes of pillows behind me while sitting up in bed. I was so fed up though, that I decided to go ahead and spend more money on a pillow than seemed reasonable. I'm really glad that I did. It made all the difference. There's no trying to find the exact right arrangement of pillows to make me comfortable. I just put this guy behind me, and it supports me and keeps me comfortable. If you're on the fence, I highly recommend it!"
Type: Reading pillow | Filling: Adjustable shredded memory foam | Washable cover: Yes | Built-in pockets: Yes | Available colors: 35
2. A Popular Reading Pillow Under $50
Nestl's reading pillow is similar to the previous option at a fraction of the price. It has armrests, side and back pockets for storage, and a top handle. It's also filled with adjustable shredded memory foam and encased in a machine-washable cover. It's available in three sizes — Standard (featured above), Petite Small, and Premium Large — so you can find an option that is suitable for your height. Just keep in mind that it doesn't come with a detachable neck pillow like the above option, and you can't purchase extra filling or covers for most sizes (replacement covers are only available for the smallest size).
Positive Amazon review: "Not just a great pillow for sitting up and reading a book or watching a movie in bed, it also has side pockets and a back pocket. I assume people use these for remote controls but I am going to use them for snacks."
Type: Reading pillow | Filling: Adjustable shredded memory foam | Washable cover: Yes | Built-in pockets: Yes | Available colors: 44
3. An Adjustable Wedge Pillow That's Super Versatile
Shoppers have confirmed that this adjustable wedge pillow offers great support for sitting up in bed. The pillow is made with a plush memory foam that one reviewer described as "firm enough to provide support but soft enough to be comfortable." It comes with three different pieces that you can mix and match to build the right support for your head, arms, or legs. Plus, they have polyester covers that can be machine washed.
For a slightly cheaper alternative, check out joybest's more basic wedge pillow for sitting up in bed — it'll save you a few bucks and features high-density foam for extra support, though it isn't as adjustable as the one featured above.
Positive Amazon review: "I like to watch tv from bed and stacking up a bunch of pillows is not the best way to go, so when I saw this, I thought it might be a good solution. This is pretty comfortable to lean against and is firm enough for me. It is adjustable for different uses – sleeping, leg pillow etc. The pillow comes with a case for storage, although I guess you could just leave it on if you are not planning on changing the configuration, but it would not be as comfortable. The outer cover comes off easily for washing also. All in all, this is a versatile and comfortable wedge pillow."
Type: Adjustable wedge pillow | Filling: Soft memory foam | Washable cover: Yes | Built-in pockets: No | Available colors: 2
4. A Wedge Pillow That Supports Your Usual Pillows
If your bed pillows are comfortable enough for sitting up and reading in bed, but they fall into the crevice between your headboard and mattress, this extra-long wedge pillow could be a great option. In addition to keeping your pillows from slipping down, the angle of the pillow also offers extra support for you to sit upright. The pillow is made with firm, high-density memory foam, plus has two side pockets to keep small items. It's also a breeze to keep clean, thanks to its machine-washable polyester cover. Shop it in five sizes that correspond with mattress sizes: twin, full, queen, king, and California king.
Positive Amazon review: "This pillow is amazing. It fits the length of my bed perfectly and it's very firm for support and doesn't give at all but isn't uncomfy. It lays across the gap perfectly and doesn't move around at all, doesn't interfere with my chargers and my pillows don't go into the crack anymore. My one-year-old sleeps with us and I was always crawling under the bed to fetch pacifiers that had fallen behind the bed, but this pillow has solved that problem too. Love it and highly recommend."
Type: Wedge pillow | Filling: High-density memory foam | Washable cover: Yes | Built-in pockets: Yes | Available colors: 2
5. A U-Shaped Body Pillow That Also Works For Sitting Up In Bed
If you're after versatility, consider this U-shaped body pillow. It's made with memory foam filling that you can adjust to your liking, whether you prefer a firmer or softer pillow. Plus, it's flexible enough to maneuver in a variety of positions: Fold it onto itself and prop it up on the headboard or wall when you want to sit up in bed. When you're ready to lie down, you can unroll it to use as a supportive, comforting pillow while you sleep. It has a machine-washable cover for easy maintenance, too.
Positive Amazon review: "This body pillow is great. I can sit up or lay down and have support. This body pillow is big. Exactly like the picture."
Type: U-shaped body pillow | Filling: Adjustable memory foam | Washable cover: Yes | Built-in pockets: No | Available colors: 1
6. A Small Bolster Pillow For Lower Back Or Leg Support
A half-moon bolster pillow like this one can provide support in myriad ways. When you're sitting in bed, you can place the pillow behind your back. Or you can position it under your knees or ankles when you're upright if that's more comfortable. It's designed with memory foam that the manufacturer categorizes as soft but reviewers have attested it's plenty supportive. The cover can be thrown in the washing machine when it comes time to clean.
Positive Amazon review: "I love this pillow. I use it every night when I am sitting up reading in bed. No more back pain from slouching. Glad I purchased it."
Type: Half-moon bolster pillow | Filling: Soft memory foam | Washable cover: Yes | Built-in pockets: No | Available colors: 2
7. These Pillow Inserts In 7 Sizes
Ideal for those who prioritize aesthetics, this pair of decorative pillow inserts is available in nine different sizes to suit your bed size and preferences (the version featured above measures 18 by 18 inches). The inserts are filled with high-density shredded memory foam, though the filling can't be adjusted. You'll need to add your own washable throw pillow covers to protect the inserts.
Positive Amazon review: "I work in bed a lot and these are great support! They're a bit heavier than regular pillows, which helps them stay in place."
Type: Decorative pillow inserts | Filling: High-density shredded memory foam | Washable cover: Not included | Built-in pockets: No | Available colors: 1
About The Recommender
Danielle Calma is a commerce writer who researches and recommends the best products for shoppers. She has covered home and lifestyle-focused topics on Bustle and Elite Daily, and she is always looking for new ways to invite more coziness into her personal living space.