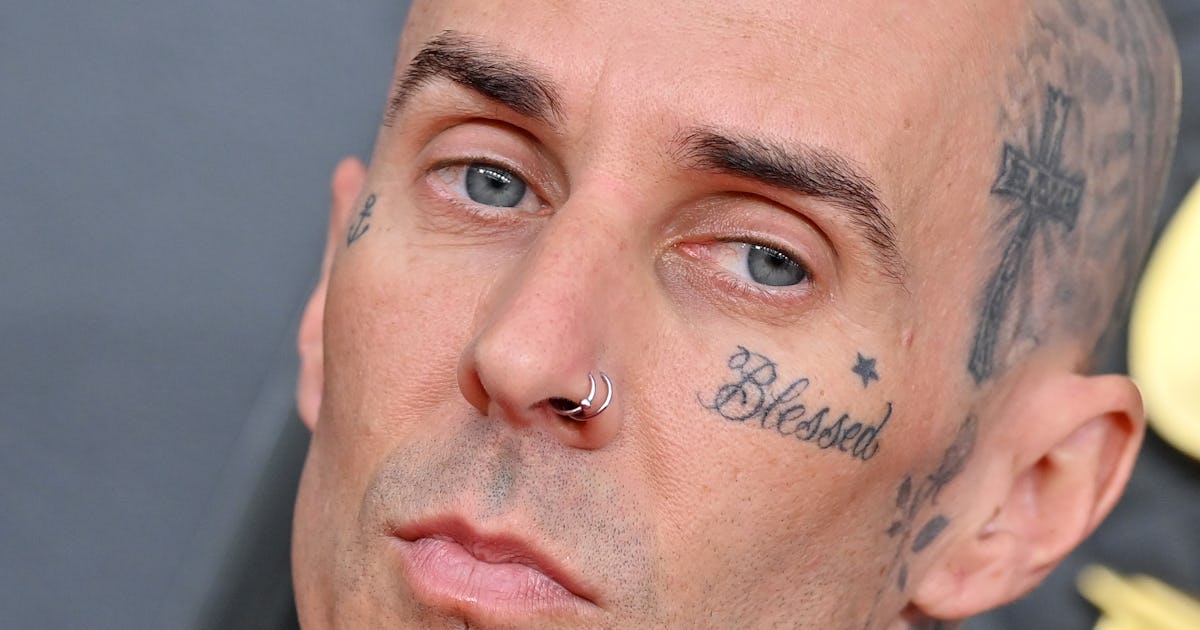 In the two years since Travis Barker and Kourtney Kardashian moved out of the friend zone, she's already inspired several of his tattoos. The Poosh founder also seems to be the muse for her husband's latest ink, which Barker unveiled in a series of Instagram photos on Saturday, Jan. 21. The first snap features Kardashian as Barker kneels on one knee behind her, and then the third shows the tattoo on his upper thigh before the fourth give an up-close look. The tatt is presumably of Kourtney's eyes, but several of the Blink-182 drummer's Instagram followers had different theories and interpretations.
For multiple people, those didn't look like Kourtney's eyes but rather Michael Jackson's. His album Dangerous, specifically, came to mind. "Looks like Michael Jackson's eyes from the Dangerous album cover!" one wrote. Another added, "Is that MJ or Kourt," while someone else commented, "That's Michael Jackson eyes right?!? Or am I trippin??"
Other fans jumped in to argue that they were obviously Kardashian's eyes. "Why are people thinking these are Michael Jackson's eyes? They are clearly Kourtney's," one responded. Another added, "Those do not look like MJ's eyes, they are clearly beautiful Armenian eyes."
More awkwardly, some of Barker's followers saw eyes that came much closer to home: his sister-in-law Kim Kardashian's. "I see Kim's eyes. Sorry not sorry but that's what my eyes first saw lol," one person commented. Yet another wrote, "Is this supposed to be Kourtney eyes because it's giving kim." There was also one who added, "Plot twist they are really Kim k eyes lol."
A Kim mix-up would be a little weirder because Barker's ex-wife Shanna Moakler previously claimed that he cheated on her with the Skims founder. "I caught them having an affair," she told Us Weekly in May 2021. Barker denied that he and Kim had had a fling in his 2015 memoir Can I Say, though he copped to finding her "f*cking hot." After Moakler's claims, Kim herself responded, calling it a "false narrative" in an Instagram story, per Page Six. She denied they'd hooked up and added, "We've been friends for years and I'm so happy for him and Kourt."
Kourtney seems to love her husband's latest tattoo, despite any fan confusion over its inspiration. She shared Barker's post to her Instagram story, highlighting the close-up and adding animated eyes. Like the Kardashians star, many fans appreciated the artwork. "LOVE. She truly does have gorgeous eyes that woman," one wrote.
Tattoo and eyes aside, a handful of Barker's other followers thought the post was a pregnancy announcement. Who'd have thought yet another tattoo dedicated to his wife would cause such a stir?