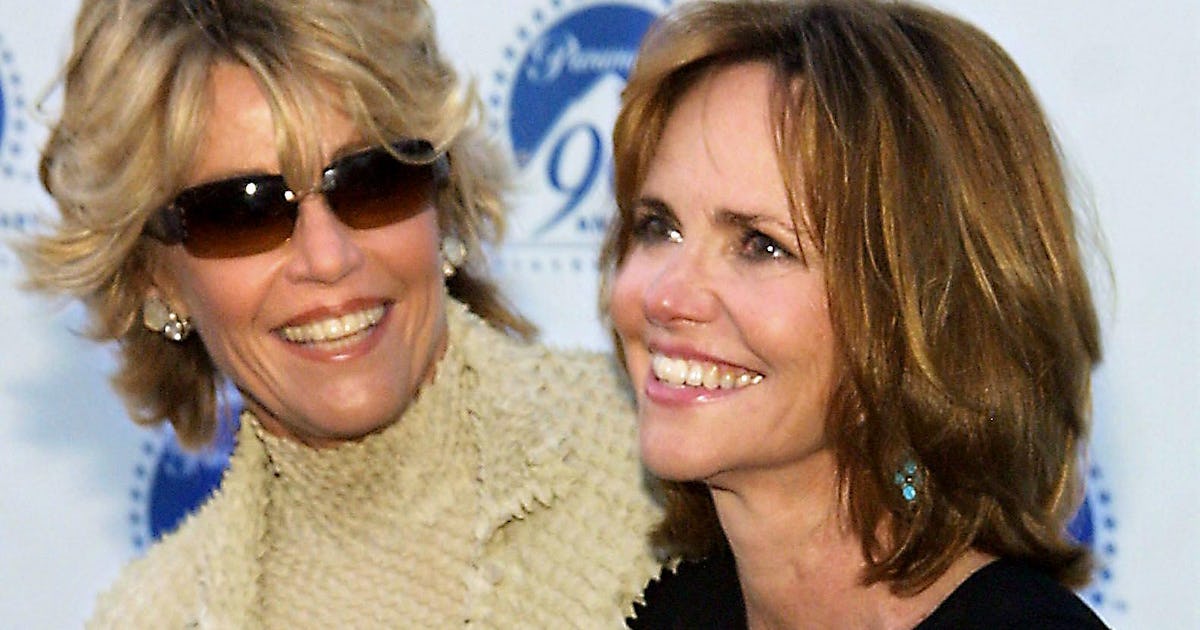 Find yourself a friend who loves you as much as Jane Fonda loves Sally Field. The 80 For Brady stars are going viral for a new interview on CBS Sunday Morning, in which Fonda tells the story of how she became friends with Field by actively pursuing their friendship despite her hesitations, which is resonating strongly on Twitter.
In the Jan. 15 interview, Fonda effortlessly dragged (most) men for having surface-level friendships and explained how women go the extra mile for each other. "You guys, you kind of sit side-by-side and watch sports or cars or women," she said. "Women sit facing each other eye to eye and say, 'I'm in trouble, I need you. Can you help me?' We're not afraid of being vulnerable." The Monster-in-Law star then recalled how her "favorite ex-husband" Ted Turner, to whom she was married for a decade before divorcing in 2001, told her that people don't make new friends after turning 60. "I think that he's really wrong," she disputed.
She went on to use Field as an example, saying she would meet the actor over the years but not seek her out as a friend directly. "Well, I did pursue you," she clarified, which led Field to respond, "Oh goodness sakes, I couldn't make you stop," making everyone laugh. "She tends to be reclusive, and I pursued you," Fonda continued. "You have to pursue people that you want to be friends with. And you have to say, 'I'm intentionally wanting to be your friend.' It works."
Their 80 for Brady co-star Lily Tomlin, who is Fonda's longtime friend and screen partner, interjected to support Fonda's argument. "I don't really like people that much," she proclaimed, before affirming that she "just can't get rid of" people like Fonda who are persistent with their friendships. "They won't go away," Field added, laughing.
Twitter is loving the strong, sweet, and intentional (if a little forced) friendships between Fonda, Field, and Tomlin. Many identify with one or more of the actors in their own lives, while others are joking that Fonda, a seeming extrovert, is great at adopting introverts (Field and Tomlin).
While Fonda had never worked with Field before 80 for Brady, unlike Tomlin, the duo's friendship actually goes back decades. In November, Field told Entertainment Tonight that she became friends with the actor in the 1980s, when she "literally knocked on my door and said, you know, 'Come on, we're going to lunch.'" While she may not have sought a friendship at the time, the Spoiler Alert star has become immensely appreciative of Fonda, remarking that she has been "so important to me as a female friend and mentor and all sorts of things."