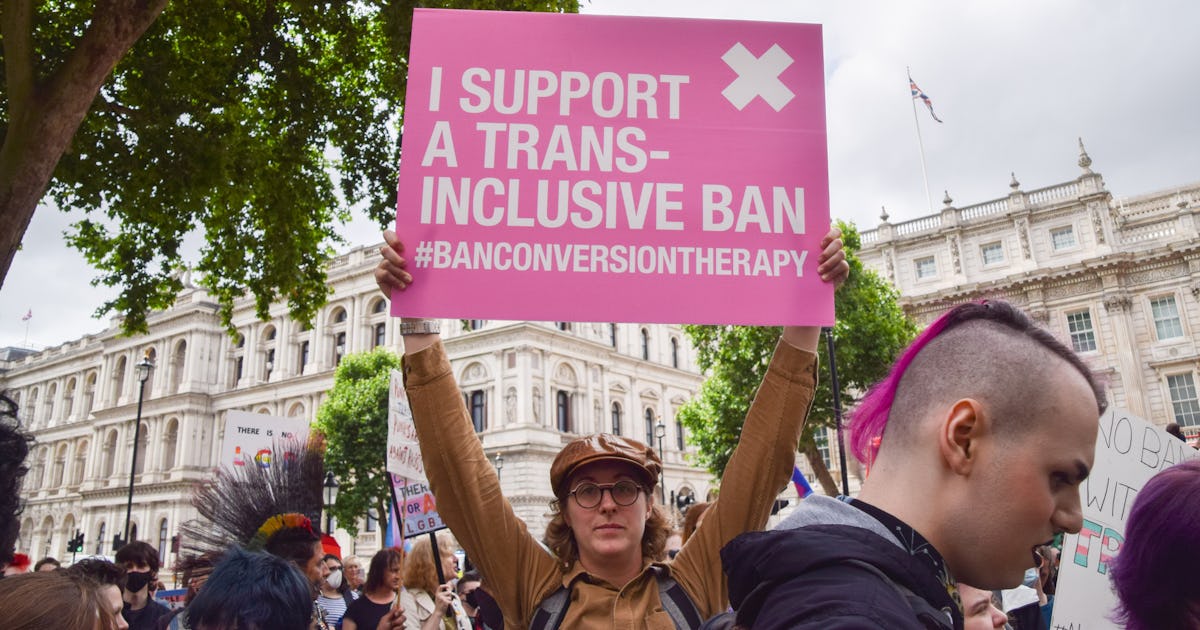 The UK government is expected to announce a complete ban on conversion therapy this week. According to ITV News, a new law is expected to be made public, that seeks to "outlaw attempts to change a person's sexuality and also attempts to change someone's gender identity" through conversion therapy. Per ITV News, the Prime Minister's Office will reportedly oversee the legislation rather than the Minister of Equalities Kemi Badenoch.
According to the Financial Times, the move to push this legislation forward is in response to Scotland passing their Gender Recognition Reform Bill in December 2022, which will allow transgender people aged 16 or over to apply for legal recognition of their gender. Prime Minister Rishi Sunak is allegedly planning to block this legislation as it "cuts across UK legislation on equalities – one of the policy areas reserved for Westminster," the Financial Times notes. They add that Sunak is bringing forward the Conversion Therapy Bill to "appease equalities campaigners."
The government first outlined plans to ban conversion therapy in 2018 under the guidance of former Prime Minister Theresa May. However, in March 2022, official documents leaked to ITV News revealed that former Prime Minister Boris Johnson planned to drop the proposed bill entirely. After receiving immense backlash, the government U-turned the decision but omitted the inclusion of transgender people. This became a significant point of contention in the months that followed, resulting in the cancellation of the UK's first LGBT+ conference and the government's LGBT+ adviser Iain Anderson to resign.
"The government cannot simply give up on trans people because protecting them is legislatively complex," mental health charity Mind said in April 2022, responding to the news. "Bans that include trans people have been implemented in other countries. Trans people deserve better. We need a complete ban, without loopholes, which protects everybody."