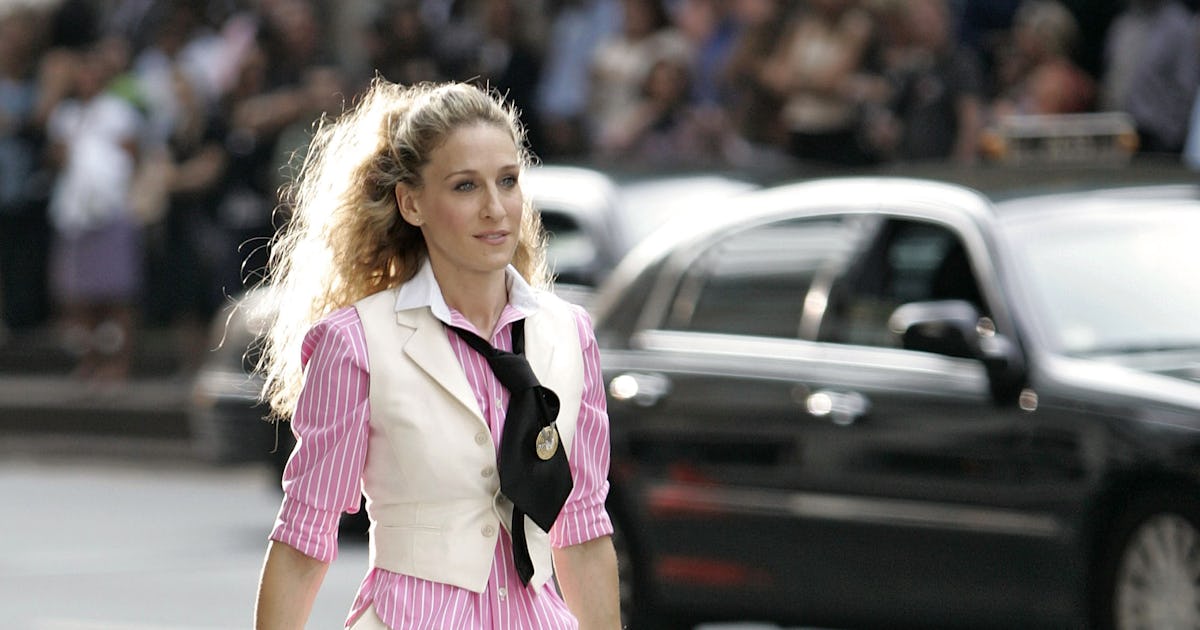 If there's one television character whose entire lifestyle feels aspirational, it's Carrie Bradshaw. The main Sex and the City character lives in a beautiful Upper East Side walk-up, has a Manolo Blahnik shoe collection, and is a style icon in her own right, and has a thriving social life — all while making her living as a magazine columnist. Her spending patterns have been a point of conversation for years and were even a point of contention in the writer's room. "The biggest fight we ever got into was about the money," staff writer and producer Amy Harris told CNBC in 2017.
Watching the HBO series with today's lens can be quite jarring: NYC has only gotten more expensive in the years since the series premiered in 1998, while media jobs and salaries have dwindled. But even in the heyday of the show, Carrie's lifestyle had an air of unattainability. So how exactly did she afford all of it?
Let's start with how much she likely made. In the late 1990s, magazine columnists could make six figures — a far cry from the current median salary of $73,631 for staff writers in New York City. Candace Bushnell, whose real life inspired the show, told The New Yorker in 2022 that she used to make $5,000 per month for her Vogue "People Are Talking About" column, which was further bolstered by assignments at other magazines. "This was a time that writers were getting a Vanity Fair contract for six pieces and two hundred and fifty thousand dollars a year," she told the outlet. Despite all of that, a Thought Catalog investigation put Carrie's income much lower at $1,200 a month based on a $300 per column rate, which equates to less than $15,000 a year in the seasons before her book deal.
Carrie's apartment from the original series run is rent-controlled and situated near Central Park on Manhattan's Upper East Side on the show (the real apartment exterior is located in the West Village at 66 Perry Street). In the Season 4 episode "Ring a Ding Ding," Carrie mentions that her rent is $700 despite the median cost of a one-bedroom in that neighborhood being $1,700 at the time — for comparison's sake, in Dec. 2022 a one-bedroom in the Upper East went for an average of $3,995 per month according to Zumper (a 25% increase from 2021). If we're using the $1,200 monthly salary number, Carrie's extremely subsidized rent would still only leave her with $450 for utilities, food, transportation, and of course, shopping.
As we saw in And Just Like That, Carrie has held onto her one-bedroom after buying it back from ex-boyfriend Aidan via Charlotte's engagement ring during "Ring a Ding Ding" — even after she got married and moved in with Big. If she were to sell it, she'd likely make millions based on the upward trajectory of NYC real estate.
But even despite savings on her rent during the show's run, Carrie's biggest expenditure was always shopping. In that same Season 4 episode, Miranda calculates that Carrie has likely spent upwards of $40,000 on just her shoes since moving to the city — "there's your down payment," Miranda quips — and we can assume that even more money has gone towards her enviable designer wardrobe. "I like my money right where I can see it… hanging in my closet," Carrie retorts, meaning she's spent quite a bit in that department.
Carrie's booming nightlife has also always been a signature of the character: she loved her Cosmopolitan drinks and took a yellow taxi cab everywhere instead of the subway. Thought Catalog put her transportation costs at $228 per month and her approximate drink budget at around $132. She was also a big smoker in the early seasons ($62) and a regular at brunch ($153).
So can she afford her lifestyle? As far as we know, Carrie wasn't a trust fund baby so if we're using Thought Catalog's numbers, she was likely in debt for the majority of the series. But Bushnell once described the character's ethos as "balancing small paychecks with access to glamour and wealth," so there may be some truth to the finances.