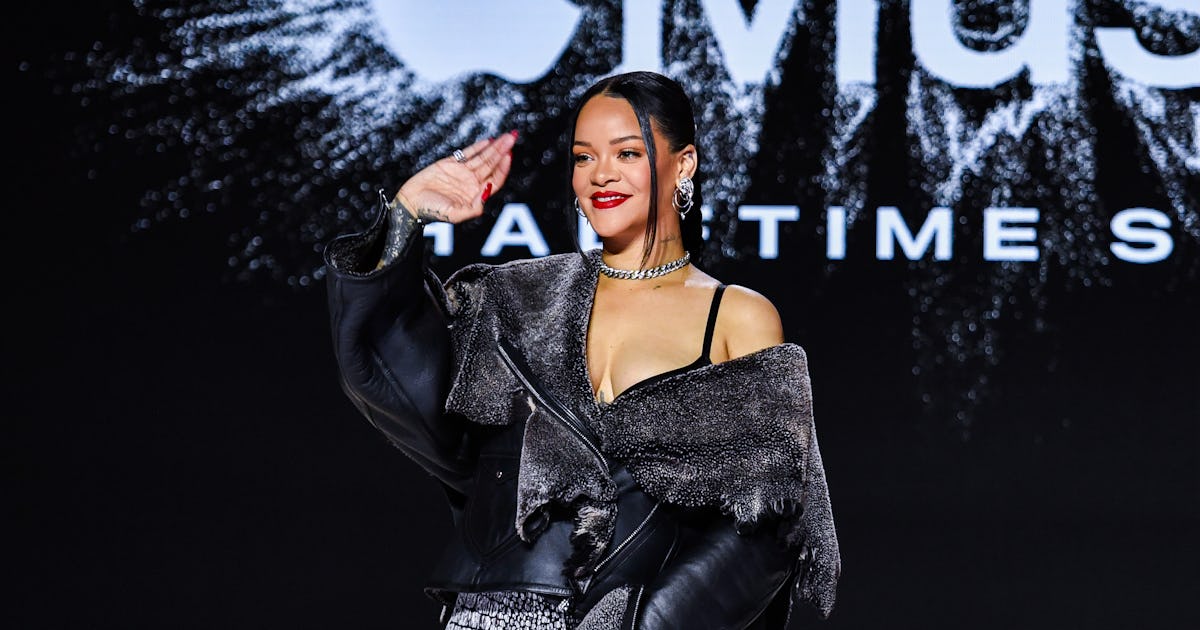 Grab your game day gear and favorite snacks: the NFL's 2023 Super Bowl is finally here. This year, the Philadelphia Eagles and Kansas City Chiefs will face off at State Farm Stadium in Glendale, Arizona on Sunday, Feb. 12. Regardless of which team takes home the Lombardi Trophy, history has already been made. Jalen Hurts and Patrick Mahomes are the first two Black starting quarterbacks ever to face each other in the annual NFL championship game. Meanwhile, Jason and Travis Kelce will also be the first brothers to compete on opposing teams. Whether you're watching Super Bowl LVII for those storylines, the football, star-studded commercials, or Rihanna's halftime show, here's what time you'll want to tune in to catch all the action.
The 2023 Super Bowl kickoff is at 6:30 p.m. ET on Fox, but the pregame festivities will start well before then. (The Super Bowl can also be streamed through the Fox Sports website, as well as on Hulu.) The network's televised coverage begins at 1:00 p.m. ET, culminating with a trio of pregame musical performances. Babyface is performing "America the Beautiful," while Abbott Elementary star Sheryl Lee Ralph will tackle "Lift Every Voice and Sing," and finally Chris Stapleton will sing the national anthem. CODA Oscar winner Troy Kotsur, Colin Denny, and Justina Miles will join them to perform the songs in American Sign Language on behalf of the National Association of the Deaf.
Rihanna will headline the inaugural Apple Music Super Bowl Halftime Show, but it's difficult to predict what time she'll start performing a medley of her hits. The game consists of 15-minute quarters, but that doesn't take into account timeouts and play stoppages for penalties, injuries, and coach's challenges, to name a few variables. Fans can expect halftime to start sometime around 8 p.m. ET though, and following setup time, once Rihanna hits the stage, her set will last 13 minutes in total.
"The setlist was the biggest challenge. That was the hardest, hardest part, deciding how to maximize 13 minutes but also celebrate," the nine-time Grammy winner told reporters on Feb. 9, per Rolling Stone. "That's what that show is going to be. It's going to be a celebration of my catalog in the best way we could have put it together. . . . You're trying to cram 17 years of work into 13 minutes, so it's difficult. Some songs we had to lose because of that, and that's going to be OK, but I think we did a pretty good job of narrowing it down. There are probably about 39 versions of the setlist right now."
As mentioned, the Super Bowl end time is also impossible to predict, especially given the added possibility of overtime. However, Fox currently has the game scheduled to run until 10:00 p.m. ET, with the postgame report and presentation of the Lombardi Trophy to the winning team wrapping up at 10:30 p.m. ET. It wouldn't be much of a gamble to expect the festivities to run a bit late though.