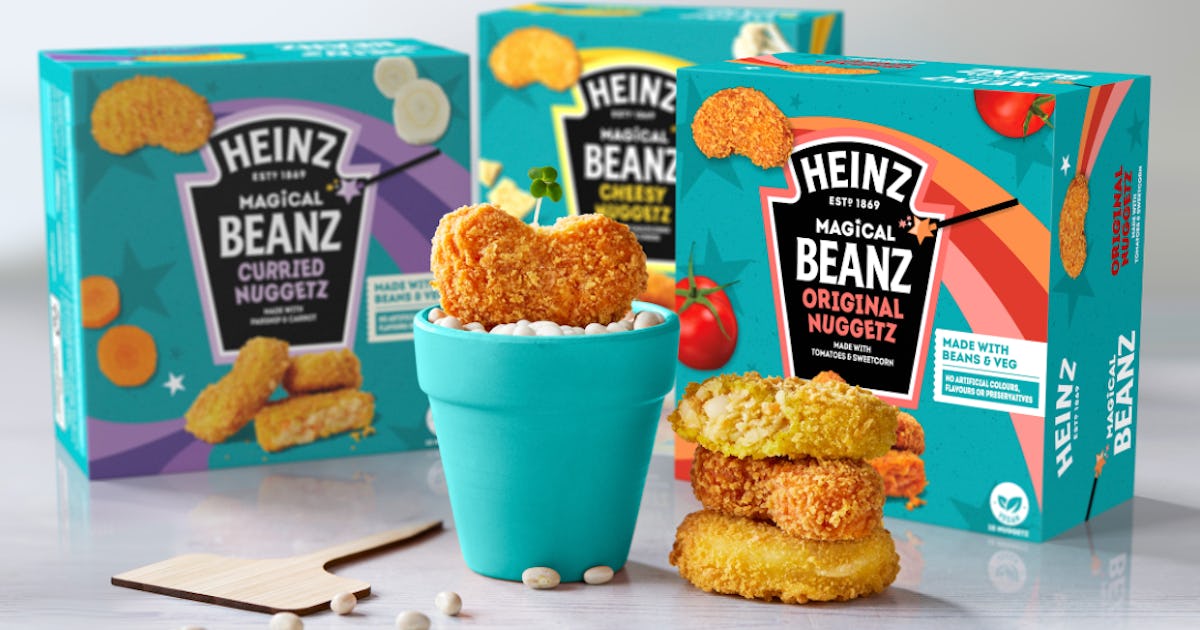 Heinz reintroduced their beloved Heinz Beanz Pizza in 2022, which hadn't been seen in supermarkets since 2003. It hit the shelves alongside new creations including burgers, hash browns, and bean bowls. Now, Heinz has gone one step further and created the ultimate dinner staple by changing the simple breaded nugget to a Magical Beanz staple.
Heinz's latest creation comes in three flavours, all coated in crispy golden bread crumbs. There's the Original Nuggetz with tomato and sweetcorn, Cheesy Nuggetz with cauliflower and cheddar cheese, and Curried Nuggetz with parsnip, carrot, coconut, and mild curry spices. Each flavour contains no artificial flavours, colours, or preservatives and is suitable for vegetarians. As it happens, the Original and Curried Nuggetz are also suitable for vegans.
While any age can enjoy these delicacies, Heinz Magical Beanz Nuggetz were made with kids in mind. "We know that parents want quick, easy meals that their kids will eat, but they also want them to be delicious and without any nasties," Sophie Higgins, Head of Growth Platform at Heinz New Ventures, said about the product. "We're also seeing more parents opting for meat-free options at least once a week. And of course, if we can help parents get some extra veggies into their kids' mealtimes, we know that's a bonus too."
"That's why we're really proud of our Magical Beanz Nuggetz: delicious crispy nuggets that kids will love. Who knew you could make nuggets out of the little nutritional powerhouses that are beans," she explained. "They really do seem magical — or as we would say, unbeanlievable. We think they're set to be a mealtime game-changer."
Heinz Magic Beanz Nuggetz are available exclusively at ASDA and online on Ocado for £2.75.