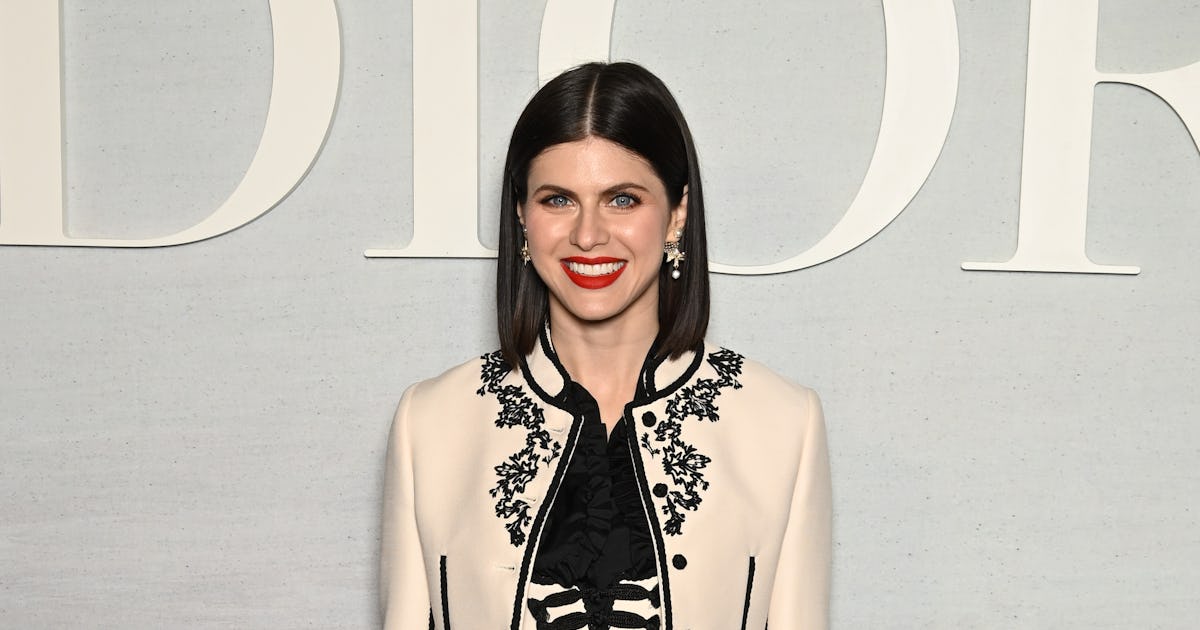 From Baywatch lifeguard to White Lotus honeymooner, Alexandra Daddario's roles have long turned her into a Hollywood heartthrob. On Jan. 8, Daddario returns to streaming, but this time as a formidable witch in Mayfair Witches, AMC's adaptation of Anne Rice's trilogy, Lives of the Mayfair Witches. In it, the Emmy-nominated star plays Rowan, a doctor who discovers she was born into a family of New Orleans witches and is up against evil forces. While her romance on the show is likely complicated (as Rice's written romances often are), fans may be wondering what her romantic relationships are like IRL.
Well, Daddario, 36, has been happily married for the past six months. And though her brushes with the occult are strictly fictional, her husband also has his roots in the horror genre. Here's everything to know about Alexandra Daddario's husband, Andrew Form.
Form, 53, is a prolific horror film producer responsible for slasher cult classics including Friday the 13th, The Texas Chainsaw Massacre, and A Nightmare on Elm Street, among others. In 2015, his production company Platinum Dunes, which he launched with Michael Bay and Brad Fuller, was included in The Hollywood Reporter's 30 Most Powerful Film Producers in Hollywood list. His more recent projects include the A Quiet Place films and Tom Clancy's Jack Ryan.
The pair's meet-cute is more befitting of a romance flick though. In a June 2022 Vogue interview, Daddario shared that they met "by chance" during lockdown when they bumped into each other in the streets of New York. She was taking a walk and he was too. "We passed each other downtown. He turned back and said 'hi' just as I was turning around to glance back at him. I laughed and said 'hi,' and then we both laughed about how we were the only two people on what is normally an incredibly busy street, and he asked if he could take me to dinner," she told the outlet.
It was a whirlwind after that. The two made their Instagram outing in May of 2021. Daddario shared a black and white photo of them together and captioned it, "It was dark and cold and rainy today, a terrible combination, and it didn't make it warmer to wrap him up in my arms but it did make it all seem lovely and nice and joyful."
A few months later, in August, the two got engaged (though they only made the announcement in December). Telling Vogue about Form's proposal, Daddario shared, "I was visiting Andrew while he was working on Jack Ryan, and they were shooting in Athens." She added, "He took me to the Four Seasons there so we could be by the beach. He went outside, and I followed him, and he turned around and proposed, and then we walked and had a piña colada."
A month later, in September, the couple purchased a $7.3 million Los Angeles house from Shameless creator John Wells. (They have since decorated the place with a ton of KLM airline houses.) The joint real estate move led to Daddario selling her Manhattan apartment.
In February of 2022, Daddario let People in on her relationship. "It feels so exciting," Daddario told the outlet. "But mostly it just feels very peaceful. I feel very at peace with him and very happy, and I just feel very lucky."
The pair tied the knot in New Orleans in June 2022 at the historic Preservation Hall. Of her "short" and "laid back" wedding, Daddario told Vogue, "We said vows, cried, and Andrew's children were his groomsmen and ring bearers."
Form shares even less on Instagram, but his 15-post feed is replete with tributes to his wife. After Daddario's Emmy nomination for The White Lotus was announced in July, for example, Form wrote, "I have been smiling since the day I met you. Today my face actually hurt. I am so proud of you! You are going to the Emmys!!"
Prior to marrying Daddario, Form was previously married to Fast & Furious star Jordana Brewster from 2007 to 2020. They share two sons and co-parent amicably. Brewster filed for divorce in 2020 and it was finalized the following year, in June.
Form is Daddario's first husband, though she was previously engaged to Perks of Being a Wallflower star Logan Lerman. The two worked together on the set of Percy Jackson and dated from July 2009 until August 2015. In 2019, Daddario was also rumored to be engaged to tech businessman Brendan Wallace after the Mayfair Witches star was spotted with a ring. The two had been spotted packing on the PDA around the world, including on vacation in Rome.
Prior to dating Wallace, Daddario was also briefly linked to her Baywatch costar, Zac Efron. The High School Musical alum fueled the rumor mill after posting a sweet birthday greeting for Daddario with her sitting on his lap. Since then the two have been coy about their relationship status, telling the press they're just friends while also teasing room for more. In a 2017 interview with E!, Daddario said, "We work together closely; he's my love interest in the film. I understand why people would go crazy over something like that, but Zac and I are very good friends." Then she added, "We would have very blue-eyed children, wouldn't we?" Finally, in May 2018, Daddario told People, "We're very good friends," shutting down dating rumors.
Later that year, Daddario was briefly linked to journalist Ari Melber after the two were spotted kissing in August. She was also rumored to be dating singer Trey Songz in 2011, and dated actor Jason Fuchs from 2006 to 2009.