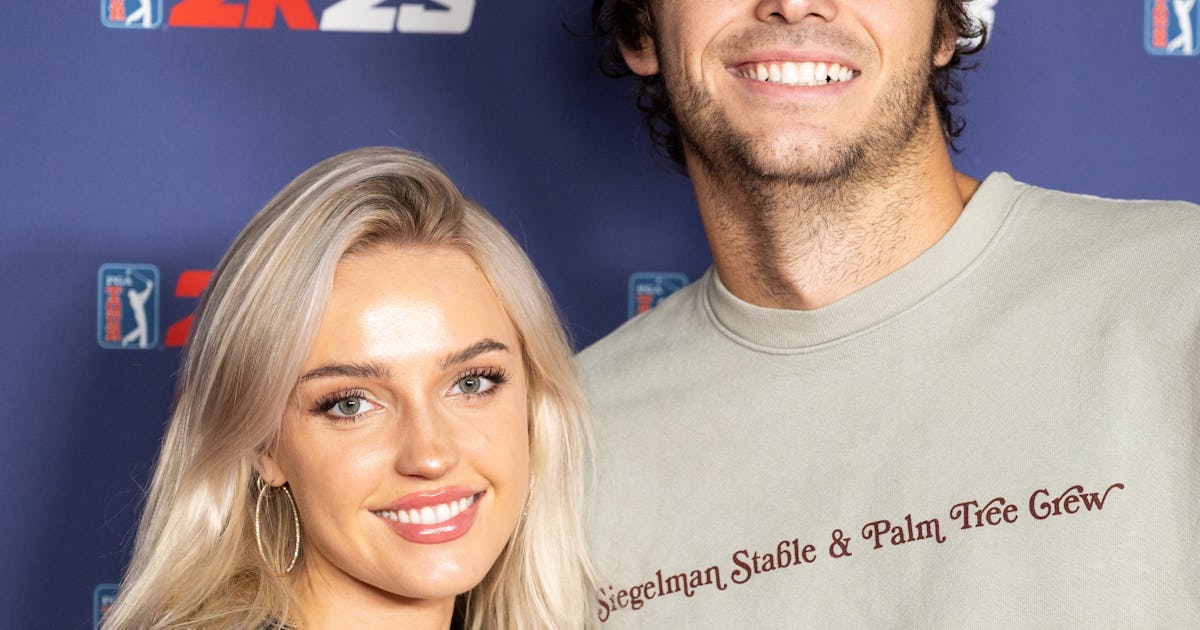 When tennis star Taylor Fritz defeated 22-time Grand Slam singles winner Rafael Nadal at the 2022 Indian Wells Masters, his girlfriend Morgan Riddle was on the court to help him celebrate. "Who knows where I'd be right now if we weren't together," he shared in Netflix's Break Point, which featured his big win at the March 2022 competition. "She's been with me for the last two and half years and has just been the best of my career. When we're at a tournament now, she is trying to do whatever she can to help me because I feel like what we've built is . . . almost like a team."
Riddle, a Los Angeles-based content creator and social media influencer, has been there for the highs and the lows. They met on a dating app, something she doesn't "feel weird saying" anymore, explaining that's how everyone their age meets. When they started dating, Fritz was ranked No. 24 but fell into the low 40s at his "low point," they said on the Netflix docuseries. "It was hard to watch you so stressed about your ranking, but you also had a really hard time and would never talk to me about it," she told him. "But I knew how hard on yourself you were."
No stranger to social media fame herself — she has nearly 300,000 followers on TikTok and more than 110,000 on Instagram — Riddle often documents her experiences traveling the world for her boyfriend's tournaments. In one February 2022 viral TikTok video, which has racked up almost 800,000 likes, she announced her "personal mission to make tennis cool again," too. "I know tennis is relatively uncool and unknown in America," Riddle said in the video before dropping her knowledge of the sport.
Posted shortly before the Indian Wells Masters tournament featured on Break Point, the video also drew backlash from longtime tennis fans. During a press conference at the event, Fritz defended his girlfriend. "I think what she did was awesome for our sport. It got a ton of people looking at it," he said. "I think you get your typical older fan who may be upset about it. I don't understand how anyone can get upset about it. I'm the one that's a professional tennis player, I'm the one that does this for a living. I 100 percent agree with everything in that video."
Months later, they celebrated their second anniversary. "[Two] years has flown by," Fritz captioned a June 3 Instagram tribute. "I love you and I can't wait for all the fun times still ahead for us. . . . Thank you for all the love and support always… we really make an amazing team."
Riddle, who also posts fashion and beauty content, grew up in Minneapolis, Minnesota, and according to her LinkedIn profile, she graduated from New York City's Wagner College with a bachelor's degree in English language and literature. Her job history includes work within the marketing, public relations, real estate, and event planning fields. Riddle also hosted an entertainment news show on Hollywire and is listed as an actor and model with the Wehmann Models and Talent agency.