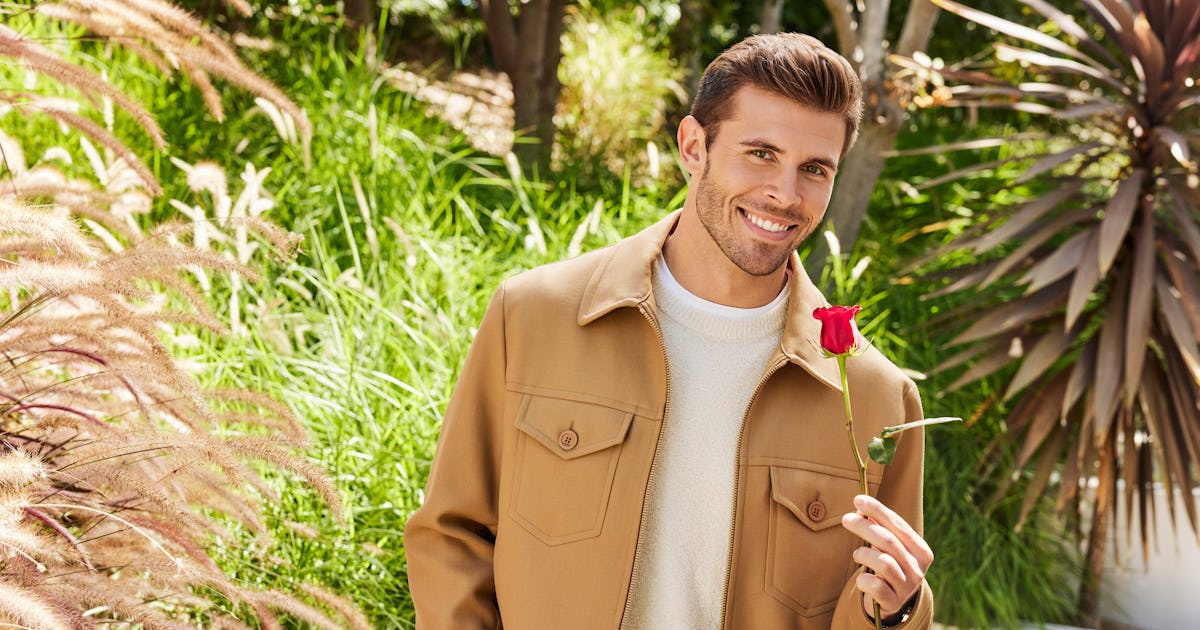 During the premiere episode of Season 27 of The Bachelor, Zach Shallcross had to choose between dinosaurs and dragons as part of a contestant's compatibility quiz. While neither creature was present on Night 1, there was a different kind of behemoth: a pig named Henry.
Contestant Mercedes Northup brought him for her limo arrival, a nod to her pastime of showing pigs in Iowa. Zach tells Bustle that Henry's introduction wasn't quite as smooth as it looks on TV, though it remains one of his favorite parts of the premiere. "What's not shown is it really took a long time to get him to walk up," Zach says. "Like, 30 minutes, probably. But he's worth it."
Ultimately, Henry didn't secure his mom the first impression rose. That honor went to Greer Blitzer instead. And of course, with 30 women starting out the season, not everyone was able to forge a positive connection with Zach. Madison Johnson, for example, tried to speak to the Bachelor several times and even gave him a kiss — but Zach wasn't feeling a spark and let Madison go home before the rose ceremony even started.
Below, Zach talks about first impressions, that awkward moment with Madison, and how former Bachelor Clayton Echard supported him along the way.
What was it about your connection with Greer that made her earn your first impression rose?
The whole night is chaotic. You're getting dragged in a million different directions and quickly trying to grab something to eat, and then you're going over here and then there. You get so wrapped up in your own head. When we did have a chance to have a conversation, what she was able to make me feel during that moment was — OK, it's calm, it's comforting, let's escape this chaos for a bit. That's something I was needing that night.
On the other hand, you didn't click well with Madison. What went into the decision to send her home before the rose ceremony?
What it came down to was, you can't force anything that's not there. There was an attempt at a kiss from her — which, hey, more power to you! Shoot your shot. But at the end of the day, the last thing I want to do is waste anyone's time. And I know what it's like, and what it takes to be there. You're leaving your family behind, your friends, work. I would be doing everyone a disservice if I was just to delay the inevitable. I wish her nothing but the best.
In the first episode, you say you didn't get the honesty and clarity you needed during your time on The Bachelorette. Have you been able to reflect on what the sticking point was?
With some time and talking with Rachel [Recchia] about it, it's opened my eyes. First, being the lead is very difficult. I have respect for Rachel. It's not easy to handle. We just didn't have the communication to get to [the end]. That was something that we both failed on, and something that I wanted to take going into this season. There's always that open line. I'm always going to tell you how I'm feeling so that there's no guessing.
Besides Sean Lowe, who gives you some pointers in the first episode, did you reach out to anyone else from the franchise for advice on being the lead?
I've spoken to a few people in The Bachelor world, but in particular, I finally spoke with Clayton. He's a really great guy, just offering support — because once it airs, your life is shown to millions. He's been giving me support and backing me up if I have any questions because he's really big into mental health. I appreciate him.
This interview has been edited and condensed for clarity.